Template:Infobox Sport governing body The World of Outlaws (often abbreviated WoO) is an American motorsports sanctioning body. The body sanctions two major national touring series. It is best known for sanctioning a national tour of sprint cars called the World of Outlaws STP Sprint Car Series. It later purchased a national tour of late model stockcars called the World of Outlaws Late Model Series. These dirt track racing series are owned and operated by World Racing Group.[1]
Sprint Car Series
Edit
Template:Infobox motorsport championship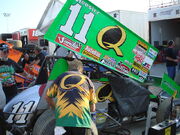 The body sanctions a national tour of high power to weight, custom fabricated sprint cars called the World of Outlaws. The race cars feature large adjustable wings on the top and large rear tires that transfer their power to the dirt tracks they race on. The series travels primarily the United States, but has sanctioned races in Canada, Mexico and Australia.
The series began in 1978 by Ted Johnson. The 2011 championship features 72 points-paying races. Select events are broadcast on Dirt Vision, an online subscription based streaming service. Select races are broadcast on CBS Sports Network.
[2]
Sprint car specifications
Edit
A World of Outlaws STP Sprint Car is a purpose-built open-wheel race car that must weigh at least 1,400 pounds with the driver in the car. The 410-cubic inch engine is fueled by VP Racing Fuels methanol. The cars produce approximately 850 horsepower and transfer it to the ground through Hoosier Tires. The series' cars have a large top wing with sideboards that face opposite direction to help produce a great amount of downforce to plant the car on the track and help the car turn and maximize grip, both in the corners and on the straightaways. The cars also have smaller nose wings.[3]
Sprint Cars have a very distinct stance since they have two very different rear tires. The right rear tire on a sprint car is 105 inches in circumference. In contrast, the left rear tire is only between 90 and 98 inches in circumference, depending on the track size and conditions. The difference in the tire sizes is called stagger and the more stagger the car has, the more easily it turns into the corner, but at the expense of straight line speed.[4]
Sprint Cars do not have starters in them, so push trucks are used to fire the engines. Sprint Cars only have an in/out direct drive, no reverse gear and no clutch.[5]
Past Champions
Edit
Top 15 All Time A-Feature winners
Edit
Updated February 15, 2014
Notable drivers who have raced in World of Outlaws Sprint Cars
Edit
Template:World of Outlaws Sprint Car Series race venues
Late Model Series
Edit
Main article: World of Outlaws Late Model Series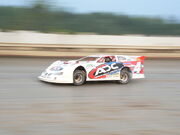 Operating since 2004, the Late Model Series is a racing championship series for late model stock cars.
References
Edit
External links
Edit
Ad blocker interference detected!
Wikia is a free-to-use site that makes money from advertising. We have a modified experience for viewers using ad blockers

Wikia is not accessible if you've made further modifications. Remove the custom ad blocker rule(s) and the page will load as expected.