Volvo XC60
Volvo
aka
Type aka here, not up there
Production
2008 - present
Class
Compact Crossover CUV
Body Style
5-door, 5-seat CUV
Length
4.63 meters
Width
1.89 meters
Height
1.71 meters
Wheelbase
2.77 meters
Weight
1825 kg (2.4D)
Transmission
6 speed manual
6 speed automatic geartronic
Engine
Petrol 3.0 T6 (285 HP)
Diesel 2.4D (163 HP)
Diesel 2.4D D5 (185 HP)
Power
285 hp @ 5600 rpm
400 Nm of torque @ 1500-4800 rpm

185 hp @ 4000 rpm
400 Nm of torque @ 2000-2750 rpm

163 hp @ 4000 rpm
340 Nm of torque @ 1750-2750 rpm
Similar
BMW X3
Mercedes-Benz GLK-Class
Audi Q5
Designer
under Steve Mattin
The Volvo XC60 is a premium compact Crossover Utility Vehicle unveiled by Volvo at the 2008 Geneva Motor Show. It slots in under its older brother, the XC90, and targets the BMW X3, Mercedes-Benz GLK-Class and Audi Q5.
Recent Changes
Edit
Mention any minor facelifts or major changes made to the vehicle here.
Styles and Major Options
Edit
The Volvo XC 60 comes in three levels of trim: Kinetic, Momentum and Summum, Kinetic being the most basic one, and Summum the most equipped level.
OPTION PACKAGES
Climate Package $1,000
Heated front seats
Heated rear seats
Heated windshield washer nozzles
Rainsensor windshield wipers
Headlamp washers
Interior Air Quality System (IAQS)
Humidity Sensor
Technology Package $2,700
Dynaudio® Premium Sound System, Dolby Pro-Logic II® Surround Sound, 650-watt amplifier, 12 Dynaudio® speakers, rear seat headphone jacks, audio controls
Volvo Navigation System with Real Time Traffic, DVD map data and remote control
Rear Park Assist Camera
Collision Avoidance Package $1,695
Adaptive Cruise Control (ACC)
Collision Warning with Auto Brake (CWAB)
Distance Alert (DA)
Driver Alert Control (DAC)
Lane Departure Warning (LDW)
Convenience Package $1,000
Grocery bag holder
12V power outlet in cargo area
Front and rear park assist
Power tailgate
Homelink remote garage door opener
OPTIONS
Black Sapphire Metallic $525
Electric Silver Metallic $675
Maple Red Pearl $525
Barrents Blue $525
Silver Metallic $525
Lime Grass Green Pearl $525
Savile Grey Pearl $525
Terra Bronze Pearl $525
Dual onboard two-stage child booster seats with adaptive seatbelts and power child rear door locks $495
Dual Xenon with Gas Discharge Headlights with Active Bending Light $800
Blind Spot Information System (BLIS) $695
Personal Car Communicator (PCC) with Keyless drive $550
Nordic Light Oak inlays $295
Panorama moonroof n/c
OPTION PACKAGES
Premium Package ($1,700)
Leather Seating Surfaces
Tinted windows rear seats and cargo area
Compass in Rearview Mirror
Power Passenger Seat
Climate Package ($1,000)
Heated Front Seats
Heated Rear Seats
Heated Windshield Washer Nozzles
Headlamp Washers
Rain Sensor
Humidity Sensor
Interior Air Quality System (IAQS)
Total Package Value
Convenience Package ($1,000)
12V Power Outlet in Cargo Area
Grocery Bag Holder, Cargo Area
Home LinkTM
Park Assist, Front & Rear
Power Operated Tailgate
Total Package Value
Multimedia Package ($2,700)
Dynaudio Premium Sound System with Dolby® Pro Logic® II Surround Sound
Navigation System with DVD Map Data, Real-Time Traffic, & Remote Control
Rear Park Assist Camera
Total Package Value
Technology Package ($1,700)
Adaptive Cruise Control
Collision Warning with Auto Brake
Distance Alert
Driver Alert Control
Lane Departure Warning
Stand Alone Options
All Wheel Drive with Instant Traction & Hill Descent Control: $2,000
Metallic Paint: $550
Electric Silver Metallic Paint: $675
Laminated Panoramic Roof, Two Laminated Glass Panels w/Power: $600
Modern Wood Center Stack Inlay: $295
Blind Spot Information System (BLIS): $700
Personal Car Communicator (PCC) with Keyless Drive, Two-Way: $550
Car Communicator and Heartbeat Sensor: $500
Dual Outboard Two-Stage Child Booster Seats w/ Adaptive Seatbelts and Power Child Locks (Rear Doors): $465
Dual Xenon Gas Discharge Headlights with Active Bending Light (ABL): $800
18" MERAC Wheels: $750
Add more fields as necessary.
MODEL Trims
Volvo XC60 T6
Volvo XC60 3.2 FWD
Volvo XC60 3.2 AWD
Trim4
MSRP
$37,200
$32,395
$34,395
$Price4
Invoice
$Price1
$Price2
$Price3
$Price4
Gas Mileage
Edit
Add more fields as necessary.
As seen on the FuelEconomy.gov website, the City/Highway MPG averages are as follows:
Trim
Trim1
Trim2
Trim3
Trim4
MPG
c/h
c/h
c/h
c/h
Engine and Transmission
Edit
Petrol
3.0 T6 (285 HP)
Diesel
2.4D (163 HP)
2.4D D5 (185 HP)
Standard AWD for all engines. While transmission choices for the diesel engines are 6 speed manual or 6 speed automatic geartronic, the petrol engine is only available with the 6 speed automatic geartronic gearbox.
Performance
Edit
Please make sure to write information of the vehicle's performance in a third-person point of view. This section should include information about the car's acceleration figures, handling, braking, etc.
If using information gathered from Road Test articles from a reputable automotive source, then please make sure to cite the quote.
Reliability
Edit
RECALL ALERT:On December 22 2009, Volvo issued a recall affecting 5,253 MY 2010 XC60s revolving around the fuel system in which a fuel line rail cover designed to protect the fuel lines on the XC60 may be improperly attached, thus exposing the lines to damage. The damaged pieces may leak, possibly resulting in a fire. Owners of the affected models are asked to bring their vehicles to the dealer for inspection and/or a repair at no charge. The recall campaign is scheduled to begin in January 2010. This recall is filed under NHTSA Recall Campaign ID 09V477000. [1]
The Volvo XC60 scored 34 points for adult occupants and 39 points for child occupants on Euro NCAP's tests. However, the score for pedestrians were lower, 17 points.
XC60 R-Design
Add Photos of the vehicle here.
Please make sure not to use copyrighted photos.
The XC60 is available in the basic colors Ice White and Black, as well as several other metallic and pearl colors.
Black Sapphire Metallic
Electric Silver Metallic
Maple Red Pearl
Barrents Blue
Silver Metallic
Lime Grass Green Pearl
Savile Grey Pearl
Terra Bronze Pearl
Main Competitors
Edit
Hybrid Models
Edit
If there are hybrid versions of this vehicle manufactured, then please elaborate a little bit on it here.
Unique Attributes
Edit
City Safety - detects a slower moving car in front of the vehicle and activates the brakes to avoid or minimize the damages of a collision. The system i active in speed below 30 km/h.
Adaptive cruise control with distance alert - alerts the driver if the XC60 is approaching a vehicle moving in the same direction with a lower speed and readies the brakes for emergency braking. For most SUV they tend to rollover. Not highly but they aren't build for sharp turns. The XC60 has a feature that senses an impending rollover and then activates the curtain air bags thus cushioning the blow.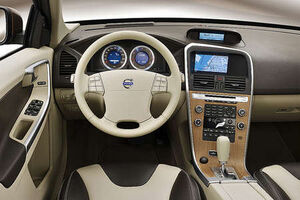 The Volvo XC60 has three different interior styles and fabrics:
XC Leather - top quality and comfortable leather seats
T-Tec - a mix of high quality synthetic leather and fine weaved cloth
Textile - textile seats
Resale Values
Edit
Add more fields as necessary.
<MODEL> Year
Year X
Year X-2
Year X-3
Year X-4
Resale Value
$
$
$
$
Criticisms
Edit
Please make sure to keep critiques in a third-person point of view. If using criticisms from a reputable automotive source, then please make sure to cite the quote.
Generations
Edit
Fill in as many as appropriate. Add more if necessary and pictures wherever applicable.
Please make sure NOT to use copyrighted pictures.
First/Current Generation: (2008–present)
Edit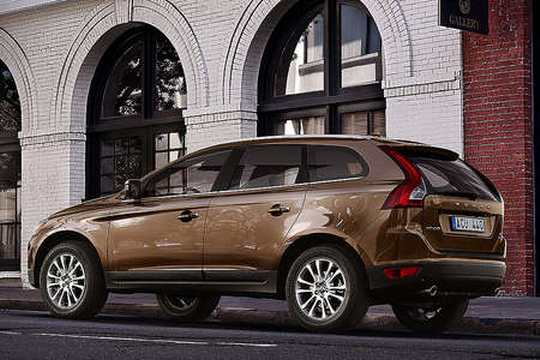 Worldwide
Edit
If the vehicle is sold in other markets worldwide, then this is the section to mention that information. Also, mention if the <MODEL> goes by another name in these other markets.
Design quirks and oddities
Edit
Refer to any pop-culture tidbits about the vehicle in this section.
2010 Drive Best SUV Over $40,000
External Links
Edit
Ad blocker interference detected!
Wikia is a free-to-use site that makes money from advertising. We have a modified experience for viewers using ad blockers

Wikia is not accessible if you've made further modifications. Remove the custom ad blocker rule(s) and the page will load as expected.