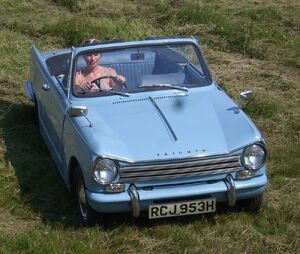 The Triumph Herald is a 2 door related to the Triumph Spitfire. Italian stylist Michelotti was the designer. There were well over 300,000 sales for the Herald one was made into an amphibious car by Top Gear's James May.
Courier van
Edit
The Herald was so popular they made a Van but it was dropped after poor sales.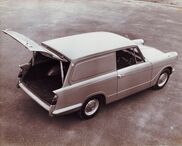 Recent Changes
Edit
Mention any minor facelifts or major changes made to the vehicle here.
Styles and Major Options
Edit
Certain vehicles come in different trim levels or body styles. Features and major options should be mentioned here.
Add more fields as necessary.
MODEL Trims

Trim1

Trim2

Trim3

Trim4

MSRP

$Price1

$Price2

$Price3

$Price4

Invoice

$Price1

$Price2

$Price3

$Price4
Gas Mileage
Edit
Add more fields as necessary.
As seen on the FuelEconomy.gov website, the City/Highway MPG averages are as follows:
Trim

Trim1

Trim2

Trim3

Trim4

MPG

c/h

c/h

c/h

c/h
Reliability
Edit
Warranty options and scheduled maintainence information should be mentioned here.
This section should reference points on safety ratings and features of the vehicle.
Add Photos of the vehicle here.
Please make sure not to use copyrighted photos.
List the colors that the particular <MODEL> is offered in.
Main Competitors
Edit
Create links to other <MAKE> <MODEL> pages in this section.
Hybrid Models
Edit
If there are hybrid versions of this vehicle manufactured, then please elaborate a little bit on it here.
Unique Attributes
Edit
If there are any features of this vehicle that sets it apart from other vehicles in its class, then mention those unique attributes here.
Resale Values
Edit
Add more fields as necessary.
<MODEL> Year

Year X

Year X-2

Year X-3

Year X-4

Resale Value

$

$

$

$
Criticisms
Edit
Please make sure to keep critiques in a third-person point of view. If using criticisms from a reputable automotive source, then please make sure to cite the quote.
Generations
Edit
Fill in as many as appropriate. Add more if necessary and pictures wherever applicable.
Please make sure NOT to use copyrighted pictures. I had 3 Herald S 986cc 1959,Herald coupe 987cc 1960 and Herald 1200 1969.i GOT THEM AS THEY WERE EASY TO WORK on front wason hinges but the side clamps always jumped off when you hit a pothole.The excelerator would rust at the floor.doors bad fit.The reserve fuel tank was a good idea at the time idea was taken from the bikes cheapy made but no fuss car not like today to many gagets.The Herald 1200 1969 was a lot better but the engine block cracked one winter I was still paying for it at the time so was not impressed.Replaced it with a Anglia a lot better made even though it was a 1960 987cc.rear slopping window that stayed dry and bonnet pull forward wow state of the art tech.It was a great car Ford rule.Best Triumph for me was my last Triumph 1300cc 1968.
Current Generation: (YYYY–present)
Edit
Fifth generation (YYYY–YYYY)
Edit
Fourth generation (YYYY–YYYY)
Edit
Third generation (YYYY–YYYY)
Edit
Second generation (YYYY–YYYY)
Edit
First Generation/Origins (YYYY–YYYY)
Edit
Worldwide
Edit
If the vehicle is sold in other markets worldwide, then this is the section to mention that information. Also, mention if the <MODEL> goes by another name in these other markets.
Design quirks and oddities
Edit
James May used a Triumph Herald as an Amphibious car in a Top Gear challenge.
A red Herald was used on the 2011 Antiques Roadtrip.
A yellow Triumph Herald was used in the TV show Heartbeat as the car for main charecters Nick and kate Rowan.
List out notable awards that the model has recieved while in production. Boldface the company or orgainization that gives out the award, and Italicize the name of the award.
This section should be used to link to other pages within Wikicars, that are related to this article.
External Links
Edit
Ad blocker interference detected!
Wikia is a free-to-use site that makes money from advertising. We have a modified experience for viewers using ad blockers

Wikia is not accessible if you've made further modifications. Remove the custom ad blocker rule(s) and the page will load as expected.