The Toyota Sienna is a minivan built in the United States for the North American market, and shares its platform and engine with the Toyota Camry. It replaced the Previa in 1998 as a more conventional front wheel drive van, and was updated for 2004 with a larger model.
The 2006 Sienna minivan is the gold standard for the family set. The main Toyota attributes of value, practicality, reliability and just enough style not to be boring brings this to the top of the class. The recently redesigned Honda Odyssey is the other van that gets high grades. The Toyota Sienna has plenty of room, can carry most of a hockey team and has no significant flaws.
See Autopedia's comprehensive Toyota Sienna Review.
Recent Changes
Edit
The 2009 LA Auto Show played host to the unveiling of the Third Generation Sienna. The minivan will come in five (5) trim variants: Sienna grade, LE, SE, XLE and Limited. Two powerplants will provide motivation: a 2.7 litre VVT-i Inline-4 with 187 hp and 19/26 mpg fuel economy and a 3.5 litre Dual VVT-i V6 with 266 hp, 3500 lb. towing capacity and 18/24 mpg figures. Power will be routed to the front wheels but the LE, XLE and Limited models may be had with AWD optional. Inside, the new Sienna's party piece, arguably, is the 16 inch dual view LCD entertainment screen for rear passengers.[1]
In July 2005, changes for the 2006 model year were announced. The front fascia, side molding, and rear taillights were redesigned. The measurements for horsepower and torque were changed to the Society of Automotive Engineeer's (SAE) new specifications (to 215 hp and 222 ft·lbf.). Optitron gauges were added to LE, XLE, and Limited trims. The "XLE" prefix in "XLE Limited" was cut off. Power driver's seat memory option was also added to XLE and Limited trims. Bluetooth capability and power-folding third row seats were also added as options. Side and curtain airbags were changed to standard for all models. The optional rear seat audio system has been discontinued. Full list of changes are available at SiennaClub.org[2].
2006 Specifications
For the 2007 model year, the Sienna gets the 3.5 L DOHC 24-valve VVT-i V6 engine from the used in many Toyota models, in order to compete with Honda and Nissan's 3.5 L V-6's. The V-6 makes 266 hp @ 6200 rpm and 245 lb.-ft. @ 4700 rpm. The Sienna also gets an upgraded 5-speed transmission using electronically controlled automatic overdrive with intelligence (ECT-i).
Styles and Major Options
Edit
The Toyota Sienna offers a wide array of of trim levels – and a mind numbing set of variations within trim levels. The list of available options and features is extensive and complicated. Understanding the world of Sienna packages is in the critical path of evaluating which trim is best and can be quite difficult.
Add more fields as necessary.
MODEL Trims
Sienna Grade
LE
SE
XLE
Limited
MSRP
$24,260
$25,345
$30,550
$32,175
$38,500
Invoice
$Price1
$Price2
$Price3
$Price4
$Price5
Gas Mileage
Edit
Add more fields as necessary.
As seen on the FuelEconomy.gov website, the City/Highway MPG averages are as follows:
Trim
2.7 litre I-4
3.5 litre V6
Trim3
Trim4
MPG
19/26
18/24
c/h
c/h
Engine and Transmission
Edit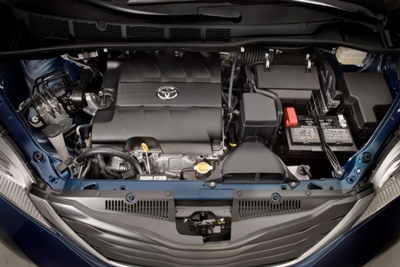 Specifications, details, graphs, pictures and other information regarding the powertrain is placed in this section.
Performance
Edit
Please make sure to write information of the vehicle's performance in a third-person point of view. This section should include information about the car's acceleration figures, handling, braking, etc.
If using information gathered from Road Test articles from a reputable automotive source, then please make sure to cite the quote.
Reliability
Edit
Toyota reliability has a long and storied reputation. The Sienna, however, has been plagued with a number of issues to put at least a slight dent in that vaunted record. The first few model years since the last redesign were marred by more than the usual number of recalls, especially regarding the transmission. Also, there has been a lot of noise about excessive tire wear, especially on the AWD variant.
RECALL ALERT: What's One More? Toyota Announces Voluntary Safety Recall on 1998-2010 Sienna Minivans
RECALL ALERT: On December 14, 2010 Toyota announced a recall affecting approximately 94,000 2011MY Siennas built before early November 2010 due to a potential problem with the brake light switch bracket. According to Toyota, the proximity with the parking brake could cause the stop lamp switch bracket to be deformed by the driver's foot during parking brake operation. Depending how deformed the bracket becomes, the brake lights may remain on or, if the deformation is significant, the brakes could become partially engaged due to contact from the bracket, resulting in brake drag with associated brake noise, brake vibration, and/or illumination of the brake warning light.[3]
The Toyota Sienna received 4/5 star NHTSA rating for driver and 5/5 star rating for passenger for Frontal Crash. The Sienna recieved 5/5 star Front and 5/5 star Rear Occupants for Side Impact.
The Sienna has the key features that any caring parent would look for: good crash test ratings along with the critical side curtain airbags, which have become a must have feature these days. Some versions have Vehicle Stability Control – an underrated and undermarketed feature that is another must have.
Other safety features on the Sienna include:
A complete list of safety features can be found here. [4]
The Toyota Sienna is available in the following exterior colors:
Silver Shadow Pearl
Blue Mirage Metallic
Natural White (not available on the XLE or Limited trims)
Arctic Frost (not available on the CE or LE trims)
Slate Metallic
Silver Pine Mica
Salsa Red Pearl
Nautical Blue Metallic
Desert Sand Mica
The interior colors available on the Sienna are:
Main Competitors
Edit
A
hybrid
version of the Sienna is planned for the US for sometime in the third quarter of 2010.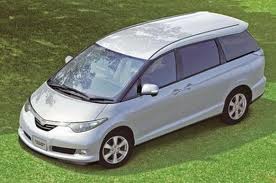 Unique Attributes
Edit
If there are any features of this vehicle that sets it apart from other vehicles in its class, then mention those unique attributes here.
This section should include information on the interior's design, build quality, ergonomics, space (head and legroom, front and rear), features, stowage compartments and overall comfort and livability. Add pictures wherever applicable and keep information in a third-person point of view.
Resale Values
Edit
Resale Values for the Toyota Sienna are approximately as follows (can vary because of trim):
<MODEL> Year
Year X
Year X-2
Year X-3
Year X-4
Resale Value
$
$
$
$
Year

2006

2005

2004

2003

2002

2001

2000

1999

1998

Price

$23,775-$38,380

$23,425-$30,075

$21,050-$27,600

$16,075-$19,100

$14,025-$17,000

$11,575-$14,400

$9,175-$11,900

$8,050-$10,475

$7,625-$9,300
Criticisms
Edit
As noted by Car and Driver, the outboard seats are burly and weigh roughly 48 pounds each. The narrower center seat weighed in at 54 pounds, because it is reinforced to carry shoulder-belt loads in a crash.
Generations
Edit
Fill in as many as appropriate. Add more if necessary and pictures wherever applicable.
Please make sure NOT to use copyrighted pictures.
Current Generation: (2011–present)
Edit
Specifications
Edit
Second Generation (2004 - 2010)
Edit
In January 2003, the second generation Sienna was shown at the Detroit Auto Show. Production shifted to Princeton, Indiana, and the Georgetown plant was retooled to build the second generation Camry Solara. The new Sienna had a 3.3L engine from the V6 Camry. The new Sienna offered innovative features such as a fold-flat 60/40 third-row seat, up to eight passenger seating, backup sensors, rear view camera, kid view mirror, available all wheel drive, a navigation system, and a more luxurious XLE Limited model. This model is currently one of the top-selling minivans. Fuel economy is 19 mpg city and 26 mpg highway.
First Generation (1998-2003)
Edit
In late 1997, Toyota discontinued its much-criticized Toyota Previa with a more conventional design, the 1998 Toyota Sienna. The 1998 Toyota Sienna had a 3.0L V6 engine rated at 145 kW and 284 Nm of torque. Built on an extended Toyota Camry platform, the Sienna was initially billed as the "Camry of minivans". The first generation Sienna exhibited great driving dynamics making it one of the best handling minivans on the market. The Sienna was better-suited to compete with the highly-acclaimed Chrysler minivans, but still lacked the size and features such as traction control, a DVD navigation system, and backup sensors of the market leaders, including the redesigned Honda Odyssey which followed a year after. The first generation Sienna was the first minivan to earn a "best pick" from the [Insurance Institute for Highway Safety]. Fuel economy was 18 MPG (City) and 24 MPG (Highway). It was built in Georgetown, Kentucky.
Worldwide
Edit
If the vehicle is sold in other markets worldwide, then this is the section to mention that information. Also, mention if the <MODEL> goes by another name in these other markets.
Design quirks and oddities
Edit
Refer to any pop-culture tidbits about the vehicle in this section.
The Sienna won the Car and Driver Five Best Trucks "Van" award
The Sienna was the first minivan to receive a "Double Best Pick" designation from the IIHS.
External Links
Edit
News & References
Enthusiast Sites & Community Forums
Ad blocker interference detected!
Wikia is a free-to-use site that makes money from advertising. We have a modified experience for viewers using ad blockers

Wikia is not accessible if you've made further modifications. Remove the custom ad blocker rule(s) and the page will load as expected.