Toyota Land Cruiser
Talk

0
9,253pages on
this wiki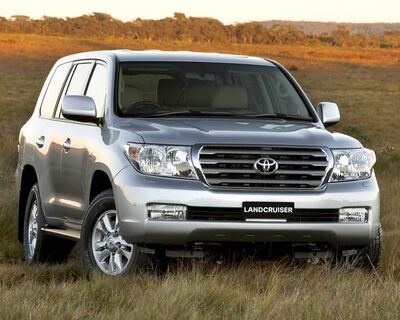 The Toyota Land Cruiser is a series of popular four wheel drive automobiles from the Toyota Motor Corporation of Japan. Originally, they were strictly utility vehicles, but they now are available as SUVs. The Land Cruiser is widely used around the world in areas which require durability, reliability and off road performance. The Land Cruiser along with the Hilux pickup truck is symbolic of Toyota's legendary toughness and both trucks are used around the world in grueling terrains and climates with poor roads for many many years before they are no longer usable. The Lexus LX is the Land Cruiser's upmarket twin.
Its widespread use as the transport of choice for militia units and irregular forces in developing countries has served as a testament to their reliability and toughness.
The U.S. market Land Cruiser is sold in the United Kingdom and Ireland as the Toyota Land Cruiser Amazon.
Created as a competitor to other off-road vehicles such as the Land Rover and the Jeep, in many places the Land Cruiser is ubiquitous and has almost eliminated other all wheel drive vehicles from the market.
Design of the Land Cruiser began in 1950, and production began in 1953. The Land Cruiser has been produced in a number of different versions, including successful flat bed pickup trucks predominantly used as technicals.
In many places, the term Land Cruiser has almost become a generic term for an off-road vehicle.
Toyota designer Kazuo Morohoshi interviewed in the South African Car magazine explained the background to the birth of the Land Cruiser. "Growing up after the war, I was really impressed by the US Army personnel's Jeeps... and how they could climb up and over obstacles. We have many classic shrines with stairs leading up to them, and these cars simply climbed up those steps. I decided that one day I would make a similar kind of 'mobile', something more like an animal or insect than a car, which could do even better".
In 1996, a smaller version of the Land Cruiser was released, called the Land Cruiser Prado. This vehicle shares many components with the Toyota 4Runner and is considered to be just as capable off-road as its bigger sibling. A version of the Prado, with added luxurious features is sold in North America as the Lexus GX. The Prado name was used prior to this on a version of the 70 Series light-duty Land Cruiser.
See Autopedia's comprehensive Toyota Land Cruiser Review.
Recent Changes
Edit
Mention any minor facelifts or major changes made to the vehicle here.
Styles and Major Options
Edit
Certain vehicles come in different trim levels or body styles. Features and major options should be mentioned here.
Add more fields as necessary.
MODEL Trims
Trim1
Trim2
Trim3
Trim4
MSRP
$64,755
$Price2
$Price3
$Price4
Invoice
$Price1
$Price2
$Price3
$Price4
Gas Mileage
Edit
Add more fields as necessary.
As seen on the FuelEconomy.gov website, the City/Highway MPG averages are as follows:
Trim
Trim1
Trim2
Trim3
Trim4
MPG
13/18
c/h
c/h
c/h
Engine and Transmission
Edit
Specifications, details, graphs, pictures and other information regarding the powertrain is placed in this section.
Performance
Edit
Please make sure to write information of the vehicle's performance in a third-person point of view. This section should include information about the car's acceleration figures, handling, braking, etc.
If using information gathered from Road Test articles from a reputable automotive source, then please make sure to cite the quote.
Reliability
Edit
Warranty options and scheduled maintainence information should be mentioned here.
RECALL ALERT: Toyota Land Cruisers fitted with Toyota genuine bull bars can run into a risk of serious frontal structure integrity especially when driven on rough terrain. The bullbar's flawed design allows excess load to apply onto the frame supporting the bull bar and as the result, welds could crack. [1]
This section should reference points on safety ratings and features of the vehicle.
Add Photos of the vehicle here.
Please make sure not to use copyrighted photos.
List the colors that the particular <MODEL> is offered in.
Main Competitors
Edit
Create links to other <MAKE> <MODEL> pages in this section.
Hybrid Models
Edit
If there are hybrid versions of this vehicle manufactured, then please elaborate a little bit on it here.
Unique Attributes
Edit
If there are any features of this vehicle that sets it apart from other vehicles in its class, then mention those unique attributes here.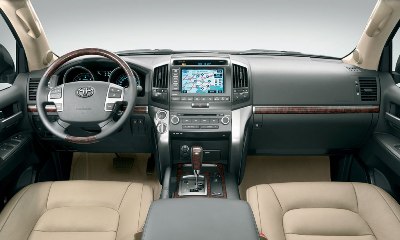 This section should include information on the interior's design, build quality, ergonomics, space (head and legroom, front and rear), features, stowage compartments and overall comfortability and livability. Add pictures wherever applicable and keep information in a third-person point of view.
Resale Values
Edit
Add more fields as necessary.
<MODEL> Year
Year X
Year X-2
Year X-3
Year X-4
Resale Value
$
$
$
$
Criticisms
Edit
Please make sure to keep critiques in a third-person point of view. If using criticisms from a reputable automotive source, then please make sure to cite the quote.
Generations
Edit
Fill in as many as appropriate. Add more if necessary and pictures wherever applicable.
Please make sure NOT to use copyrighted pictures.
Current Generation: (2008–present)
Edit
The Toyota Land Cruiser was redesigned for 2008. Known as the 200 Series, it will share the 2008 Lexus LX's platform and overall design. Though many time-honored Land Cruiser supporters have welcomed the re-invigoration of the mechanical aspects of the vehicle, the 200 Series has encountered criticism due to its controversial body restyling, with some claiming that Toyota has 'overdeveloped' the classic trademarked Land Cruiser identity in its efforts to fit the Land Cruiser in to modern 21st century motoring. Toyota presented its completely redesigned Land Cruiser in October at the 2007 Australian International Motor Show in Sydney. The vehicle entered production in September and was available for sale in November 2007. Although the new Land Cruiser was presented at its first motor show in Sydney, it was already on sale in Japan, launched there in September 2007. It also became available in Venezuela for sale early in November under the local nickname of "Roraima" (Taken from Monte Roraima in Venezuela). The 200 Series is offered in three different levels of trim in Australia and Oceania:
The 200 Series, offered numerous features and upgrades over its predecessor not limited to the cosmetic changes made to the body and interior, including:
Smart Entry - A sensor is triggered when the remote is brought near the vehicle, allowing the user to simply touch the door handle to open it.
Smart Start - Start/Stop push button for ignition; a key is not required.
4-zone climate control on Sahara models, with outlet vents increased from 18 to 28
10 airbags (VX & Sahara)
Stronger and lighter frame
Various driver assist technologies not offered on previous models including:
CRAWL; a four-wheel drive control system that operates like an off-road cruise control, automatically maintaining a low uniform vehicle speed.
Downhill Assist Control
A newly developed ABS system, the multi-terrain anti-lock braking system (ABS)
Engine and transmission improvements include:
An all new optional V8 Diesel engine, the 1VD-FTV (also used in the 70 Series).
Automatic transmission standard across all levels of trim of the 200 Series, 5-speed manual transmission is offered only with the 4.0L GX models (in selected regions). A five-speed automatic gearbox is assigned to the 4.7L petrol models, while the 4.5L diesel models receive a six-speed automatic.
Seventh generation (2000-2007)
Edit
2000 - 50th Anniversary of the Cruiser total sales of Cruisers this year is over 191,000. Total Global production to date 3.72 million.
2000 - High spec Cruisers and 90 Series (Prados/Colorados) get active traction control (Active TRAC), vehicle skid control equipment (VSC), and electronic brake force distribution (EBD) systems as standard equipment in some markets.
2001 - Upgrade to high spec IFS Cruisers, various trim and equipment enhancements.
2002 - Turbo Troopie introduced into Australia - (79 Series station wagon) with 1 HD-FTE 4.2 litre 6 cylinder 122 kW 389 N·m 24-valve turbodiesel. (As for the VX and Australian GXL but without the intercooler) snorkel is standard. Optional front and rear diff lockers. The Troopie is still not available in South Africa but appears very common in Mozambique, Lesotho and is not unusual in Botswana.
2002 - All New Prado Released (120 Series station wagon simply Toyota Land Cruiser in the UK market) - the new Prado was released late in 2002 in both GX and VX turbo diesel form utilizing the an intercooled version of the 3.0 L KZ-TE engine found in the Hilux. This oil burner produces 96 kW and 343 N·m of torque. From April 2003, a new 4.0 L V6 gasoline engine will be available, delivering 183 kW and 382 N·m. Both models now come with 17 in (432 mm) wheels, limiting tire choice. The new Prado's body has 60% more torsional rigidity, leading to improved off and on-road performance, lower noise and better quality. A new ladder frame chassis, combined with a revised suspension provide outstanding durability and off-road ability. The centre of gravity has been reduced by 30 mm, ensuring better stability. Dual fuel tanks, with a total capacity of 180 L, extend the Prado's range. Together with a Torsen limited slip central differential, Active Traction Control and Vehicle Stability Control provide outstanding mobility on almost any terrain. VX models also feature Downhill Assist Control and Hill-start Assist Control to enhance vehicle stability under difficult off-road conditions.
2002 - Facelifted versions of the 100 Series GX and VX models were released in late 2002. Minor exterior changes have been made (essentially comprising of more chrome-plated plastic). GX models now have seating for 8, dual airbags to supplement the ABS brakes and electrically adjustable rear view mirrors - a redesigned dashboard with satin silver trim is also included.
Early 2005 - Toyota exhibits the GSJ10/GSJ15 FJ Cruiser as a 2007 model to debut in early 2006. It features bodywork reminiscent of the classic FJ40 and has a boxed frame with solid axle rear suspension and independent front suspension available with a RA61F 6 speed manual, VF4B full-time Torsen 4x4 transfer case, a A750E 5 speed automatic 4x2 or a A750F 5 speed automatic with a VF2A part-time 4x4 transfer case and driven by a 1GR-FE V6 engine. While not a true "Land Cruiser", the FJ Cruiser shares much of its DNA with the proper Land Cruiser line, sharing many parts with the 120 Series "Prado".
Late 2005 - Toyota launched the Land Cruiser KX/KXR for some European markets, including Spain, based on the Prado/120 Series SUV, the KX is targeted to the professional market and the KXR to serious off-roaders, they come with a 3.0 D-4D Diesel engine, 6 gear manual transmission, however, they do not have a factory built-in stereo system. The KXR has a right-side mounted snorkel, double battery and bumper-integrated Ramsey winch. The KX doesn't come with foglamps.
Sixth generation (1990-1999)
Edit
1990 - Introduction of new-generation diesel engines, the five-cylinder, SOHC 1PZ and six-cylinder, SOHC 1HZ diesel — still current with minor modifications to this day. Later the same year, wagon versions had a complete makeover.
1990 - 2 million sales mark is passed. Introduction of the 80 series to the Australian Market. With 2 diesel models available, and two petrol, the 3F derived from the 60 series, and the 3FE. An updated version. The 3F produced 110kw, while the 3FE produced 112Kw. At any rate the 3F was a slugish, but extremely reliable engine. And the 80 series an extemly capable and stylish 4WD, that still has all the reliability that toyota is renound for.
1992 - Petrol unit replaced by the new 1FZ-FE gasoline engine. Still produced today, the 1FZ-FE engine was a DOHC 4477cc unit peaking at 160 kW and 372 N·m.
1993 - The introduction of the turbodiesel now sporting a 24-valve, DOHC inline six-cylinder engine displacing 4.2 L.
1995 - Driver and passenger side airbags, adjustable shoulder-belt anchors introduced in some models together with anti-lock brakes. The turbodiesel model gained four-valve heads and a power boost to 125 kW. It was not available with intercooler, though many fit them themselves. The 80 Series VX is still highly desirable to this day. In that year, the Land Cruiser was withdrawn from Canada, replaced by the Lexus LX, its luxurious twin.
1996 - In the Dakar Rally, a pair of Land Cruisers finished first and second in the unmodified production class.
1996 - All American and British 80 Series models are given anti-lock brakes and airbags as standard equipment.
1996 - Introduction of the 90 Series Prado (known as the Colorado in some markets such as the UK). Replacing the single 70 series Prado variant with the entirely new 90 series, made the Prado a model in its own right (although the LWB versions share their chassis, suspension and most underpinnings with the third generation Hilux Surf). The Prado was clearly aimed directly at the Mitsubishi Pajero (Shogun in the UK) niche, which had very successfully cornered a good chunk of the burgeoning leisure SUV market. The Prado was available in three-door short wheelbase and five-door long wheelbase versions. Available with either the 5VZ-FE gasoline engine (24-valve V6, 3378 cc, 132 kW and 298 N·m) or 1KZ-TE turbodiesel (4-cylinder, 2982 cc, 92 kW and 295 N·m).
1996 - The 70 Series still remains the workhorse utility vehicle of choice in the world. The station wagon version was known affectionately as the "Troopie" in Australia, with the name derived from the term Troop Carrier as a result of its military utilitarian heritage. Troop Carriers are seen almost ubiquitously in television news, which are used as aid vehicles, by the UN, as ambulances and such like in the most rugged inhospitable parts of the world.
1998 - Toyota introduced the 100 Series Land Cruiser station wagon, to take over the 80 Series. The 100 Series Land Cruiser was notably larger, heavier, structurally more solid, substantially more powerful and with better brakes than the 80 Series. It is nevertheless more fuel efficient, generates fewer emissions and is considerably quicker. At launch it featured the first V8 engine in a Toyota car — the 32-valve 4.7 L 2UZ-FE engine. Displacing 4.7 L, the DOHC engine produced 173 kW and 434 N·m on the flywheel. Independent front suspension appeared for the first time in the large Land Cruiser (first appearing in the 90 Series and 70 series Prado), causing complete consternation amongst purists: "We will never forgive Toyota for going independent at the front with the mighty 4.2 turbo-diesel" - Australian 4WD Monthly. Indeed the British, American and other markets only get 100 Series with an independent front suspension, and still do to this day. These 100 Series equipped with an independent front suspension were initially available with the 4.7 L V8 and later on, the 1HD-FTE 4.2 L 6-cylinder 24 valve 151 kW, 430 N·m turbodiesel.
1998 - Toyota released solid axle versions of the 100 Series for markets with great tracts of wild territory, including Australia. Badged as the RV and the South African model badged as the GX (full-time four wheel drive with ABS, very similar to the Australian RV wagon). The Australian Standard wagon with part-time four wheel drive, manually lockable free-wheeling front hubs, plastic carpets, no ABS, manual windows and a basic rear tailgate— a very basic utility vehicle. The South African-spec GX is supplied standard with 3 differental locks. The gasoline-fueled Land Cruiser won Australian 4WD Monthly's 4x4 of the year award for 3 years in a row until Toyota dropped the gasoline-fueled version due to forthcoming stricter emission control regulations.
1999 - High-spec Land Cruisers get independent rear automatic climate control system for added convenience and passenger comfort.
1999 - Toyota Australia launched the 78 Series, updating the 70 Series with the addition of a coil-sprung front axle and a choice of gasoline and diesel motors from the 100 series — the 1HZ diesel (96 kW at 3800 rpm, 285 N·m at 2200 rpm) and 1FZ-FE gasoline engines (165 at 4600 rpm, 387 N·m at 3600 rpm). The diesel is matched to a new manual transmission from the 100 Series with and a shorter final drive ratio — to improve performance.
1999 - The 70 Series had persisted with leaf springs all round for a lot longer than its main competitors — the Nissan Patrol and the Land Rover Defender and Discovery. Indeed, the 79 still has leaf springs at the rear. It now gains the 100's live front axle and coil springs, which also brings a wider track and four pot calliper front disc brakes. The South African version to this day still has drums at the back. Australian Troopies use disks - more effective and less prone to sand ingress, which plays havoc with brake drums.
1999 - The wheelbase has been extended by 200 mm to 3180 mm (125 in) putting it up with the Defender 130. Some of those 200 mm are taken up in stretching the cab by 120 mm to increase interior room. The rear leaf springs are longer for more travel and a better ride.
Fifth generation (1980-1989)
Edit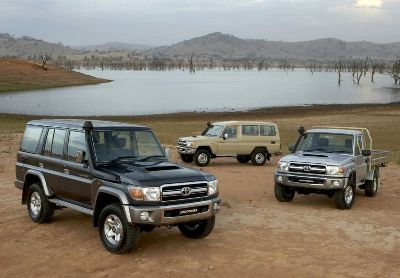 1980 - The second generation station wagon was introduced. While still retaining the rugged off-road characteristics of previous Land Cruisers, the FJ60 was designed to compete in the emerging SUV market. As a result, the FJ60 was given a variety of comforts that its predecessor, the FJ55, did not have. These comforts included:front disc brakes, air conditioning, rear heater, and an upgraded interior. The FJ60's engine was a tuned-up version of the gasoline (2F engine) and diesel (3B engine). Famed for its reliability, it is not unusual to find FJ60s with a 2F engine running strong past 300,000 miles. Consequently, the FJ60 owes much of its widespread use, especially in Africa and Australia, to its reliability.
1981 - Land Cruiser sales surpassed a million. A high-roof version was introduced, and a bigger diesel, the 3980 cc 2H engine, was added. The new model also came with a five-speed transmission. The 60 Series was introduced to South Africa in the 1981 Toyota 1000 km desert race, when a stock Land Cruiser showed its ability to compete on equal terms with competition off-roaders through the punishing wilds of Botswana.
1983 - The final year of sales for the FJ40. In America, these classic Land Cruisers shrink in numbers each year, but clean examples rise in value. Specialist suppliers of aftermarket parts and restorers who return old FJ40s to better-than-new condition replace Toyota dealers as the main source of Land

Fleet of Troop Carrier at Tembagapura Papua, Indonesia

Cruiser expertise.
1984 - 70 Series introduced — (pickups and station wagons) replacing the stalwart classic 40 Series. The 70 Series also fulfils its users expectations and soon becomes a classic itself. The 70 Series was initially only available with the 2F gasoline engine.
1984 - Along with the introduction of rest of the 70 Series, a new model was introduced. Part of the 70 Series, the Prado models differed mainly in having coil sprung suspension all-round (c
ompared to other models which retained leaf springs all-round. This lighter duty version of the Landcruiser was sold in some markets as the Landcruiser II and would eventually prove popular enough to become a model range in its own right, emerging in 1996 as a distinct series, the 90 Series.

Fleet of Troop Carrier at Kaltim Prima Coal mine site East Kalimantan, Indonesia
Troop Carrier ambulance conversion at Sangatta East Kalimantan, Indonesia

1984 - The first Land Cruiser with an automatic transmission, the first Japanese four wheel drive vehicle to have one.
1985 - 70 Series diesel introduced. The diesel engine was offered in the 60 Series luxury VX version generating 100 kW.
1988 - The gasoline engine was uprated, with the new 3F unit displacing 3955 cc and generating 108 kW. It was also available in a G version, allowing it to be sold in Japan as a passenger car.
1989 - 80 Series station wagon introduced — replacing 60 Series. Solid or beam axles front and rear, introduction of coil springs and trailing arms. Initially the 80 was offered with a choice of three engines, the 3F-E six-cylinder gasoline engine, the 1HD-T direct injection turbodiesel (120 kW, 362 N·m), and a normally aspirated 6-cylinder diesel.
1989 - All 80 Series Cruisers sold in North America and Europe now have a full-time four wheel drive system. In Africa and Australia, a part-time system was still available, with the South African version badged the GX. 80 series produced between 1990 and 1991 had an open center differential which was lockable in 4HI and automatically locked in 4LO. From 1992 onward, vehicles with anti-lock brakes had a viscous coupling that sent a maximum of 30% torque to the non-slipping axle. The differential was lockable in 4HI and automatically locked in 4LO.
Series 70
Fourth generation (1970-1979)
Edit
1972 - 200,000th Land Cruiser sold worldwide.
1973 - 300,000th Land Cruiser sold worldwide.
1974 - The real diesel era for the Land Cruiser began this year, as the B-type diesel engine was fitted to a new BJ version of the 40 Series. A four-cylinder unit displacing 2977 cc, it delivered 63 kW at 3600 rpm and 196 N·m at 2200 rpm. Its introduction boosted Japanese home market sales, as the smaller engine put the diesel-powered Land Cruiser in a lower tax category than its 4.0 L gasoline-fuelled sister. Over the following years, the diesel engine was improved, eventually evolving into the 2B (3168 cc, 69 kW, 16 N·m) and the 3B (3431 cc, 73 kW, 226 N·m).
1975 - The 3.8 L engine was replaced by a larger and more powerful 4.2 L version. In Japan, the Land Cruiser had almost always been available with a diesel engine with an original displacement of 3.2 L, reintroduced a 3.0 L in 1976, and updated to 3.2 L again in 1979 — but was never officially available in the U.S.
1978 - The First FJ40 and FJ55 models were sold officially in Germany with a 2F engine and drumbrakes in the front axle. Diesel models did follow 1978 with a B diesel engine. The Land Cruiser switched over to a new floorpan in 1979, disc brakes for all models and a 3B diesel engine.
Third generation (1960-1969)
Edit
1961 - The 20 Series is upgraded to the now classic 40 Series. Many of the changes related to production techniques, with Toyota having procured new presses. Mechanically, the 40 was given a new, uprated 3878 cc version of the F-type engine (now producing 93 kW) and the Land Cruiser at last, receives a proper set of low range gears.
1961-1965 - Global production passed the 50,000 mark. The Land Cruiser was the best selling Toyota in the US.
1967 - Introduction of a new station wagon Land Cruiser. The 50 Series or FJ55 — sometimes called 'the Moose', was produced alongside the 40 Series.
1967 - The 50 Series has a longer, 2700 mm wheelbase model, designed with an eye to the North American and Australian markets, where it established the Cruiser's reputation for robustness and reliability over and above the competition - a reputation that continues to this day. The 50 Series is eventually to get a more powerful (4.2 L 2F-type) six-cylinder gasoline engine with outputs of 104 kW at 3600 rpm and 294 N·m at 1800 rpm.
1967 - Introduction of the first Land Cruiser diesel for export, an export-only model fitted with the H-type 3576 cc engine.
1968 - 100,000th Land Cruiser sold worldwide.
Second generation (1950-1959)
Edit
1950 - The Korean War created demand for a military light utility vehicle, an updated Jeep, on Japan's doorstep. The U.S. put out a request to tender for 100 vehicles - the exact requirement spec is unknown. Toyota did not respond to this tender.
1950 - In the second half of the year, Toyota got an opportunity to tender for a contract for a Jeep-type vehicle to be procured by the Japanese National Police Reserve Force.
1951 - The BJ prototype is born in January 1951 called the 'Toyota Jeep'. Like the British Landrover Series 1 that appeared in 1949, it has a strong resemblance to the American World War II Willys Jeep. The BJ was somewhat bigger than the Jeep, and considerably more powerful thanks to its 2.2 L four-cylinder L-head engine generating 61 kW at 3000 rpm and 215 N·m at 1600 rpm. The BJ had a part-time four wheel drive system like the Jeep. Unlike the Jeep however, the BJ had no low-range transfer case, making do with an extra-low first gear with a 5.53:1 ratio.
1951 - Toyota loses a National Police Reserve Force tender, but Toyota had the confidence and tenacity to continue development of the prototype with a view to export markets which was part of the vision and strategy of Kiichiro Toyoda, Toyota's founder.
1951 - In July 1951, Toyota's test driver Ichiro Taira drove the next incarnation of the BJ prototype up to checkpoint 6 of Mt. Fuji, the first vehicle to get this far. The test was overseen by the National Police Agency. Suitably impressed by the feat, the NPA promptly placed an order for 289 units, adopting the BJ as their official patrol car. This acts as a catalyst for subsequent orders from the Forestry and Agricultural Agencies, together with several Japanese electrical power utilities.
1953 - Full-volume production of the BJ began with assembly undertaken at the Toyota Automatic Loom Works Ltd, and painting done at Arakawa Bankin Kogyo KK, later to be known as ARACO, which is now an affiliate of TMC.
1954 - The Land Cruiser name was born. The manufacturer of the Jeep, Willys-Overland, objects to Toyota's use of the name 'Jeep', as the BJ was referred to as the 'Toyota Jeep'. Toyota apparently believed that 'Jeep' was a generic name for a four wheel drive vehicle. Technical director Hanji Umehara pondered over a new name. "In England we had another competitor - Land Rover. I had to come up with a name for our car that would not sound less dignified than those of our competitors. That is why I decided to call it 'Land Cruiser'," he recalls in an interview with South African Car Magazine.
1955 - The original 85 hp (63 kW) diesel engine was replaced with a 125 hp (93 kW) F-series 3.8 L gasoline engine.
1955 - The 20 Series Land Cruiser was introduced alongside the BJ. Designed to have more civilian appeal for export than the military-oriented BJ, more stylish bodywork, a better ride thanks to longer, four-plate leaf springs which had been adapted from those of the Toyota Crown sedan. Under the hood, it sported the newer, larger, more powerful F-Series six-cylinder engine (3878 cc, 78 kW). The interior of the vehicle was also made more comfortable, the extra space achieved by moving the engine 120 mm forward. The 20 Series still had no low range, only the extra low 1st gear but had synchromesh on the third and fourth ratios.
1958 - The first hardtop Land Cruiser was introduced. From this year, an even longer (2,650 mm wheelbase) model, the FJ35V, is produced in both wagon and van body styles.
1959 - First Toyota vehicles exported to Australia - the initial lot are Land Cruisers for use on the Snowy Mountains Scheme.
First Generation/Origins (1940-1949)
Edit
1941 - The Japanese government tasked Toyota to produce a light truck for their military campaign. Toyota developed a prototype, the 2-ton AK10 in 1942. It was not a success and the production run went to Nissan instead. There are no known surviving photographs of the AK10. The only known pictorial representations are some rough sketches. The truck featured an upright front grille, flat front wheel arches that angled down and back like the later FJ40, and headlights that were mounted above the wheel arches on either side of the radiator. It had a folding windscreen. The US Army Jeep arrived in the Pacific in May 1943, so allegations of the later BJ being copied from the Jeep are open to question.
Prehistory (1940–1945)
Edit
In 1941 the Japanese Imperial Army occupied the Philippines, where they obtained a Bantam Mk II, and promptly brought it to Japan. The Japanese military authorities commanded Toyota to make a similar vehicle but to not model the appearance on the American Jeep. The prototype was called the Model AK and was formally adopted by The Japanese Imperial Army as the Yon-Shiki Kogata Kamotsu-Sha ( 四式小型貨物車 The Imperial era 2604th model compact cargo-truck ).
Later in 1941 the Japanese government asked Toyota to produce a light truck for the Japan military campaign. Toyota developed a 1/2 ton prototype called the AK10 in 1942. The AK10 was built using reverse-engineering from the Bantam GP. There are no known surviving photographs of the AK10. The only known pictorial representations are some rough sketches. The truck featured an upright front grille, flat front wheel arches that angled down and back like the FJ40, headlights mounted above the wheel arches on either side of the radiator and a folding windshield.
The AK10 used the 2259 cc, 4-cylinder Type C engine from the Toyota Model AE sedan with a three-speed manual transmission and two-speed transfer gearbox connected to it. There is no mechanical relationship between the AK10 and the postwar Toyota Jeep BJ. Most of the AK10's were not actively used (unlike the U.S. Jeep) and there are almost no photographs of it in the battlefield.
Worldwide
Edit
If the vehicle is sold in other markets worldwide, then this is the section to mention that information. Also, mention if the <MODEL> goes by another name in these other markets.
Design quirks and oddities
Edit
Toyota Land Cruiser models ranging from 1998-2002 ranked high with professional car thieves Australia-wide.
2009 Carsales Large SUV People's Choice Award
External Links
Edit
News and References
Enthusiast Sites and Discussion Forums