Toyota Avensis
Talk

0
9,253pages on
this wiki
Toyota Avensis
Toyota
aka
Type aka here, not up there
Production
1998 - present
Class
denote market class
Body Style
4-door saloon
5-door estate
5-door liftback
Length
length - type here
Width
Width - type here
Height
Height - type here
Wheelbase
wheelbase - type here
Weight
Weight - you get the point
Transmission
transmission + drive
Engine
engine
Power
N/A hp @ N/A rpm
N/A lb-ft of torque @ N/A rpm
Similar
similar (competition)
Designer
Designer (lead designer if it was a team effort)
The Toyota Avensis is a large family car built in Derbyshire, United Kingdom by Japanese automaker Toyota since the 1998 model year. It is the successor of the Carina E and is available as a four-door saloon, five-door liftback and estate. A large MPV called the Toyota Avensis Verso (Toyota Ipsum in Japan and previously the Toyota Picnic in other markets) is built in Japan on a separate platform. The Avensis is the basis for the youth-oriented, U.S.-market Scion tC.
See Autopedia's comprehensive <MODEL> Review.
Recent Changes
Edit
The third generation Toyota Avensis has been debuted at the 2008 Paris International Motor Show and information has been released. The crisp new Toyota Euro flagship will be bristling with new safety features like Steeringassist Vehicle Stability Control (VSC+), Adaptive Front Light System (AFS) and Pre-Crash Safety System (PCS). It will also be available with three new more efficient petrol engines. The range will comprise of a 132 hp 1.6 litre fourpot, a 147 hp 1.8 litre unit and a 152 hp 2.0 litre four-banger. The diesel engine options will carry over from the previous model and remain unchanged. [1]
Styles and Major Options
Edit
Certain vehicles come in different trim levels or body styles. Features and major options should be mentioned here.
Add more fields as necessary.
MODEL Trims
Trim1
Trim2
Trim3
Trim4
MSRP
$Price1
$Price2
$Price3
$Price4
Invoice
$Price1
$Price2
$Price3
$Price4
Gas Mileage
Edit
Add more fields as necessary.
As seen on the FuelEconomy.gov website, the City/Highway MPG averages are as follows:
Trim
Trim1
Trim2
Trim3
Trim4
MPG
c/h
c/h
c/h
c/h
Engine and Transmission
Edit
Specifications, details, graphs, pictures and other information regarding the powertrain is placed in this section.
Performance
Edit
Please make sure to write information of the vehicle's performance in a third-person point of view. This section should include information about the car's acceleration figures, handling, braking, etc.
If using information gathered from Road Test articles from a reputable automotive source, then please make sure to cite the quote.
Reliability
Edit
Warranty options and scheduled maintainence information should be mentioned here.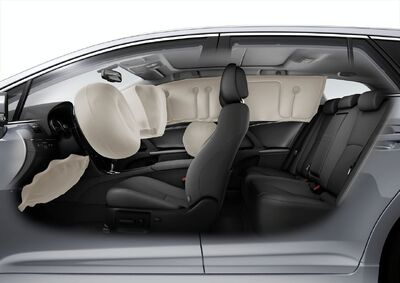 This section should reference points on safety ratings and features of the vehicle.

Add Photos of the vehicle here.
Please make sure not to use copyrighted photos.
List the colors that the particular <MODEL> is offered in.
Main Competitors
Edit
Create links to other <MAKE> <MODEL> pages in this section.
Hybrid Models
Edit
If there are hybrid versions of this vehicle manufactured, then please elaborate a little bit on it here.
Unique Attributes
Edit
If there are any features of this vehicle that sets it apart from other vehicles in its class, then mention those unique attributes here.
This section should include information on the interior's design, build quality, ergonomics, space (head and legroom, front and rear), features, stowage compartments and overall comfortability and livability. Add pictures wherever applicable and keep information in a third-person point of view.
Resale Values
Edit
Add more fields as necessary.
<MODEL> Year
Year X
Year X-2
Year X-3
Year X-4
Resale Value
$
$
$
$
Criticisms
Edit
Please make sure to keep critiques in a third-person point of view. If using criticisms from a reputable automotive source, then please make sure to cite the quote.
Generations
Edit
Fill in as many as appropriate. Add more if necessary and pictures wherever applicable.
Please make sure NOT to use copyrighted pictures.
Current Generation: (2009–present)
Edit
The third generation Avensis is due on sale in 2009. [2]
Second generation T250 (2003–2008)
Edit
The second generation Toyota Avensis was launched in early 2003 an all-new format; this time it offered more in the way of driver involvement and visual appeal. The 1.6, 1.8 and 2.0-litre petrol and 2.0-litre turbodiesel engines were carried over from the previous Avensis, and the 2.4-litre four-cylinder from the Camry was also added to the range. This was the first Avensis that is exported to Japan. Due to the Camry wagon ending production, the Avensis Wagon is exported to New Zealand, in both 1.8 and 2.0-litre forms. In Britain, there were no 1.6 versions available.
In the 2004 European Car of the Year contest, the Avensis was just edged out of the top three by the Fiat Panda, Volkswagen Golf and Mazda 3.
Following the withdrawal of the Toyota Camry in 2004 (2005 in Switzerland), the Avensis became the largest Toyota saloon sold in Europe.
Trim levels in the UK are the T2, T3-S, T3-X, T4, T Spirit and the T180. There is also a special edition, based on the T2 called the Colour Collection. In Ireland there are four trim levels - Aura, Strata, Luna, and Sol.
The original 115 PS (85 kW) D-4D Diesel engine has been complemented with a 2.2 L D-4D in 150 PS (110 kW) and 177 PS (130 kW) versions. Newer versions have dropped the "D-4D" and "2.0" badging from the front wings and tailgate respectively.
In Japan, the Avensis is sold as 2.0 Xi, 2.0 Li, and 2.4 Qi. Only the base model 2.0 Xi is offered with 4-wheel drive.
The Avensis Verso continued to be available alongside the new Avensis until 2006. A replacement to take over from the Avensis Verso and Toyota Previa/Sienna has yet to be unveiled, but is rumoured to feature Toyota's 2.2-litre D-4D engine.
The new facelifted Toyota Avensis became available in June 2006. Some changes from the old model are the inclusion of turn signals in the side mirrors, an MP3/WMA/ASL-ready audio system, new front bumper, and a new grille. Interior materials and cloth seats have also been changed for 2006. Its multi display with on-board computer will be integrated in optitron display and is navigation ready. Also added are automatic headlights and a height-adjustable front passenger seat.
The most notable mechanical difference is the addition of a 124 bhp D-4D engine. This, coupled to a six-speed manual gearbox has lowered fuel consumption, emissions, and gives a quoted 0-60 mph time of 10.5 seconds.
First Generation/Origins T220 (1997/8–2003)
Edit
Toyota introduced the Avensis nameplate on its new model, essentially an extensive revamp of the previous generation Carina E, which was launched at the end of 1997. Like its predecessor, the Avensis was based on the non-European Corona model and built at the Burnaston factory in Derby. At the same time, production of the five-door Toyota Corolla also started at this British plant. The same model was sold as the Toyota Corona on some markets (although production of another model, the Toyota Premio was pursued in Japan).
The original Avensis had the option of four engines (1.6, 1.8 and 2.0-litre petrol and a 2.0-litre turbodiesel) and three body styles (saloon, hatchback and estate). The station wagon was essentially the Japanese-market second generation Toyota Caldina. All of the range gave solid build quality, excellent reliability, a spacious comfortable interior, generous equipment, smooth ride quality and good refinement, but very little in the way of excitement. A facelift in the summer of 2000 (which saw the engines fitted with variable valve timing) made little difference to this, although a sporty Avensis 2.0 L SR with bodykit and tuned suspension did become available.
The Avensis Verso large MPV was introduced in 2001, with room for seven occupants and 2.0-litre engines only. The Verso's platform previewed the Avensis second generation. The Avensis Verso won Australia's Best People Mover, where it is simply called Avensis, the other variants unavailable to that market.

Worldwide
Edit
If the vehicle is sold in other markets worldwide, then this is the section to mention that information. Also, mention if the <MODEL> goes by another name in these other markets.
Design quirks and oddities
Edit
Refer to any pop-culture tidbits about the vehicle in this section.
List out notable awards that the model has recieved while in production. Boldface the company or organization that gives out the award, and Italicize the name of the award.
External Links
Edit