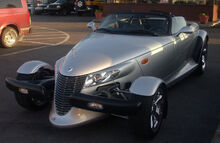 Tom Gale is an American automobile designer widely known for his work with the Chrysler, Dodge and Plymouth marques,. including the Chrylser LH series as well as the three sports cars, the 1991 Dodge Stealth, the 1992 Dodge Viper, and the 2001 Plymouth Prowler. Gale and his design partners Trevor Creed and John Herlitz were instrumental with breakthrough designs that rescued Chrysler twice from the brink of bankruptcy.
Early life
Edit
Gale was born in 1943 to Tom Gale Senior, who was an engineer in GM's Buick division. Gale showed keen interest in automobiles as he grew up in Flint, Michigan. He later graduated from Michigan State in 1966 with a degree in engineering.
Time at Chrysler
Edit
Gale joined Chrysler as an engineer, working in the newly formed advanced body-engineering group. Later he moved into the design department for Lee Iacocca's K-Car project.
Gale was later promoted to head the Chrysler styling department, presenting concept cars such as the 1993 Chrysler Thunderbolt, 1995 Atlantic, 1997 Phaeton. He later was involved with the swoopy LH platform models, Plymouth Prowler, and the 1994 Dodge Ram pickup series. Gale's most notable creation was the 1992 Dodge Viper, which evolved from the earlier concept without many changes.
Retirement and consultancy
Edit
Gale retired from Chrysler in 2000, after their merger with Daimler Benz, running a design consultancy that created a line of instruments for Classic Instruments Inc. He builds Hot Rods, including a 1933 Ford highboy roadster with a hemi V8.
Ad blocker interference detected!
Wikia is a free-to-use site that makes money from advertising. We have a modified experience for viewers using ad blockers

Wikia is not accessible if you've made further modifications. Remove the custom ad blocker rule(s) and the page will load as expected.