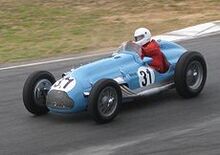 The T26C was a single-seater racing car with a box section chassis, an unsupercharged 4.5 litre straight six engine and a four speed Wilson preselector gearbox. Chassis and gearbox were derived from the company's 1930s racing cars and were similar to those used on their post-war road cars.
The T26C made its racing debut in the 1948 Monaco Grand Prix, finishing second in the hands of Louis Chiron. Grand Prix victories were achieved the following year with Louis Rosier winning the 1949 Belgian Grand Prix and Louis Chiron winning the 1949 French Grand Prix.[8] A modified two-seat version won the 1950 24 Hours of Le Mans driven by Louis Rosier and Jean-Louis Rosier.
Ad blocker interference detected!
Wikia is a free-to-use site that makes money from advertising. We have a modified experience for viewers using ad blockers

Wikia is not accessible if you've made further modifications. Remove the custom ad blocker rule(s) and the page will load as expected.