The
Suzuki Motor Corporation
is a Japanese manufacturing company producing a range of small
automobiles
(especially Keicars), a full range of motorcycles, outboard motors, and a variety of other small combustion-powered
engine
products. It has main production facilities located in 22 countries and areas around the world. Suzuki has teamed up with local Indian company Maruti and the partnership has made them India's largest automobile sellers.
The company is currently headed by Osamu Suzuki as chairman and CEO.
History
1909 — The company started out as Suzuki Loom Works. It was founded in Hamamatsu, Shizuoka Prefecture Japan, by Michio Suzuki.
1952 — It created the motorized bicycle, called Power Free, which featured a 2x36cc engine. This bike was popular, so in 1954 it introduced a second bicycle.
1954 — The company's name changed to Suzuki Motor Corporation. In 1955 Suzuki introduced its first mass-produced car, the Suzulight.
1970s — The models Suzuki Fronte (in different variations such as the 360 or the Viola) and Suzuki Jimny were produced.
1981 — General Motors purchases 5% of Suzuki shares
1998 — GM purchases additional shares for a 10% stake
2001 — GM's share is up to 20.4%
March, 2006 — GM divested, selling 92.36 million shares and reducing their stake to 3% in order to raise $2 billion. Suzuki still owns 11% of GM Daewoo Auto and Technology.
American Suzuki Co. History
In 1985, Suzuki made an agreement with General Motors to meet the increasing demand for small cars and the Chevrolet Sprint (Suzuki Cultus in Japan) was introduced in the United States.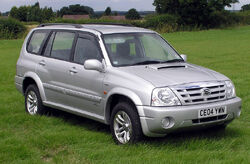 Also in 1985 (for the 1986 model year), the Samurai (a small off-roader; also known variously as the Jimny, Sierra and SJ410/SJ413 outside the US) was the first car introduced to the United States by the newly created American Suzuki Corp. No other Japanese company sold more cars in the United States in its first year than Suzuki. It was successful until Consumer Reports reportedly forced the Samurai to roll over in a 1988 test. Both companies spent over a decade in court debating this issue with no winner until 2003 when a judge sided with American Suzuki. As a result in Consumer Reports next issue they printed a correction to the 1988 test.
In 1989, American Suzuki introduced the Swift and a new small SUV called the Sidekick. The Swift and Sidekick were cousins to GM's Geo Metro and Geo Tracker and were mostly produced in Ingersoll, Canada by Suzuki and GM's joint venture, CAMI.
In 1995 American Suzuki introduced the Esteem and redesigned the Swift. Worldwide Suzuki production reached more than 975,000 cars this year. In 1996, American Suzuki released the X-90 to replace the Samurai. The Sidekick was replaced by the Vitara and the Grand Vitara for 1999.
After 2001, the Swift (by then the most inexpensive car in America) had left the Suzuki lineup. The Esteem also left, to be replaced with the Aerio for 2002. Suzuki was now down from two SUVs to one, and two cars to one.
In 2004, General Motors and Suzuki Motor Corp in Japan purchased the Bankrupt Daewoo renaming the venture GMDAT. Suzuki then rebadged two of the Deawoo cars with the Suzuki name: the compact Forenza (Daewoo Nubira/Daewoo Lacetti) and the mid-size Verona (Daewoo Magnus, formerly the Daewoo Leganza). The Forenza gained wagon and hatchback body styles for 2005, with the hatchback sold under the Reno name. Suzuki also introduced a redesigned Grand Vitara as a 2006 model.
OEM deals
Beginning with the Chevrolet Sprint, Suzuki has built cars for other manufacturers. In Europe, the main rebadged Suzuki is the Subaru Justy and G3X Justy, which has been a version of its Swift and, more recently, its Ignis. Most of Mazda's (and Autozam's) smallest vehicles are made by Suzuki, as is the Nissan Moco. Suzuki's Samurai/Sierra was also known as the Holden Drover between 1985 and 1987. The Chevrolet Cruze and Holden Cruze are also on Suzuki platforms—again the Ignis's but with a Holden-designed body. The Geo and Chevrolet Tracker were Suzuki Vitaras by another name. Suzuki has recently collaborated with Nissan, they will supply Suzuki with a mid-sized/pick up vehicle, whereas Suzuki will provide Nissan with more minicars for the Japanese home market. In addition the two comapnies will start manufacturing cars in India, which is a emerging market, Suzuki already owns just over 50% of Maruti, which sell most cars in the Indian market.
Partnership with Volkswagen
On Dec 9th 2009, Volkswagen and Suzuki announced that it has "reached a common understanding to establish a close longterm strategic partnership" with Suzuki Motor Corporation. The union means VW will buy 19.9% of Suzuki, then Suzuki will spend half the money they just received from Volkswagen reciprocating by buying VW shares.
Beyond that, Suzuki gains access to VW technology while Volkswagen gets a boost in its small car development as well as access to Suzuki's dealer network in India and Southeast Asia. Suzuki and VW will remain independent, but rumour suggests that VW might increase its stake to 33% or more at some point down the road, which could shift the balance of power.
Cars
Current vehicles
Historic vehicles
Vans
Other
See Also
External links
Ad blocker interference detected!
Wikia is a free-to-use site that makes money from advertising. We have a modified experience for viewers using ad blockers

Wikia is not accessible if you've made further modifications. Remove the custom ad blocker rule(s) and the page will load as expected.