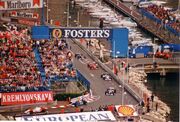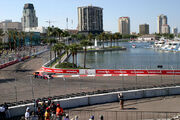 A street circuit is a racing circuit composed by temporarily closed-off public roads of a city, town or village, used in motor races. Facilities such as the paddock, pit boxes, fences and grandstands are usually placed temporarily and removed soon after the race is over but in modern times the pits, race control and main grandstands are sometimes permanently constructed in the area. Since the track surface is originally planned for normal speeds, race drivers often found it bumpy and lacking grip. Run-off areas may be non-existent, which makes driving mistakes more expensive than in purpose-built circuits with wider run-off areas.
Local governments sometimes support races held in street circuits to promote tourism. This is in contrast with illegal street racing, where racers do not ask permission to the authorities.
List of street circuits
Edit
Asia and Africa
Edit
Ad blocker interference detected!
Wikia is a free-to-use site that makes money from advertising. We have a modified experience for viewers using ad blockers

Wikia is not accessible if you've made further modifications. Remove the custom ad blocker rule(s) and the page will load as expected.