Template:Introduction to State Limousines of the Netherlands Template Introduction

Royal Family
Edit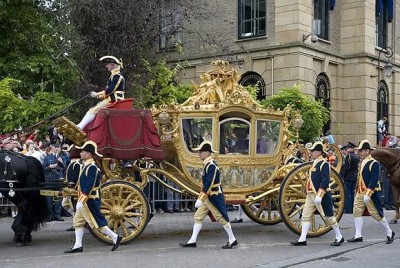 The first car to be owned by the Dutch royal family was a 1908 Renault, purchased by Prince Hendrik. In the years that followed it would be joined by nine royal limousines from the Amsterdam-based carriage maker Spijker, which continues to exist today as a sports car manufacturer. Between 1925 and the late 1950s, the royal limousines were supplied by Cadillac, after which the royal household switched to the Ford Motor Company.
The current official royal limousine is a stretched Volvo S80 model, although other members of the royal family use different cars. Visiting heads of state are chauffeured in a stretched Lincoln Continental[1]
All royal automobiles are painted in blue, with standard Dutch number plates beginning with AA, a special designation for the royal household.
Dutch Government
Edit
The Prime Minister of the Netherlands uses a BMW 7-Series. Previously, a Mercedes-Benz S-Class was used.

Cite error: <ref> tags exist, but no <references/> tag was found
Ad blocker interference detected!
Wikia is a free-to-use site that makes money from advertising. We have a modified experience for viewers using ad blockers

Wikia is not accessible if you've made further modifications. Remove the custom ad blocker rule(s) and the page will load as expected.