Template:Introduction to State Limousines of Russia Template The President of Russia is usually seen in an armoured Mercedes-Benz S-Class[1] stretched limousine. The first such model, a W140 variant, was purchased by Boris Yeltsin and has recently been superseded by a W221 model. The presidential motorcade will usually be escorted by police motorcycle outriders and a series of support vehicles including, but not limited to, the Mercedes-Benz G-Class, Mercedes-Benz E-Class, standard S-Class models, BMW 5-Series and Volkswagen Caravelle.
Under the USSR, the General Secretary of the Communist Party was always driven in a Russian-built ZIL-41047,[2] escorted by Chaika models. Two of the Zil limousines are still maintained in the Kremlin garage and occasionally seen in use.[3]

Mercedes-Benz S-Class Pullman Guard
Edit
Vladimir Putin
ZIL-41052
Edit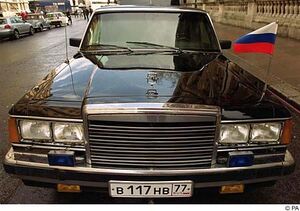 Vladimir Putin

Soviet Era
Edit
Cite error: <ref> tags exist, but no <references/> tag was found
Ad blocker interference detected!
Wikia is a free-to-use site that makes money from advertising. We have a modified experience for viewers using ad blockers

Wikia is not accessible if you've made further modifications. Remove the custom ad blocker rule(s) and the page will load as expected.