Template:Introduction to State Limousines of Monaco Template Albert II, Prince of Monaco acquired a Lexus LS 600h hybrid sedan, making it one of his official transports. In addition he owns a Toyota Prius and Lexus RX 400h,[1] and has also made use of a vintage Bentley. He also owns a Rolls-Royce and a Mercedes-Benz S-Class, and has recently purchased a BMW Hydrogen 7.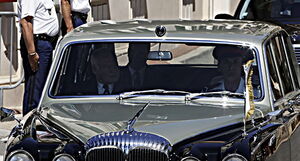 Prince Albert II

Cite error: <ref> tags exist, but no <references/> tag was found
Ad blocker interference detected!
Wikia is a free-to-use site that makes money from advertising. We have a modified experience for viewers using ad blockers

Wikia is not accessible if you've made further modifications. Remove the custom ad blocker rule(s) and the page will load as expected.