Template:Introduction to State Limousines of Japan Template The official state car currently used by the Emperor of Japan is a specially prepared Toyota Century Royal, a one-off $500,000 custom car. It stretches around 20 feet in length and 6.5 feet across, with extra amenities such as bulletproofing and a granite entryway.[1] The emperor was previously driven in a Nissan Prince Royal.
The Prime Minister of Japan travels in a regular Toyota Century or Lexus LS 600hL, escorted by a police motorcade which comprises numerous Toyota Celsiors.

Toyota Century Royal
Edit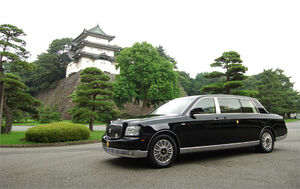 Emperor Akihito

Nissan Prince Royal
Edit
External Links
Edit
Cite error: <ref> tags exist, but no <references/> tag was found
Ad blocker interference detected!
Wikia is a free-to-use site that makes money from advertising. We have a modified experience for viewers using ad blockers

Wikia is not accessible if you've made further modifications. Remove the custom ad blocker rule(s) and the page will load as expected.