Spyker C8 Aileron
Spyker
aka
Spyker C8 Aileron Spyder
Production
2009 - present
Class
Supercar
Body Style
2-door, 2-seat Mid-Engined Coupe
2-door, 2-seat Mid-Engined Spyder
Length
4617mm (182")
Width
1972mm (77")
Height
1270mm (50")
Wheelbase
2727mm (107")
Weight
3142 lb (1425 kg)
Transmission
Getrag 6-speed Manual, RWD
ZF 6-speed paddle-shifted Automatic, RWD
Engine
4.2 litre Audi V8
Power
400 hp @ N/A rpm
354 lb-ft of torque @ N/A rpm
Similar
TVR Tuscan
Marcos GTO
Designer
Designer (lead designer if it was a team effort)
The Spyker C8 Aileron and C8 Aileron Spyder are Dutch supercars built by Dutch boutique manufacturer Spyker. They represent the second-generation efforts of the company and replace the aging C8 Spyder and C8 Laviolette. The Coupe Aileron was introduced at the 2009 Geneva Motor Show while the Spyder came a few months later at the 2009 Pebble Beach Concours d'Elegance. Both cars are powered by a 400 hp 4.2 litre V8 sourced from Audi. The German powerplant is attached to a choice between a 6-speed Manual from Getrag or a paddle-shifted 6-speed Automatic from ZF. Compared to its predecessors, the Aileron is re-engineered from scratch, featuring a longer aluminum space-frame chassis supporting the machined aluminum aircraft-inspired bodywork and diamond-quilted, retro switchgeared steampunk interior.
According to Spyker, "The C8 Aileron's design is heavily inspired by Spyker's aviation heritage, as was the case with all previous models, but with a clear emphasis on the second-generation aircraft propulsion: the turbine rather than the propeller that adorned so many elements of the first-generation cars."
See Autopedia's comprehensive Spyker C8 Aileron Review.
Recent Changes
Edit
The 2009 Pebble Beach Concours d'Elegance played host to the unveiling of the droptop version of the C8 Aileron. The C8 Aileron Spyder features a frameless windshield (similar to its C8 predecessor), a CNC-machined aluminum luggage rack located above the engine cover and a traditional single-latch electronic/hydraulically deployed soft-top (available in eight colors) with glass rear window. Underneath, both the exposed luggage rack and the engine bonnet is an Audi-sourced 400+ hp 4.2-liter V8 attached to a choice of either a six-speed manual or automatic gearbox (with paddle shifters). Stopping the car are massive AP brakes peering behind 19-inch Aeroblade wheels. Also available is an ultra-high-end stereo/infotainment system from Kharma. [1]
Styles and Major Options
Edit
Certain vehicles come in different trim levels or body styles. Features and major options should be mentioned here.
Add more fields as necessary.
MODEL Trims
Coupe Manual
Coupe Automatic
Spyder Manual
Spyder Automatic
MSRP
€189,990 ($238,684 USD)
€195,990
$Price3
$Price4
Invoice
$Price1
$Price2
$Price3
$Price4
Gas Mileage
Edit
Fuel Capacity: 57 litres (15 US gallons)
As seen on the FuelEconomy.gov website, the City/Highway MPG averages are as follows:
Trim
Trim1
Trim2
Trim3
Trim4
MPG
c/h
c/h
c/h
c/h
Engine and Transmission
Edit
Specifications, details, graphs, pictures and other information regarding the powertrain is placed in this section.
Engine
The C8 Aileron continues Spyker's tradition of sourcing Audi's now-legendary 4.2 litre V8 and tweaking it to produce 400 hp (even though Audi themselves are now able to wring out 420 hp out of it).
Transmission
As always, the Spyker features their trademark exposed gear change mechanism. However, the lever will now be attached a choice of two gearbox alternatives:
6-speed Manual from Getrag with ratios tailored to the Audi engine.
6-speed Automatic from ZF with paddle-shifts.
Performance
Edit
Performance Figures
0-100km/h (0-60 mph): 4.5 seconds
Top Speed: 300 km/h (187 mph)
Handling
The C8 Aileron features an all-aluminum chassis with 22.000Nm/degree of rigidity. Using Rigidnode and load-path technology, they have been able to ensure that the minimum amount of aluminum was used to achieve this performance, thus reducing the overall weight of the vehicle. The front track has also been increased to 1625 mm while the rear track widened to 1645mm.
Suspension
The C8 Aileron is fitted with a brand-new front and rear independent double-wishbone suspensionsystem. The new suspension system includes a new kinematic layout of the front and rear suspension, front and rear stabilizer bars, mono-tube dampers, coil over damper steel springs, anti-dive and antisquat setup for improved handling properties. The suspension components are made of forged aluminium where possible, to keep the vehicle's unsprung weight as low as possible. Shock absorbers are now placed vertically within the wishbones.
Braking
Brakes are supplied by AP Racing, a partner from day one. Black radial-mounted four-piston AP Racing brake calipers with Spyker script are standard. Colour-coded calipers with Spyker script can be ordered as an option. Carbon ceramic brakes will be available as an option soon.
The car also utilizes Anti-lock Braking System (ABS) and Electronic Brake Distribution (EBD).
Front: 350mm diameter vented and cross-drilled steel brake discs
Rear: 332 diameter vented and cross-drilled steel brake discs
Steering
Wheels
The Aeroblade™ wheels of the first-generation cars are replaced by newly-designed 19-inch alloy wheels. New 10-blade, 19-inch directional rotor wheels, branded Rotorblade™, are available as an option. These wheels are inspired by the turbine blades of a jet engine, which hints the new styling direction while respecting the aviation heritage. The 235/35 size tyres at the front and up to 295/30 at the rear provide the necessary road holding.
Reliability
Edit
Warranty options and scheduled maintainence information should be mentioned here.
This section should reference points on safety ratings and features of the vehicle.
Coupe
Spyder
Add Photos of the vehicle here.
Please make sure not to use copyrighted photos.
Developed by Sikkens Autolakken Nederland and AkzoNobel Car Refinishes, the car features 16 standard colors as well as the option of choosing their own unique colour or the livery of the Spyker Squadron GT2 racing cars.
Main Competitors
Edit
Create links to other <MAKE> <MODEL> pages in this section.
Hybrid Models
Edit
If there are hybrid versions of this vehicle manufactured, then please elaborate a little bit on it here.
Unique Attributes
Edit
If there are any features of this vehicle that sets it apart from other vehicles in its class, then mention those unique attributes here.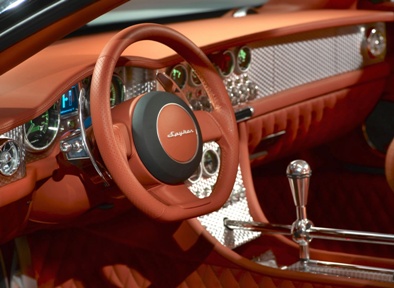 Design
A Spyker trademark from the beginning, the interior has a marked "steampunk" flavor: a diamond-patterned polished dashboard, Spyker's trademark exposed gear change mechanism and diamond-quilted leather. The hide is available in 14 standard colours with the option of a unique colour being avaliable as well if so desired by the customer.
However, Spyker's trademark 4-spoke propeller-inspired all-aluminum steering wheel has been replaced with a three-spoked unit from Lamborghini to be able to fit an SRS airbag.
Build Quality
The high-quality diamond-quilted leather comes from the Litano range of the Dutch Royal Tannery Hulshof. As well, all gauges and switchgear are milled from solid aluminum. Spyker also offers gauges and switchgear from Chronoswiss as an option.
Ergonomics
The dashboard was completely redesigned to suit the new Spyker identity and to improve ergonomics and functionality. Air vents are designed in turbine style and the performance and distribution of the air conditioning was improved significantly. A multifunctional LCD display is integrated between the speedometer and the odometer. The middle console accommodates the standard Kharma sound system.
Both occupants sit low, close to the car's centre of gravity.
Space
Thanks to the lengthened chassis the C8 Aileron now features a more capacious cabin, with North American customers in mind.
Features
The Aileron features an infotainment system from Dutch ultra-high end sound system manufacturer Kharma which incorporates a digital radio, Bluetooth interface, iPod connectivity and a satnav system.
The Kharma sound system itself is controlled via joystick controls on the center console and a dashboard display. It is paired to 6 Kharma loudspeakers that can be extended with two optional audio packages.
Interior Photos
Resale Values
Edit
Add more fields as necessary.
<MODEL> Year
Year X
Year X-2
Year X-3
Year X-4
Resale Value
$
$
$
$
Criticisms
Edit
Please make sure to keep critiques in a third-person point of view. If using criticisms from a reputable automotive source, then please make sure to cite the quote.
Generations
Edit
Fill in as many as appropriate. Add more if necessary and pictures wherever applicable.
Please make sure NOT to use copyrighted pictures.
Current Generation: (2009–present)
Edit
First Generation/Origins (2000-2009)
Edit
Main article: Spyker C8 Spyder
Main article: Spyker C8 Laviolette
Worldwide
Edit
If the vehicle is sold in other markets worldwide, then this is the section to mention that information. Also, mention if the <MODEL> goes by another name in these other markets.
Design quirks and oddities
Edit
Refer to any pop-culture tidbits about the vehicle in this section.
List out notable awards that the model has recieved while in production. Boldface the company or organization that gives out the award, and Italicize the name of the award.
External Links
Edit
News & References
Enthusiast Sites & Online Forums
Ad blocker interference detected!
Wikia is a free-to-use site that makes money from advertising. We have a modified experience for viewers using ad blockers

Wikia is not accessible if you've made further modifications. Remove the custom ad blocker rule(s) and the page will load as expected.