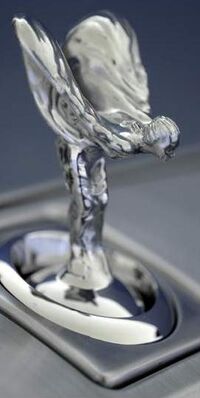 "Spirit of Ecstasy" is the name of the hood ornament on Rolls-Royce cars. It is in the form of a woman leaning forwards with her arms outstretched behind and above her. Billowing cloth running from her arms to her back resembles wings. It was originally called the "Spirit of Speed".
First used on 6 February 1911, it was designed by Charles Sykes and is probably modeled on Eleanor Velasco Thornton. Thornton was the secretary and lover of John Walter Edward Douglas-Scott-Montagu, 2nd Baron Montagu of Beaulieu, a friend of Sykes and an early motoring enthusiast who commissioned the first statuette for his own Rolls Royce. Claude Johnson of Rolls-Royce described how Sykes had sought to convey the image of "the spirit of ecstasy, who has selected road travel as her supreme delight......she is expressing her keen enjoyment, with her arms outstretched and her sight fixed upon the distance." Because of this, the statue was also nicknamed "Nelly in her Nighty". Until 1914 the statuettes were silver-plated but currently they are made from nickel alloy.

References
Edit
Ad blocker interference detected!
Wikia is a free-to-use site that makes money from advertising. We have a modified experience for viewers using ad blockers

Wikia is not accessible if you've made further modifications. Remove the custom ad blocker rule(s) and the page will load as expected.