Silver Arrows
Talk

0
9,252pages on
this wiki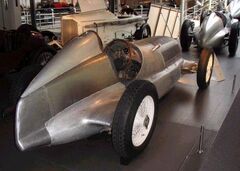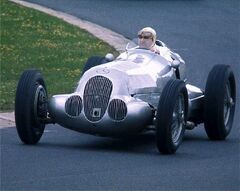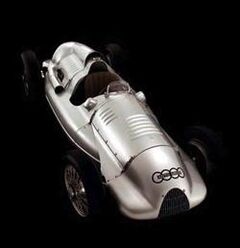 Silver Arrows was the name given by the press to Germany's dominant Mercedes-Benz and Auto Union Grand Prix motor racing cars between 1934 and 1939, and also later applied to the Mercedes-Benz Formula One and sports cars in 1954/55.
For decades until the introduction of sponsorship liveries, each country had its traditional color in automobile racing. Italian race cars are still famous for their Rosso Corsa red color, English ones are British Racing Green, French blue, etc.
German cars like the Blitzen Benz were white. For example, the big supercharged 200 hp Mercedes-Benz SSK with which Rudolf Caracciola won the 1931 Mille Miglia was called White Elephant.
The origin of the Silver Arrows was accidental. The international governing body of motor sport prescribed for 1934 onwards a maximum weight limit of 750 kilograms for Grand Prix racing cars, excluding tyres and fuel. When the Mercedes-Benz team placed its new Mercedes-Benz W25 on the scrutineering scales prior to the first race (the Eifelrennen at the Nürburgring) in spring 1934, it recorded 751 kg. Racing manager Alfred Neubauer and his driver Manfred von Brauchitsch were at first baffled, before hitting on the idea of scraping all the white paint from the bodywork. The next day, the shining silver aluminium beneath was exposed and the scrutineering was passed. After a successful race of the 320 hp cars, the nickname Silver Arrow was born.
Until 1937, the supercharged engine of a Mercedes-Benz W125 attained an output of 646 hp (475 kW), a figure not exceeded in Grand Prix Racing until the early 1980s, with the appearance of turbo-charged engines in Formula One. The Silver Arrows of Mercedes and Auto Union cars reached speeds of well over 300 km/h in 1937, and well over 400 km/h during land speed record runs.
The superiority of these vehicles in international motor racing established the term "Silver Arrow" as a legend, for example by usually winning the first race in which they were entered. The names Rudolf Caracciola, Bernd Rosemeyer, Hermann Lang, and later Stirling Moss and Juan Manuel Fangio, will for ever be associated with the eras of these racing cars.
Mercedes-Benz recalled its great past in the 1970s with rallye cars, and in the 1980s with the Sauber sportscars as well as the DTM touring cars. In 1995 and 1996, the McLaren-Mercedes F1 cars were still painted in the red&white colors of Marlboro but in 1997, West brought silver and black colors. As his predecessors did, the new silver arrow won on his first appearance, in Melbourne with David Coulthard. The latest incarnation of the McLaren-Mercedes livery further continues this tradition by being dominated by highly reflective chrome-silver.
Other German companies, like Porsche and BMW, still favour mainly the traditional white, while Audi also uses silver in to carry on the tradition of Auto Union.
At the 1999 Le Mans 24 Hours, a total of seven Silver Arrows were entered in the Le Mans Prototype class:
Further reading
Edit
Chris Nixon, Racing the Silver Arrows: Mercedes-Benz versus Auto Union 1934-1939 (Osprey, London, 1986) pp. 30-37, 164-168
External link
Edit