Shelby GT350
Shelby American
aka
Shelby GT350 Mustang
Production
1965 - 1970
2011 - present
Class
denote market class
Body Style
2-door fastback coupe
Length
188.3 in (4,783 mm)
Width
75.9 in (1,928 mm) (Excluding mirrors)

81.9 in (2,080 mm) (Including mirrors)

Height
54.4 in (1,382 mm)
Wheelbase
107.1 in (2,720 mm)
Weight
3,760 lb (1,706 kg) (Standard)

3,798 lb (1,723 kg) (Tech package) 3,791 lb (1,720 kg) (Track package)

Transmission
Tremec TR-3160 6-speed manual
Engine
5.2 L "Voodoo" V8
Power
500 hp @ N/A rpm
N/A lb-ft of torque @ N/A rpm
Similar
similar (competition)
Designer
Designer (lead designer if it was a team effort)
The Shelby GT350 is a variation of the Shelby Mustang.
See Autopedia's comprehensive Shelby GT350 Review.
Recent Changes
Edit
The 2016 Shelby GT350 was introduced.
Styles and Major Options
Edit
Certain vehicles come in different trim levels or body styles. Features and major options should be mentioned here.
Add more fields as necessary.
MODEL Trims
Trim1
Trim2
Trim3
Trim4
MSRP
Base car + $33,995
$Price2
$Price3
$Price4
Invoice
$Price1
$Price2
$Price3
$Price4
Gas Mileage
Edit
Add more fields as necessary.
As seen on the FuelEconomy.gov website, the City/Highway MPG averages are as follows:
Trim
Trim1
Trim2
Trim3
Trim4
MPG
c/h
c/h
c/h
c/h
Engine and Transmission
Edit
Specifications, details, graphs, pictures and other information regarding the powertrain is placed in this section.
Performance
Edit
Please make sure to write information of the vehicle's performance in a third-person point of view. This section should include information about the car's acceleration figures, handling, braking, etc.
If using information gathered from Road Test articles from a reputable automotive source, then please make sure to cite the quote.
Reliability
Edit
Warranty options and scheduled maintenance information should be mentioned here.
This section should reference points on safety ratings and features of the vehicle.
Add Photos of the vehicle here.
Please make sure not to use copyrighted photos.
List the colors that the particular <MODEL> is offered in.
Main Competitors
Edit
Hybrid Models
Edit
None as of yet
Unique Attributes
Edit
If there are any features of this vehicle that sets it apart from other vehicles in its class, then mention those unique attributes here.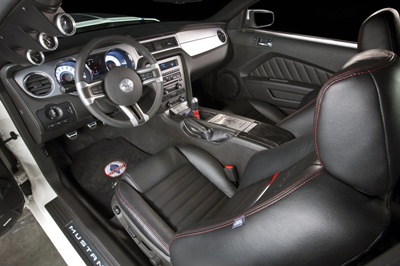 This section should include information on the interior's design, build quality, ergonomics, space (head and legroom, front and rear), features, stowage compartments and overall comfort and livability. Add pictures wherever applicable and keep information in a third-person point of view.
Resale Values
Edit
Add more fields as necessary.
<MODEL> Year
Year X
Year X-2
Year X-3
Year X-4
Resale Value
$
$
$
$
Criticisms
Edit
Please make sure to keep critiques in a third-person point of view. If using criticisms from a reputable automotive source, then please make sure to cite the quote.
Generations
Edit
Fill in as many as appropriate. Add more if necessary and pictures wherever applicable.
Please make sure NOT to use copyrighted pictures.
Current Generation: (2015–present)
Edit
For 2016, the GT350 has a 5.2 L flat plane crank V8 engine, known as Voodoo, with 526 horsepower and 429 foot pounds of torque.The GT350 is more track focused than the GT500, and was benchmarked against the Camaro Z28, Porsche GT3, and BMW M4. Notable features are track-focused chassis tuning, significant aerodynamic changes to include lowering the hood around the engine, two piece Brembo brakes, MagneRide damping option, light weight Tremec six speed manual transmission, Recaro seats, and various lightening efforts. Specifically a carbon fiber reinforced polymer radiator support that directs cooling channels for various components.
Additional options, such as larger alloy wheels, navigation system, rear backup sensors, a rear backup camera, blind spot monitoring, security system, remote vehicle starter system, SHAKER PRO Surround Sound Premium Sound System, premium leather seating surfaces, sunroof and HID front headlamps are available. Interior color schemes, such as Coral Red and Saddle, are available in addition to the standard black interior color scheme.
Fifth generation (2011–2013)
Edit
Coinciding with the 45th anniversary of the original 1965 Shelby GT350, Shelby American unveiled an all new GT350 Mustang at the opening night gala of the Barrett-Jackson auction in Scottsdale, AZ. Presented in concept form, the new GT350 features a supercharged version of the brand new 5.0-liter V8 engine in the 2011 Mustang GT as well as performance upgrades from Ford Racing, Borla, Cragar, Baer and more.
The GT350 is a post-title upgrade available from Shelby. Customers can have their 2011 Mustangs shipped directly to Shelby's Las Vegas facility to be converted or they can deliver the car themselves. Automatics will be available for conversion as a naturally aspirated tune producing up to 440 horsepower, and manuals have the option of NA or fitted with a Ford Racing supercharger to produce 525 horsepower, or at the expense of the warranty, 624 horsepower, a Ford Racing suspension system (The first 100 are being fitted with the Eibach suspension carried over from the GT500 Supersnake), Baer brakes in front and optional in rear, Custom Borla exhaust system, 19" Cragar wheels, and more. For the exterior, Shelby fits a new front fascia, front splitter, functional hood scoop, functional brake cooling ducts, tail light trim, rear deck lid filler panel, and a rear fascia with center exhaust exit. Performance White with Guardsman Blue racing stripes will be the only available color combination for 2011 models. 2012 models will be available in other colors, but will lose the 45th Anniversary badge of the 2011. Initial road tests of the GT350 by Motor Trend show impressive statistics. The 2011 Shelby GT350 hits 60 mph (97 km/h) in 3.7 seconds, compared to the 412 horsepower 2011 Mustang GT's time of 4.4 seconds. The 2011 GT500 needs 4.2 seconds to get to 60 mph (97 km/h) and even the Shelby Super Snake with 750 hp (559 kW) still takes 4.1 seconds. Weight difference isn't a factor to blame for the better performance than the GT500, considering the GT350 is only a mere 24 pounds lighter than the newly lightened GT500. The GT350's quarter mile time is 12 seconds flat at 121.4 mph (195.4 km/h) Two GT350s used to pace the 2010 NASCAR race in Las Vegas. It features a prototype front fascia and has been displayed at the Shelby Heritage Museum and has been a mainstay for promotional materials and posters. After being revealed at Barrett Jackson in 2010 as a celebration of the original 1965 Shelby GT350's 45th anniversary, the 2012 GT350 made its world debut at the 2011 Chicago Auto Show.A convertible version is a welcomed change for 2012 considering the last convertible to be offered was back in 1970. Red and blue will also get added to the list of exterior colors which will make the limited run of 350 models sell out as fast as water in the desert. The 2011 Ford Mustang GT from Shelby was previously only offered in a white exterior color with Guardsman Blue Le Mans racing stripes running the length of the vehicle, but 2012 will see two new colors in Race Red with white LeMans stripes and Kona Blue with white LeMans stripes. These paint schemes are unique because they are not Factory paint jobs from Ford. The convertible will offer a new optional light bar with other options including a one-piece drive shaft and color coordinated billet aluminum engine cap set. The extensive body kit includes a revised front fascia, side rockers with brake ducts, rear bumper, and decklid. New taillights and custom Shelby GT350 badges further distinguish this special model and bring back memories of past models. The serialized dash plate with individual numbering for each GT350 produced. The 2012 Shelby GT350 will deliver the same performance numbers as the 2011 model with a 5.0L V8 delivering 430 HP normally aspirated, 525 HP supercharged, or 624 HP supercharged version. The addition of a Whipple supercharger and Borla exhaust system have really allowed this V8 to take on a life of its own. An automatic transmission is optional with the normally aspirated engine, but some will go towards the short throw shifter manual transmission because they actually enjoy to drive. Keeping the powerful engine under control will be an upgraded suspension system designed by Shelby to give the Mustang reduced body roll and more variability to create custom track setups. Custom ERADISPEED rear rotors in conjunction with Bear 6-piston brakes. After the first details on the 2013 GT350 accidentally surfaced online, Shelbyhas decided that the time has come to reveal the official details on the sports car. The model will be built in limited numbers and will be offered in both coupe and convertible versions. The Shelby GT350 was released onto the market in 2011 and since then, has been improved upon every year. In 2011, it only came as a coupe painted in white with blue stripes and for the 2012 model year, Shelby also added a convertible version with three more colors. For the 2013 model year, the GT350 will receive new color options, visual styling cues, and optional performance enhancements. The 2013 Shelby GT350 is powered by a 5.0 liter V8 engine offered in either a 430 HP normally aspirated version, a Ford Racing supercharged 525 HP, or a Ford Racing supercharged 624 HP version.
The 2011 Ford Mustang GT from Shelby was previously only offered in a white exterior color with Guardsman Blue Le Mans racing stripes running the length of the vehicle, and the 2012 model saw the addition of two new colors in Race Red with white LeMans stripes and Kona Blue with white LeMans stripes. The 2013 model year will add even more color options in the form of Grabber Blue, Sterling Gray Metallic, "Gotta Have It" Green, Candy Red Tint Coat Metallic, Ingot Silver Metallic, "Deep Impact" Blue Metallic (replaces Kona Blue Metallic), Race Red, Performance White, and Black. These new colors can be combined with Satin Black or Gloss White stripes and a new set of wheels in Satin Black or Bright Silver Metallic. Other styling cues for 2013 include a glass roof option, Recaro Seats, and a modified custom rear valance.
The 2013 Ford Mustang Shelby GT350 is powered by a 5.0 liter V8 engine offered in both natural and supercharged versions. The naturally aspirated model delivers a total of 430 HP, but Shelby is also offering a new cold air package that will increase the car's output to 450 HP. In the supercharged version, the GT350 is offered in either a Ford Racing supercharged 525 HP or a 624 HP version. The engine can be combined with a manual gearbox with a short throw shifter as standard, or an automatic transmission for the normally aspirated engine as an option.
Changes for the 2013 model year also include a one piece drive shaft, more powerful brakes, cooling enhancements, and a color coordinated billet aluminum engine cap set.
First Generation/Origins (1965–1970)
Edit
The 1965–1966 cars were the smallest and lightest of the GT 350 models. These cars are often called "Cobras", which was the Ford-powered AC-based two-seat sports car also produced by Shelby American during the same period. Both models use the Cobra emblem, similar paint scheme, and the optional "Cobra" valve covers on many GT350s that were part of a marketing tie-in by Shelby, as well as one of his iconic symbols. All 1965–66 cars featured the K-Code 271 hp (202 kW; 275 PS) 289 cu in (4.7 L), modified to produce 306 hp (228 kW; 310 PS). Marketing literature referred to this engine as the "Cobra hi-riser" due to its high-riser intake manifold. Beginning as a stock Mustang with a 4-speed manual and 9" live rear axle, the cars were shipped to Shelby American, where they received the high-riser manifolds, Tri-Y headers, and were given larger Ford Galaxie rear drum brakes with metallic-linings and Kelsey-Hayes front disc brakes. The 1965 G.T. 350 was not built for comfort or ease of driving. There were 34 "G.T. 350R" race-spec cars built specifically for competition use under SCCA rules, and the model was the B-Production champion for three straight years. The 1966 G.T. 350 had featured more comfort of casual drivers that included rear seats, optional colors, and an optional automatic transmission. This trend for additional features continued in following years, with the cars becoming progressively larger, heavier, and more comfortable, while losing much of their competitiveness in the process. The 1969 G.T. 350s and 500s were largely styling modifications to a stock Mustang. By 1969 Carroll Shelby was no longer involved in the Shelby GT program, and the design was done in-house by Ford. The 1965 and 1966 G.T. 350s were delivered from Ford's San Jose assembly plant in body in white form for modification by Carroll Shelby's operation, originally in Venice Beach and later at Los Angeles International Airport. San Jose cars carried an "R" in the Ford VIN denoting that facility. The only year that Shelby Mustangs from the 1960s came from another plant was 1968, where they came from New Jersey, "T" in the VIN, and were modified by A.O. Smith. All 1965 G.T. 350s were painted Wimbledon White with Guardsman Blue rocker stripes. Very few GT350s were delivered to the dealer with the optional "Le Mans" (or "LeMans") top stripes, which run the length of the entire car. Approximately 28% of the 562 1965 cars built had Le Mans stripes. Dealers often added the stripes, probably at the customer's request.Today, it is difficult to find a GT 350 not so equipped.
Many ERT 1965 cars had the battery relocated to the trunk, which was changed mid-year from complaints of fumes, and featured over-rider traction bars, relocated A-arms, as well as other modifications. Over-rider traction bars are named so because of their design being on top of the leaf spring as opposed to underneath them. There was only one transmission available, a 4-speed Borg-Warner T-10 manual. The exhaust system in the 1965 G.T. 350 was a side-exit dual exhaust with glass-pack mufflers. For this one year, the G.T. 350 also featured special 130 mph-rated Goodyear "Blue Dot" tires, named for the prominent blue dot on each sidewall. The 1965 G.T. 350 had a full size spare tire mounted in place of rear seats, making it a 2-seat-only vehicle (to be allowed to race under SCCA regulations as a "sports car"), and rode on either silver-painted steel wheels or special cast-magnesium center "Cragar Shelby" 15" rims with chromed center caps marked with a stylized "CS". Total 1965 model year production was 562 units.
For 1966, the GT 350 lost its Mustang tag and was marketed simply as the Shelby GT 350. The new model year also saw the introduction of non-white colors, including blue, red, green, and black. Other changes included special rear quarter-panel windows replacing the factory extractor vents, functional brake scoops on each side, and optional SelectShift 3-speed automatic, as well as an optional Paxton supercharger. The battery was no longer relocated to the trunk for 1966, and the over-rider traction bars were discontinued. The normal factory fold-down rear seat was optional. While early 1965 cars had black engine blocks, 1966 and later cars had their engines painted the regular factory Ford dark blue. The 1966 models came with a dual-exhaust exiting in the rear. The first 252 GT 350s for 1966 began as 1965 Mustang K-Code Fastbacks. These cars were specifically ordered by Shelby American for conversion into 1966 GT 350s. Upon delivery to Shelby-American, the cars were randomly picked for conversion. The Shelby VINs do not correspond in numerical order with Ford VINs. The Ford VINs were shipped in 'blocks,' but many differ significantly because the order they were taken for conversions.
Total production for 1966 was 1,373 fastbacks, including two prototypes and four drag cars, and the 252 early production models with Ford Mustang 1965 bodies. In order to help Shelby sales, Ford, the major shareholder of Hertz, persuaded the rental car giant to purchase 1,003 fastbacks, including two prototypes. Four "experimental" G.T. 350 convertibles were also built for test purposes in anticipation of a 1967-1/2 convertible offering, bringing total production to 2,378 units for 1966. A small number of the 1966 models were fitted from the factory with Paxton superchargers, but not the No-Spin limited slip differential; with an option price of $670 USD, the engine was rated at 440 hp (330 kW).
The deal with the Hertz Corporation to offer ~1,000 G.T. 350s for rental that, after their rental-car lives were finished, were returned to Ford, refurbished, and sold to the public as "G.T. 350H" models. Most Hertz cars were black with gold LeMans stripes and rocker panel stripes, although a few were white with blue stripes. The first 85 Hertz cars were available with four-speed manual transmissions and Hertz advertised them as "Rent-a-Racer" cars. During rental, these cars were sometimes used as production class cars at SCCAevents, and were rumored to have been returned to Hertz with evidence of roll bars being welded in. Ford pushed another 800 models on Hertz with black paint, gold stripes and black interior, as well as automatic transmissions.
When the Hertz cars were returned to Ford to be prepared for sale to the public, the high-performance parts were often "lost" (presumably at the manufacturer) before final sale. For 1967, the G.T. 350 carried over the K-Code high performance 289 with a 'COBRA' aluminum hi-rise. The G.T. 500 was added to the lineup, equipped with a "Ford Cobra" V8 (FE Series 428 cu.in.) engine with two 600 CFM Holly four-barrel carburetors sitting atop a mid-rise Aluminum intake manifold.
Documented plans to introduce a convertible mid-production year were shelved due to supply, production and financial problems that happened as soon as the first cars started to arrive at Shelby's Los Angeles facility in September. By October 1966, Ford took control over engineering and purchasing. A.O. Smith was tapped to fix the fiberglass fitment and quality problems. Six months later, in May 1967, the decision was made to terminate the California-based Shelby operation. On August 18, 1967, a small staff, along with the remaining engineering cars, were sent to Ionia. The small staff of the newly formed Shelby Automotive, Inc. had substantially less involvement after this time.
For 1968, the Cobra name was applied to the model, and were now marketed as the Shelby Cobra GT 350. The solid lifter K-code engine was discontinued by Ford so Shelby used the hydraulic lifter 230 hp 302. It produced 250 HP with the high rise intake but was not equipped with Shelby headers in order to make room for power steering. The early 1968 GT500 used the Shelby installed 428 Police Interceptor with a single four barrel carburetor rated at 360 HP. The 1967 redesign made for a heavier Mustang, along with a longer, fiberglass hood, and new front and rear facias. You can still see the design of the original 1965 version, but these styling upgrades gave the car a more aggressive appearance and achieve Carroll Shelby's goal of differentiating his car from the Mustang on which it was based. The separate high-beam headlamps in the grille added more character, while a thin, chrome front bumper sat below a mesh grille with the classic "Shelby G.T.350" logo in place (except for the very early cars). The small hood scoop was there to deliver fresh air to the engine. Shelby also included new, horizontal taillights (sourced from a '67 Cougar in 1967 and a '65 Thunderbird in 1968) and an integrated Kamm-type rear spoiler. Also, functional rear brake-cooling scoops adorned the rear quarter panels. Chrome was very nicely integrated on the G.T.350, with a lower bumper and exhaust tips slathered in the shiny stuff. Overall, it was a nice-looking rear end that echoed the muscular treatment up front quite nicely. Ten-spoke, fifteen-inch, cast-aluminum rims were the wheel choice with Goodyear white-lettered radials. G.T.350 was available with air conditioning and an AM/FM radio. The steering wheel was a wood-rimmed and satin-trimmed design with the classic Shelby logo in the center. Behind this wheel was a very classy-looking set of gauges. A 140-mph speedometer and a whopping 8,000-rpm tachometer were joined with smaller analog clock, fuel level, water temperature, and oil pressure gauges. The G.T.350 came with an iron-block, 289-cubic-inch (4.7-liter) V-8 rated at 306 horsepower and 329 lb-foot of torque. For a pushrod design, G.T.350 revved relatively high, with the horsepower peak not in full swing until the 6,000-rpm redline. 1967 was well before modern fuel injection came about, and the car used a single Holley four-barrel carburetor. The true dual-exhaust with H-shaped crossover system came standard with Flowmasters and chrome exhaust tips. Power was routed to the ground through a sturdy, four-speed manual transmission with a single, dry-disc clutch. A three-speed automatic was made available as an option. Rear-end ratios were 3.89-to-1 for the four-speed manual and 3.50-to-1 for the automatic. Acceleration was impressive, with a 0-to-60 time of around seven seconds and a top speed of 140 mph. While those numbers may not get your pulse into overdrive, this was very, very fast for its time. Braking duties were handled by 11.3-inch discs up front and drums in the rear. Power assist was standard. The front suspension consisted of unequal-length control arms, coil springs, adjustable tube arms, and an anti-sway bar. Out back was a live axle, with multi-leaf, semi-elliptical springs and tube shocks. The steering was a power-assisted recirculating ball design.
The GT lost its Cobra tag for 1969 and once again was marketed simply as Shelby GT 350. The GT 350 for the 1969 model year received an extensive face lift, the body alone increasing in length by 4 inches (100 mm). Ford was involved with design and style decisions, with Shelby having little input. The GT 350 was now equipped with a 351 cubic-inch V8. Carroll Shelby terminated his agreement with Ford in the summer of 1969. No production of 1970 Shelby GT 350 was undertaken; however, unsold 1969 models were given 1970 vehicle identification numbers under FBI supervision. The 1970 model had two cosmetic changes, a front chin spoiler and two black hood stripes. The rest of the changes had to do with emissions . The GT350 had the distributor changed to a 70 version. A total of 789 were re-VIN'd.
Worldwide
Edit
If the vehicle is sold in other markets worldwide, then this is the section to mention that information. Also, mention if the <MODEL> goes by another name in these other markets.
Design quirks and oddities
Edit
Refer to any pop-culture tidbits about the vehicle in this section.
List out notable awards that the model has received while in production. Boldface the company or organization that gives out the award, and Italicize the name of the award.
External Links
Edit
News and References
Enthusiast Sites and Discussion Forums
Ad blocker interference detected!
Wikia is a free-to-use site that makes money from advertising. We have a modified experience for viewers using ad blockers

Wikia is not accessible if you've made further modifications. Remove the custom ad blocker rule(s) and the page will load as expected.