Template:Merge to Template:Refimprove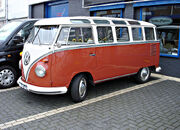 The term Samba in VW circles refers to a specific model of the Type 2 bus which was manufactured with the highest trim level available. A Samba is a Standard microbus with additions that include trim strips along the beltline and a dash clock. They were marketed for touring the Alps,[1] as they had small skylight windows embedded into the vehicle roof to add viewing windows. Samba buses began production in 1951 and were all fitted with a large Golde sunroof as standard.
References
Edit
Template:Bus-transport-stub
Ad blocker interference detected!
Wikia is a free-to-use site that makes money from advertising. We have a modified experience for viewers using ad blockers

Wikia is not accessible if you've made further modifications. Remove the custom ad blocker rule(s) and the page will load as expected.