Template:Infobox racing driver |} Sébastien Olivier Buemi (born 31 October 1988)[1] is a Swiss professional racing driver, who formerly competed for Scuderia Toro Rosso in Formula One. Buemi is currently a reserve driver for Scuderia Toro Rosso's sister team, Red Bull Racing, as well as being a member of Toyota's FIA World Endurance Championship squad and e.dams Renault in the FIA Formula E Championship. Along with team-mate Anthony Davidson, Buemi became World Champion in the LMP1 class of the FIA World Endurance Championship, in 2014.[2]
Formula BMW
Edit
Born in Aigle, Vaud, Buemi graduated from karting and spent 2004 and 2005 in German Formula BMW, finishing third and second in the championship respectively. He was also runner up in the 2005 FBMW World Final.
Formula Three
Edit
Following a single race in Spanish Formula Three in 2005, Buemi moved up to the Formula Three Euroseries for 2006, finishing 12th in the championship, ceding 11th place to Charlie Kimball on countback. He remained in the series for 2007, and finished second in the championship, behind Romain Grosjean. He has also competed in the special Masters of Formula 3 and Macau Grand Prix races.
A1 Grand Prix
Edit
For the 2006–07 A1 Grand Prix season, Buemi shared driving duties for A1 Team Switzerland with Neel Jani and Marcel Fässler. The team finished eighth in the championship.
GP2 Series
Edit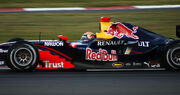 Buemi was drafted in at short notice to replace the injured Michael Ammermüller at ART Grand Prix for the Monaco round of the 2007 GP2 Series season. He performed creditably on his GP2 début, qualifying fourth and finishing seventh. He joined the Arden International team for the 2008 GP2 Asia Series, and finished as runner-up with a win and four second places. He continued with the team for the main 2008 season.[3] He scored his first win in the French sprint race, starting 21st on the grid (after a technical problem in the feature race) on slick tyres on a drying track and benefitting as most rivals had to pit for slicks. He won one more race and ended the season sixth in the championship.
Formula One
Edit
On 18 September 2007 he drove the Red Bull RB3 at the F1 test session in Jerez. He was third quickest on the day, behind Timo Glock (BMW) and Vitantonio Liuzzi (Scuderia Toro Rosso) but ahead of names such as Rubens Barrichello (Honda) and Nelson Piquet Jr. (Renault). On 16 January 2008 Red Bull Racing confirmed Buemi as their test and reserve driver for the 2008 season.[4] At the 2008 Japanese Grand Prix, Buemi drove the medical car as usual driver Dr Jacques Tropenat had been suffering from an ear problem.[5]
Scuderia Toro Rosso (2009–2011)
Edit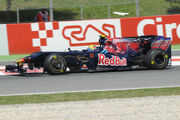 Scuderia Toro Rosso confirmed its signing of Buemi as one of its race drivers on 9 January 2009.[6] He was the first Swiss driver to take part in an F1 race since Jean-Denis Délétraz drove for Pacific at the 1995 European Grand Prix.
In his first race, the 2009 Australian Grand Prix, Buemi outqualified his team-mate Sébastien Bourdais and then scored a point in the race by finishing in eighth position. He was later promoted to seventh place as a result of Lewis Hamilton being disqualified. At the Chinese Grand Prix, he scored another point, this time in the wet, finishing eighth after starting tenth. After a mid season dip in the Toro Rosso's form, Buemi rounded off a good weekend to finish 7th in the 2009 Brazilian Grand Prix. He followed this with a third top ten qualification in a row and another points finish at the season finale in Abu Dhabi. Buemi finished the year sixteenth with 6 points as the best rookie.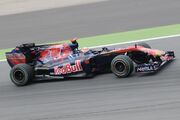 On 9 November 2009, it was confirmed that Buemi would race for a second season with Toro Rosso.
During the first free practice session of the 2010 Chinese Grand Prix, a front suspension wishbone broke under braking on Buemi's Toro Rosso as he braked for Turn 14. The two front wheels flew off while Buemi was travelling at over 300 km/h (186 mph). One wheel went over the safety fence and landed in a spectator area, missing a camera man on its way. Buemi's car continued to travel forward, veering to the left and sliding along an Armco barrier, knocking off the front wing. Neither Buemi nor any spectators were injured as a result of the incident. Toro Rosso blamed a failure of a new front right upright for the incident.[7] Buemi completed 2010 with eight points to teammate Alguersuari's five. He was sixteenth again in the drivers' championship.
Buemi, along with his team mate from 2009 and 2010 – Jaime Alguersuari, continued to race for Scuderia Toro Rosso in 2011. On 14 December 2011 it was announced that both Buemi and Alguersuari had been dropped by the team, and would be replaced by Daniel Ricciardo and Jean-Éric Vergne for the 2012 season.
Red Bull Racing (2012–present)
Edit
In January 2012 it was announced that Buemi would rejoin Red Bull Racing as a test and reserve driver for the 2012 season, as well as acting as Toro Rosso's reserve driver.[8] Buemi continued as Red Bull's test and reserve driver for the 2013[9] and 2014 seasons.
Sportscars
Edit
Buemi also signed a deal to contest the 24 Hours of Le Mans with Toyota Motorsport GmbH, driving a Toyota TS030 Hybrid with Anthony Davidson and Hiroaki Ishiura (who later withdrew and was replaced by Stéphane Sarrazin).[10] After a strong performance, the car was running in third position in the early evening when Davidson collided with a GT Ferrari and crashed heavily.
In 2013, Buemi continued driving with Toyota for a full season and ended with third place in the drivers' championship. For the 2014 season, he drove Toyota's new car – the Toyota TS040 Hybrid. With four wins and seven podiums from the eight races, Buemi became World Endurance Drivers' Champion with team-mate Anthony Davidson.[2]
Personal life
Edit
As of 2009 Buemi was officially resident in Bahrain, living with his family and his girlfriend Jennifer.[11] He has since moved to Monaco.[1] His cousin, Natacha Gachnang, is also a racing driver.
In 2013, Buemi and Johnny Herbert mentored 6 contestants in a primetime ITV4 reality series, with the aim of taking players of the Gran Turismo videogames to the Dubai 24 Hour race as real drivers.[12] Other countries in Europe had heats mentored by Vitantonio Liuzzi.[13]
Racing record
Edit
Career summary
Edit
* Season in progress.
Complete Formula 3 Euro Series results
Edit
(key)
Complete A1 Grand Prix results
Edit
(key) (Races in bold indicate pole position; races in italics indicate fastest lap)
Complete GP2 Series results
Edit
(key) (Races in bold indicate pole position; races in italics indicate fastest lap)
Complete GP2 Asia Series results
Edit
(key) (Races in bold indicate pole position; races in italics indicate fastest lap)
Complete Formula One results
Edit
(key)
24 Hours of Le Mans results
Edit
Complete FIA World Endurance Championship results
Edit
* Season in progress.
Complete Formula E results
Edit
(key) (Races in bold indicate pole position; races in italics indicate fastest lap)
* Season in progress.
References
Edit
External links
Edit
Wikimedia Commons has media related to: [[Commons:Category: Category:Sébastien Buemi
Sébastien Buemi

]]
Ad blocker interference detected!
Wikia is a free-to-use site that makes money from advertising. We have a modified experience for viewers using ad blockers

Wikia is not accessible if you've made further modifications. Remove the custom ad blocker rule(s) and the page will load as expected.