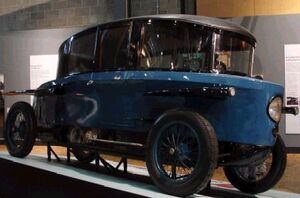 The Rumpler was a car developed by Austrian engineer Edmund Rumpler.
Rumpler, born in Vienna, was a designer of airplanes when in 1921 he introduced the Tropfenwagen on the Berlin car show. It was to be the first streamline car (beating the American Chrysler Airflow and Czech Tatra T107). The car featured a mid-engine layout, with a W6 engine. It had three banks of paired cylinders, all working on a common crankshaft. Around 80 cars were built. It was found to have a CW-value of only 0.28.
The test, which was run at a Volkswagen windtunnel in 1979, surprised engineers of the day. Volkswagen wouldn't beat the value until 1988 with the Passat.
Although the car was very advanced for its time, a big seller it was not. Little problems at the start (cooling), the appearance and the absence of a luggage compartment did not help sales. The car was sold almost solely as a taxi.
The car did become famous, thanks to a film called Metropolis, in which Rumplers found a burning end. Today, only two examples are known to exist, one in the Deutsches Museum and one in the Deutsches Technikmuseum Berlin.
External links
Edit
Ad blocker interference detected!
Wikia is a free-to-use site that makes money from advertising. We have a modified experience for viewers using ad blockers

Wikia is not accessible if you've made further modifications. Remove the custom ad blocker rule(s) and the page will load as expected.