The Rolls-Royce Phantom is an ultra-luxury sedan automobile made by Rolls-Royce in Great Britain, a BMW subsidiary. It was launched in 2003 and is the first Rolls-Royce branded car made under the ownership of BMW.
It has a 6.8 L, 48-valve, V12 engine that produces 453 hp (338 kW) and 531 ft·lbf (720 N·m) of torque. The engine is derived from BMW's existing V12 powerplant.
It is 1.63 m (63 in) tall, 1.99 m (74.8 in) wide, 5.83 m (228 in) long, and weighs 2485 kg (5478 lb). The body of the car is built on an aluminium space frame and the Phantom can accelerate to 60 mph (100 km/h) in 5.7 s. It has a six-speed automatic transmission and double wishbone suspension.
The Phantom features side markers on all vehicles (rear ones are red in the U.S. to comply with federal car lighting rules).
An extended wheelbase Phantom was presented in March 2005 at the Geneva Motor Show, which is 250 mm longer than the standard Phantom.
BMW went to great lengths to distinguish the Phantom from their own range. Although some 15 percent of components are shared with other BMW models such as the BMW 7 Series, the Phantom retains the traditional Rolls-Royce design cues.
The intention was to avoid being seen as just an extension to the BMW range. When Mercedes introduced its Maybach luxury saloon, it was criticized of producing "the ultimate Mercedes" instead of a separately branded car. The car shared many components with and looked like the less expensive S-Class Sedan. BMW learned from this lesson, selling the Phantom through separate dealerships where BMWs are not sold, while the Maybach showroom in London also sells the most basic of Mercedes models.
The aluminium spaceframe body is built in a BMW plant in Dingolfing, Germany and the V12 engine in Munich. Final assembly to each customer's individual specification is at a purpose built €100M plant at Goodwood, West Sussex, England. The Goodwood plant contains only two robots to paint the spaceframe body; all other work is done by hand, in respect of the Rolls-Royce tradition.
See Autopedia's comprehensive Rolls-Royce Phantom Review.
Recent Changes
Edit
For 2011, Rolls-Royce has created a bespoke 1/1 Phantom specific to the UAE market. The Baynunah Phantom features BMW-sourced Milano Beige paint, an Everflex tan roof, a gold plated Spirit of Ecstasy, 21-inch seven-spoke wheels, Walnut bur trim with a camel harness-inspired wood inlay, a Starlight headliner, rear lounge seats, and RR logo embroidered headrests. [1]
Exclusive to the Persian Gulf, Rolls-Royce has unveiled the Phantom Bespoke Collection program that allows customers to specify all manner of trim and color options beyond the usual range of choices. The program is limited only to six vehicles.[2]
For Christmas 2008, Rolls-Royce unveiled a new special edition of the Phantom for the well-heeled dubbed the Phantom Sapphire Edition. It is based on the long wheelbase variant and is coated exclusively in Milori Sapphire livery. Inside, customers will be able to treat themselves to two interior treatments: navy blue leather with seashell highlights or seashell leather with navy blue highlights, each trimmed with walnut burr veneer inlaid with a diamond-pattern. Toys come in the form of an aluminum billet bottle chiller below the rear seats, a parcel shelf containing hand-engraved crystal tumblers, sapphire be-jeweled Rolls Royce clock, a Conway Stewart fountain pen set and solid silver key fobs that come in a lacquered, walnut veneer box. [5]
For the Centennial Anniversary of the historic Rolls-Royce Silver Ghost on June 2007, Rolls-Royce has unvelied a special edition Phantom named, relatively simply, the Phantom Silver
At the 2007 Middle East Motor Show held in Dubai on November of that year, Rolls-Royce announced the launch of a limited edition version of the Phantom, dubbed, the Phantom Tungsten edition. The car features a relatively mild restyling which follows in the footsteps of the 101EX Concept and the Drophead Coupe. A 'Xirallic' Tungsten livery covers the sheetmetal except for the hood which now sports the Drophead's signature brushed aluminum bonnet. Other exterior upgrades include seven-spoke 21in forged aluminum wheels and chrome-plated stainless steel exhaust pipes. Inside, the car is as extravagant as befits a car of this calibre. Smoke Grey leather with contrasting Navy Blue hide for the dashboard and armrests are draped throughout the cabin broken only by the vast expanses of straight-grained East Indian Rosewood. The centerpiece, however, is taken directly from the 101EX - the headliner is fitted with 800 fiber-optic lights to create the impression of a star-filled night sky. [6][7]
Styles and Major Options
Edit
Certain vehicles come in different trim levels or body styles. Features and major options should be mentioned here.
Add more fields as necessary.
MODEL Trims
Trim1
Trim2
Trim3
Trim4
MSRP
$Price1
$Price2
$Price3
$Price4
Invoice
$Price1
$Price2
$Price3
$Price4
Gas Mileage
Edit
Add more fields as necessary.
As seen on the FuelEconomy.gov website, the City/Highway MPG averages are as follows:
Trim
Trim1
Trim2
Trim3
Trim4
MPG
c/h
c/h
c/h
c/h
Engine and Transmission
Edit
Specifications, details, graphs, pictures and other information regarding the powertrain is placed in this section.
Performance
Edit
Please make sure to write information of the vehicle's performance in a third-person point of view. This section should include information about the car's acceleration figures, handling, braking, etc.
If using information gathered from Road Test articles from a reputable automotive source, then please make sure to cite the quote.
Reliability
Edit
Warranty options and scheduled maintainence information should be mentioned here.
This section should reference points on safety ratings and features of the vehicle.
2009 Facelift
Add Photos of the vehicle here.
Please make sure not to use copyrighted photos.
List the colors that the particular <MODEL> is offered in.
Main Competitors
Edit
Create links to other <MAKE> <MODEL> pages in this section.
Hybrid Models
Edit
If there are hybrid versions of this vehicle manufactured, then please elaborate a little bit on it here.
Unique Attributes
Edit
Instead of a tachometer, the car has a power reserve dial indicating how much of the engine's power is left available to the driver.
The rear doors are rear-hinged, a style referred to as suicide doors. An electronic lock prevents the doors from being accidentally opened when moving.
The rear doors feature pop-out umbrellas.
The traditional Spirit of Ecstasy ornament has an electronic retraction mechanism to prevent theft and protect pedestrians in the event of an accident. It may also be retracted by the driver at the touch of a button.
The 'RR' logos on each of the wheel hubs are independent bezels in order to always remain upright while the wheel is rotating.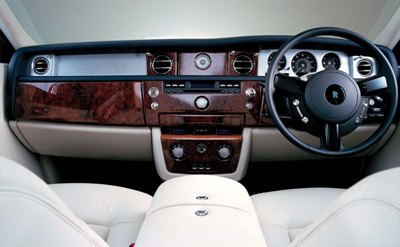 This section should include information on the interior's design, build quality, ergonomics, space (head and legroom, front and rear), features, stowage compartments and overall comfortability and livability. Add pictures wherever applicable and keep information in a third-person point of view.
Resale Values
Edit
Add more fields as necessary.
<MODEL> Year
Year X
Year X-2
Year X-3
Year X-4
Resale Value
$
$
$
$
Criticisms
Edit
"I didn't want to like that car. I wanted to say it is too big, too German and too vulgar." - Top Gear
Generations
Edit
Fill in as many as appropriate. Add more if necessary and pictures wherever applicable.
Please make sure NOT to use copyrighted pictures.
Current Generation: (2003–present)
Edit
Annual sales[1]

| Year | Sales |
| --- | --- |
| 2003 | 300 |
| 2004 | 792 |
| 2005 | 796 |
| Through November 2006 | 642 |
| Total | 2530 |
BMW have set a lifetime limit that only 10,000 units of the Phantom will be built.
The base price is £250,000 in the UK and $340,000 in the US.
As of October 2004, only 555 Phantoms were sold, down from a target of 1,000 units per year. Many say this is due to the slow set-up of the dealer network. By the end of the year, the company expected to have sold between 750 and 800. However, at that stage, Rolls-Royce was selling twice as many cars as its closest rival Maybach.
The 2000th car rolled out of the Goodwood factory in December 2005. [2]
In July 2006, Rolls Royce produced a limited edition run of 25 cars called the "Phantom Black" [3]
Design quirks and oddities
Edit
The Rolls-Royce Phantom has appeared in various music videos.
List out notable awards that the model has recieved while in production. Boldface the company or organization that gives out the award, and Italicize the name of the award.
References
Edit
↑ "BMW Group Press Releases". BMW Group. http://www.bmwgroup.com

. Retrieved October 2 2006

.

 
External links
Edit
News & References
Ad blocker interference detected!
Wikia is a free-to-use site that makes money from advertising. We have a modified experience for viewers using ad blockers

Wikia is not accessible if you've made further modifications. Remove the custom ad blocker rule(s) and the page will load as expected.