Plymouth Road Runner Superbird
Chrysler
Production
1970 (1920 units)
Class
Intermediate
Body Style
2-Door Coupe
Length
232"
Width
76.6"
Height
53.2"
Wheelbase
117"
Weight
3600-3800 lbs
Transmission
4-Speed Manual, RWD
3-Speed Automatic, RWD
Engine
7.0L (426 cid) Hemi V8
7.2L (440 cid) V8
7.2L (440 cid) 3x2 V8
Power
375-425 hp
Similar
Dodge Charger (B-body) Daytona
Platform
B
The ultimate Road Runner in 1970 (or ever) was undoubtedly the Plymouth Road Runner Superbird. To understand the origins or existence of the Superbird (and similar cars like it, such as the 1969 Dodge Charger (B-body) Daytona), a little history lesson is in order.
Plymouth/NASCAR Connection
Edit
Back in the 1960's/early '70's, many muscle cars such as the Dodge Charger R/T, Ford Torino GT and Plymouth's Road Runner not only served many faithful civilian owners with cheap-speed, bang-for-the-buck value, but many served double duty for race car drivers on the NASCAR circuit as well. Car companies took their relationships with NASCAR very seriously in those days. The old adage "Win on Sunday, Sell on Monday" was never more true than in the 1960s and 1970s. For a car to legally compete on the NASCAR circuit, a like-model had to be available to the general public, and as a general rule, a minimum of 500 copies had to be available. NASCAR racing meant big advertising bucks for the car companies. After all, what could be a more ringing endorsement for a car company than having a big-named driver such as Richard Petty or Cale Yarborough win the Daytona 500 in a car made by your company?
The Richard Petty Connection
Edit
And speaking of Richard Petty, it was he that was indirectly involved with getting the Superbird project off the ground, so to speak. In 1969, Richard Petty, who until that time had driven and brought numerous racing victories in Plymouths, did the unthinkable and defected to Ford that year. Petty was supposedly not happy with the way the new-for-1968 Plymouth Road Runner bodystyle was aerodynamically unfriendly compared to the equivalent Fords. Plymouth saw what race driver Buddy Baker was able to do with his outrageous '69 Charger Daytona race car, such as set NASCAR records by reaching an unheard-of 200 MPH speed record and as such, Plymouth was determined to win Petty back and was willing to pull out all the stops to do it.
And so, after Dodge discontinued the Charger Daytona after 1969, Plymouth applied largely the same technology to the Road Runner in 1970... to win Richard Petty back. And they did, with this car.
Now that you know some of the "why" of the Superbird, here's a rundown on some of the "what" of the car itself:
Superbird/Charger Daytona Similarites/Differences
Edit
While there are some obvious similarities between the '69 Charger Daytona and the '70 Superbird, the only real things they truly have in common are the front windshield and the side glass. Their sheet metal nose cones and tall cast aluminum rear wings were different as well. For example, the snout on the Superbird points downward more and the grille is on the underside, where it's in the front center section on the Daytona. While the headlight "buckets" are interchangeable, the turn signals are different. The rear wing is more swept-back on the Superbird, but it is adjustable like on the Daytona. In addition, Superbirds all had standard vinyl roofs. This was done simply because it was less expensive to fill in the rear plug window with bondo and place a vinyl top over it then leading with a torch and than sanding, which was done on all the Daytonas.
Although this was a Road Runner Superbird, its drivetrains largely mirrored that of the upper-level GTX, with the 375 hp 7.2L (440 cid) Super Commando V8 as standard (instead of the Road Runner's 335 hp 383 V8), with the 390 hp 440 3x2 Six-Pack and 425 hp 426 2x4 Hemi V8s as options. A 4-speed manual (with the ultra-cool pistol-grip shifter) or 3-speed automatic transmission could be had with any engine, and the automatic could have a column or floor console shift. It shared the Road Runner's Rallye dashboard with full instrumentation with a tachometer/clock, or "tic-toc-tach", as an option. Unlike the Road Runner, however, no A/C, rear window defroster or Ram-Air option were available. All Superbirds had power front-disc brakes and the split top/bottom taillights as standard equipment, and unique decals such as the large PLYMOUTH decals on the rear quarter panels and the Road Runner cartoon character holding a racing helmet surrounded by the words ROAD RUNNER SUPERBIRD in a circular pattern on the side of the rear wing left no doubt as to what this car's intentions were and where it came from.
Plymouth made many more Superbirds than Dodge made Charger Daytonas (the unofficial number is 1935 (official is 1920) vs. the Daytona's unofficial number of 500). More Superbirds were made because NASCAR implemented a new rule in 1970 which would allow limited production cars to race only if enough were made to reflect half the number of dealerships of that automobile manufacturer. Because of the additional two foot nose cone, these cars were long and difficult to park. They were also very expensive (well over $4,000) which was as much as a new Chrysler Imperial. The nose cones and wings were manufactured by Creative Industries and were painted in fast drying lacquer which often didn't match the color of the enamel paint from the factory. Because of the high cost and subpar quality, like the Daytonas, scores of Superbirds lounged on dealer's lots well into the 1971 (and even 1972) model years. In fact, it's been documented that some dealers on the east coast actually removed the Superbird's rear wing and nosecone and installed standard Road Runner front ends to move them off their lots (a main way to tell a "converted" Superbird is if it still has the unique Superbird rear window and plugs on top of the rear quarter panels where the wing was removed).
From Zero to Superstar
Edit
Even though the Superbird was a major sales dud with the buying public when new (just like the Charger Daytona), true-to-form, it is now one of the most valuable and sought-after Mopars ever made. Even a "base" 440-4 matching-number Superbird can now command well into the $100K range, and they only go up from there. Plymouth would probably have been glad to give a leftover Hemi Superbird away back in 1971, but today they can fetch $300,000 and up.
Tor Red (looked reddish/orange)
Limelight Green
Lemon Twist Yellow
Vitamin C Orange
Corporation "Petty" Blue
Alpine White
Blue Fire Metallic (B5)
NOTE: All were made with black vinyl tops
Superbird In Pop Culture
Edit
In the 2006 film, Cars, a Plymouth Superbird made an apperence.
In 2006, Hot Wheels created multiple diecast cars based on the Plymouth Superbird.
Film and television appearances
Edit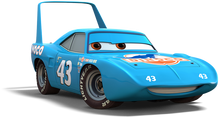 Strip "The King" Weathers is a race car in the film Cars.
External Links
Edit
Ad blocker interference detected!
Wikia is a free-to-use site that makes money from advertising. We have a modified experience for viewers using ad blockers

Wikia is not accessible if you've made further modifications. Remove the custom ad blocker rule(s) and the page will load as expected.