Pedro Paulo Diniz (born in São Paulo on May 22, 1970) is a racing driver from Brazil. He participated in 99 Formula One Grands Prix, debuting on March 26, 1995. He scored a total of 10 championship points.
Biography
Edit
One of the richest men ever to sit in a Formula One cockpit, Diniz's motor racing career progressed as a result of his father, Abílio dos Santos Diniz, owning the Brazilian distribution company Companhia Brasileira de Distribuição and the supermarket chain Pão de Açúcar.[1] After several years in junior formulae, he joined the Forti F1 team in 1995, largely funded by the Diniz family's wealth and sponsorship connections. This in turn led to a long-term marketing deal with Parmalat, backing he took throughout his career.[2] Diniz's first year was unsuccessful; the Forti cars proving to be at least several seconds a lap slower than the ultimate pace.
Diniz moved to the more established Ligier team for 1996, a blow to the Forti team's finances which saw it fail to complete its second season in the sport. At the Argentine Grand Prix, his car burst into flames after a pit-stop due to its fuel valve sticking open; British newspaper The Sun famously printed the photo alongside the headline "Diniz in the Oven".[3] However, he also scored his first championship points at the Spanish and Italian Grands Prix, both races of attrition in which he impressed by staying in the race.
For 1997, Diniz moved to the Arrows team, where he was partnered by reigning champion Damon Hill after the latter's departure from the Williams outfit. Diniz embarrassed Hill by outqualifying him at the Circuit de Nevers Magny-Cours in France, the challenging Spa circuit in Belgium, and then again at the tough Suzuka Circuit. He also took a personal best finish of fifth at the Luxembourg Grand Prix. He remained at the team in 1998 alongside Mika Salo, matching his higher-rated team-mate for points.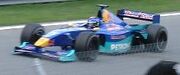 Two seasons with Sauber were largely unspectacular in terms of results, although he outscored team-mate Jean Alesi in 1999. He had a huge crash in the 1999 European Grand Prix, from which he was lucky to walk away after his car's roll hoop failed as a result of the impact. While his reputation had advanced from his early days, it dropped again in 2000 after he failed to score a point for the first time since 1995. At Hockenheim he side-swiped Alesi (now driving for Prost) resulting in a huge crash, and was also given a stop-go penalty for an incident in Austria which damaged several cars.[4] He decided to retire at the end of the season, buying into the Prost team, which folded a year later.[1] By that time his relationship with team-owner Alain Prost had soured.[5]
After Formula One
Edit
Diniz returned to Brazil and operated the Brazilian Formula Renault championship from 2002 to 2006. Currently, he operates several companies in the country.
Diniz's helmet design is a base colour of dark blue with three arrows shaded from yellow to red: two around the sides and one over the top. It is based on the design of compatriot Carlos Pace.
Racing record
Edit
Prior To F1
Edit
Complete International Formula 3000 results
Edit
(key) (Races in bold indicate pole position) (Races in italics indicate fastest lap)
Complete Formula One results
Edit
(key)
References
Edit
External links
Edit