300px
Opel Manta
Opel
aka
Production
Class
Sports Car
Body Style
2-Door Coupe
Length
171 in.
Width
64.3 in.
Height
53.3 in.
Wheelbase
95.7
Weight
2,150 lbs.
Transmission
4-Speed Manual
Engine
1,900cc (115.8cid) I-4
Power
90 hp @ 5,200 rpm
Similar
Ford Capri
Designer
Chuck Jordan
The Opel Manta was a sports coupe built by Opel. Production started in 1970 replacing the Opel GT. It was competing with the Ford Capri and was sold as an Opel in the UK rather than it's normal Vauxhall badge. The Opel has always been a good rally car and often you will see it at Historic Racing.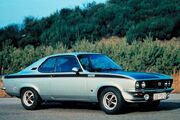 Styles and Major Options
Edit
Luxus(1973-1974):The Luxus version was meant to be a more comfortable and less sports-oriented Manta. Luxuses were fitted with corduroy upholstery, which was the main focus of the Luxus package.
Rallye(1971-1974):The Rallye version of the Manta primarily consisted of visual upgrades such as a flat-black painted hood, full gauges, rallye-style wheels, side stripes, a sports exhaust, and foglamps. It also came with a lower rear differential gear ratio than standard Mantas.
The base price of the Opel Manta when new was $3,267.
Gas Mileage
Edit
Add more fields as necessary.
As seen on the FuelEconomy.gov website, the City/Highway MPG averages are as follows:
Trim

Trim1

Trim2

Trim3

Trim4

MPG

c/h

c/h

c/h

c/h
Reliability
Edit
Opel's four-cylinder engines are considered to be very reliable, and accordingly are sometimes described as "bullet-proof". Despite this, the Solex carburetors often cause trouble and are frequently replaced by more reliable Weber 38 DGAS carburetor.
This section should reference points on safety ratings and features of the vehicle.
Opel Manta A Colors Manta Club
Main Competitors
Edit
Unique Attributes
Edit
If there are any features of this vehicle that sets it apart from other vehicles in its class, then mention those unique attributes here.
Resale Values
Edit
Criticisms
Edit
Please make sure to keep critiques in a third-person point of view. If using criticisms from a reputable automotive source, then please make sure to cite the quote.
Generations
Edit
Fill in as many as appropriate. Add more if necessary and pictures wherever applicable.
Please make sure NOT to use copyrighted pictures.
Current Generation: (YYYY–present)
Edit
Fifth generation (YYYY–YYYY)
Edit
Fourth generation (YYYY–YYYY)
Edit
Third generation (YYYY–YYYY)
Edit
Second generation (YYYY–YYYY)
Edit
First Generation/Origins (YYYY–YYYY)
Edit
Worldwide
Edit
Opels that were sold in the U.S. were sold through Buick dealerships, and thus General Motors had to be careful that the Opels did not compete for customers with the Buick models that they were shown alongside. Because of this, the Opels marketed were the smaller models that had four-cylinder engines and the larger Opels (such as the Rekord and the Commodore) were excluded so as not to compete with the large Buicks.
Due to the fact that all U.S. Mantas had the 1900cc engine, they were named "1900 Sport Coupe" during the 1971 and 1972 seasons. The Ascona, the sedan from which the Manta was derived, had also been called the 1900 during the years that it was imported to the U.S. Strangely, in 1973 the 1900 Sport Coupe was renamed the Manta, the name it always carried in Europe, but the Ascona continued to be named the 1900 until it was discontinued along with the Manta in 1976.
The Manta had used Solex carburetors to deliver fuel to the 1900cc four-cylinder engines from 1971 to 1974 in the United States, but due to tightening emission laws in the states they were fitted with Bosch L-Jetronic fuel injection systems that helped to improve declining horsepower numbers that had also been caused by federal laws for the 1972 through 1974 Mantas. The U.S.-bound Asconas also recieved the fuel-injection systems for 1975, but neither model recieved these upgrades in the European markets.
Design quirks and oddities
Edit
Refer to any pop-culture tidbits about the vehicle in this section.
List out notable awards that the model has recieved while in production. Boldface the company or orgainization that gives out the award, and Italicize the name of the award.
External Links
Edit
Opel Motorsports Club - US-based Opel club that specializes in 1968-1975 Opels
Ad blocker interference detected!
Wikia is a free-to-use site that makes money from advertising. We have a modified experience for viewers using ad blockers

Wikia is not accessible if you've made further modifications. Remove the custom ad blocker rule(s) and the page will load as expected.