Noble M600
Noble
aka
M600
Production
2010-present
Class
Supercar
Body Style
2-door, 2-seat Mid-Engined Coupe
Length
4360 mm
Width
1910 mm
Height
1140 mm
Wheelbase
2540 mm
Weight
2811 lb (1275 kg)
Transmission
6-speed Manual, RWD
Engine
4.4 litre twin-turbocharged V8
Power
650 hp @ 6800 rpm
618 lb-ft of torque @ 3800 rpm
Similar
Lamborghini Murciélago
Ferrari Enzo
Ford GT
Koenigsegg CCX
Audi R8
Designer
Designer (lead designer if it was a team effort)
The Noble M600 is a handbuilt british supercar made by Noble Automotive in Leicestershire. It's made from stainless steel and carbon fibre and uses a twin turbocharged V8. See Autopedia's comprehensive Noble M600 Review.
Recent Changes
Edit
Pre-production models had the bodywork made out of glassfibre while the production models are made of carbon fibre.
Styles and Major Options
Edit
Certain vehicles come in different trim levels or body styles. Features and major options should be mentioned here.
The Noble M600 is priced at around £200,000 in the UK.
MODEL Trims
Trim1
Trim2
Trim3
Trim4
MSRP
£200,000 (US$328,000)
$Price2
$Price3
$Price4
Invoice
$Price1
$Price2
$Price3
$Price4
Gas Mileage
Edit
Add more fields as necessary.
As seen on the FuelEconomy.gov website, the City/Highway MPG averages are as follows:
Trim
Trim1
Trim2
Trim3
Trim4
MPG
c/h
c/h
c/h
c/h
Engine and Transmission
Edit
The M600 engine uses a 4439 cc 60-degree Yamaha derived Volvo "B8444S" V8 engine which is also used in the Volvo XC90 but with twin Garrett turbochargers equipped with Variable Boost. This allows the user to choose from 450 BHP (Road setting, 0.6 bar pressure), 550 BHP (Track setting, 0.8 bar)and 650 BHP (Race setting, 1.0 bar) through the use of a switch in the interior. The engine also features Electronic Fuel Injection and has a compression ratio of 9.50:1. It uses a Oerlikon Graziano transaxle six-speed Twin Clutch manual gearbox and has the RPM redline set at 7000.
Performance
Edit
0-60 mph: 3.0 seconds
0-100 mph: 6.5 seconds
0-120 mph: 8.9 seconds
Standing quarter mile: 11 seconds
Standing km: 19.9 seconds
Power to weight: 520 BHP/tonne
Top speed: 225 mph
Fuel Capacity: 73 litre
Reliability
Edit
Warranty options and scheduled maintenance information should be mentioned here.
It features many safety features built into the car. The chassis is made of stainless steel with aluminium tub construction which forms an integral safety cell. It also has high "H" points for side impact protection. The only electronic safety feature the car has is traction control which, for added safety, is with a fail-proof switch guard. ABS, ESP and Airbags are not available options.
Add Photos of the vehicle here.
Please make sure not to use copyrighted photos.
List the colors that the particular <MODEL> is offered in.
Main Competitors
Edit
Unique Attributes
Edit
It has the ability to change the output to 450 BHP or 550 BHP (Original output: 650 BHP) through a switch. Noble call this technology "Adaptable Performance Control or APC".
The switch that is used to turn the Traction Control off is the same that is used in a Tornado fighter bomber so it can't be used by accident.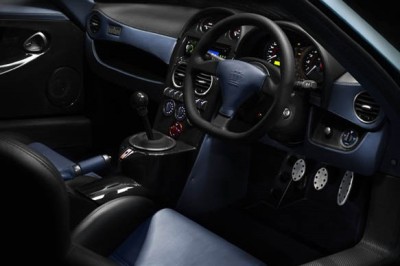 It features Air Conditioning and Radio. It comes with carbon fibre, leather upholstered Sparco bucket seats with normal Three-point seatbelts (Five-point harness is optional). Most of the interior is upholstered in leather while the central console is made from carbon fiber. The Gearleaver is rised from the central console for faster and easier access to the driver. Both the steering wheel and the seats are adjustable although the seats only in reach (Forwards/Backwards). It also has a big boot for a supercar. Also according to motoring journalist and TV presenter Jeremy Clarkson, is very comfortable. He says "It's quiet and extremely comfortable. It really does ride beatifully.".
Resale Values
Edit
Add more fields as necessary.
<MODEL> Year
Year X
Year X-2
Year X-3
Year X-4
Resale Value
$
$
$
$
Criticisms
Edit
The brakes, while servo assisted, are "barely" assisted and with no ABS, its very easy to lock the wheels. Also according to motoring journalist John Barker, the door mirrors get in the way if you try to look if anything is coming. He says, "The driver's door mirror gets in the way looking into right-hand turns". It has very limited availability due to the fact that only 50 are made every year.
Generations
Edit
Fill in as many as appropriate. Add more if necessary and pictures wherever applicable.
Please make sure NOT to use copyrighted pictures.
Current Generation: (2010–present)
Edit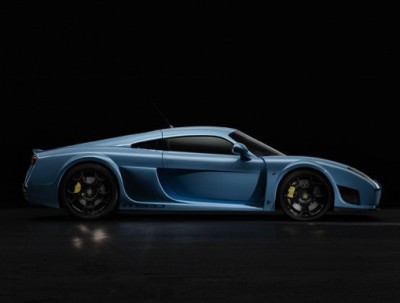 Worldwide
Edit
If the vehicle is sold in other markets worldwide, then this is the section to mention that information. Also, mention if the <MODEL> goes by another name in these other markets.
Design quirks and oddities
Edit
In the TV show Top Gear from the BBC, the presenter Jeremy Clarkson mentions that the switch for turning the traction control of is the same that in a Tornado Fighter Bomber. He also says that when the car output is lowered is no harder to use than a Nissan Micra.
List out notable awards that the model has received while in production. Boldface the company or organization that gives out the award, and Italicize the name of the award.
External Links
Edit
Please include any external sites that were used in collaborating this data, including manufacturer sites, in this section.
News and References
Enthusiast Sites and Discussion Forums
Ad blocker interference detected!
Wikia is a free-to-use site that makes money from advertising. We have a modified experience for viewers using ad blockers

Wikia is not accessible if you've made further modifications. Remove the custom ad blocker rule(s) and the page will load as expected.