Search By Model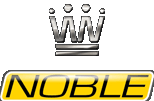 2016 Current Models
Supercar
M600
Noble Automotive Ltd., more commonly known simply as Noble, is a British sportscar manufacturer.
It was established, in 1999, by Lee Noble in Barwell, Leicestershire, for producing high-speed sports cars with a MR drivetrain layout. Lee Noble is the chief designer and owner of Noble.
Noble is an independent low production British sports car company, which currently produces the M12-GTO3R, Noble M400 and the Noble M15. The M12 and M400 are essentially the same, but with different engines, suspension etc. The M15 has a new space frame chassis. The body of the Noble is built to a very high standard by Hi-Tech Auto in Port Elizabeth, South Africa. Once the body shell is completed, it is sent to the Noble factory where the engines, suspension etc are added.
Noble M10
The Noble M10 is a two-door, two seater model built in convertible form only. It is powered by a naturally-aspirated (i.e., non-turbocharged) 2.5-litre engine. It was introduced in 1999, but is no longer in production, having been replaced by the M12. The only place new Noble vehicles are available in the United States is 1G Racing, located in Ohio.
Noble M12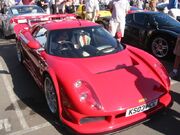 The Noble M12 is a two-door, two-seater model, available in three coupe variants (GTO-3, GTO-3R and M400). A convertible variant (The M12 GTC) has been shown at motorshows but is yet to make production. All versions are powered by modified turbocharged Ford Duratec V6 engines. The standard M12 has a 3.0-litre, twin Garret turbo-charged engine, which produces 310 bhp (231 kW).
All M models have a full steel roll cage, steel frame, and G.R.P. (fibre glass) composite clam shell body parts. These cars are extremely lightweight and stiff. Although looking to be track derived, the M12 performs very well on both road and track, with surprisingly good ride quality, but a rigid feel. This is achieved by having no anti-roll bars on the car (with the exception of the hardcore M400). This allows suspension to be made hard without making a back breaking ride.

The GTO3R weighs 2380 lb (1080 kg), has 352 bhp (262 kW) and does 0-60 mph (0-97 km/h) in 3.8 seconds. Its top speed is listed at 170 mph (274 km/h). Lateral Gs are reported in excess of 1.22.

The M400 weighs 100 lb (45 kg) less (no A.C.), has 425 bhp (317 kW) and has been reported as doing 0-60 mph (0-97 km/h) in 3.5 seconds, although the maker modestly lists it as under 4.0 seconds. Its top speed is listed at 185 mph (298 km/h). Lateral Gs are reported in excess of 1.4. The model designation M400 is derived from the fact that the power and weight specifications for the car correspond to 400 bhp (298 kW) per tonne. It has both a 3 point seatbelt and a 4 point harness. Upgraded Pirelli P Zero tyres, a front anti-roll bar, a smoother gearchange and bigger turbos all make the M400 the M12's big brother. Amazing on the circuit, and pleasant to drive on the road.

Noble M14
The Noble M14 debuted at the 2004 British Motor Show and generated significant interest in the motoring press. It was planned to compete with the Porsche 911 Turbo and Ferrari F430. It was based on the chassis of the M12, with only minor modifications. It had a new body and a more up market interior. Following the debut of the car Lee Noble decided that the car was insufficiently different to the M12/M400 to justify the price increase despite having taken a number of deposits. Noble instead developed a brand new car, the M15, developing further from the M12 and M14.
Noble M15
Production of the M15 is expected to begin early in 2006. The Noble M15 is intended to appeal to a far broader market and compete directly with the Porsche 911 Turbo and Ferrari F430. As a result the Noble M15 will have a number of features not previously found on Nobles such as Sat nav, traction control, electric windows and ABS.
Despite increased comfort and usability compared to previous Noble cars Lee Noble has stated that he expects the M15 to be significantly quicker than the M400 around a race track.
The car is based on a brand new platform with a longitudinally mounted engine connected to a bespoke gearbox created by Graziano. The double wishbone suspension is a development of the system mounted on the M400. Mounting the engine longitudinally allowed the designer to increasing cooling flow to the engine which allows the 3.0l twin turbo V6 to produce 455bhp. The engine has been designed to meet emissions regulations and the new steel/aluminium space frame has been designed with a view to passing crash test regulations around the world. The M15 is planned to be the first Noble which gains European and US type approval.
The car appeared in Top Gear and presenter Richard Hammond was very impressed. It was a lot quicker around the Top Gear-track than the old Noble. According to Richard this has to do with the placement of the engine.
The owner's opinion:
"The M12 is a great car, but it's very focused and I wanted to produce a supercar people could use everyday," said founder Lee Noble. "It was time for Noble to take a big step up in terms of refinement, practicality and style."
Future Models
Current Models
Discontinued Models
See also
External links
References
Ad blocker interference detected!
Wikia is a free-to-use site that makes money from advertising. We have a modified experience for viewers using ad blockers

Wikia is not accessible if you've made further modifications. Remove the custom ad blocker rule(s) and the page will load as expected.