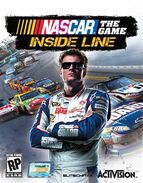 NASCAR The Game: Inside Line 2012,
is the second game in the
NASCAR
The Game series created by Eutechnyx and produced by Activision. It was released on November 6, 2012.
Development
Edit
NASCAR The Game: Inside Line 2012 was announced in June 2012 and photos of the game started appearing in July 2012. Starting in August, NASCAR The Game's Facebook Page began releasing photos of the basic paint schemes. After all the photos were released, the website was created and more paint schemes continued to be released. Every week before the NASCAR Sprint Cup Series race, a video of developers and drivers playing the game is released on the Youtube page for the game. NASCAR The Game: Inside Line has been rated E for Eveyone by the ESRB for Mild Violence. The game is currently going to be relased on November 6, 2012.
Drive For The Cover
Edit
Shortly after the game was announced, the Drive For The Cover began. During this time, fans got to take part in a poll to determine the driver they wanted on the cover. After about two months of voting, it came down to Dale Earnhardt Jr. and Kasy Kahne. Dale Earnhardt Jr. won the Drive For The Cover poll. It is expected that Kasy Kahne will appear on the 2013 edition of Inside Line.
NASCAR The Game: Inside Line is avalable for Playstation 3, Xbox 360, and Nintendo Wii. There is no limited edition or console edition of the game.
All drivers in the game will be real life drivers from the top three series of NASCAR. The series are Camping World Truck Series, Nationwide Series, and the Sprint Cup Series.
Paint Schemes
Edit
All 43 drivers have at least one paint scheme. You can also craete your own paint schemes by using the Paint Booth feature. After creating a paint scheme, you can race the car and upload a templete so others can downoad your car and race it themselves. Bellow is a gallery of all the paint schemes in the game.
The game is being released on the same date as Halo 4 which is expected to gain more sales for the game since most gamers will be attending the Halo 4 midnight release.
Gameinformer, did a review on the game and noted many positive things on the game.
NASCAR The Game: Inside Line 2012 will be updated in 2013 to fix the roster. NASCAR The Game developers stated it would be easier to release a DLC instead of having to go back and re-create the game just to add new drivers and cars.
Ad blocker interference detected!
Wikia is a free-to-use site that makes money from advertising. We have a modified experience for viewers using ad blockers

Wikia is not accessible if you've made further modifications. Remove the custom ad blocker rule(s) and the page will load as expected.