Template:Redirect Template:Redirect Template:No footnotes

Motorsport or motorsports is the group of competitive events which primarily involve the use of motorised vehicles, whether for racing or non-racing competition. MotoSport refers to motorcycle racing specifically and includes off-road racing such as motocross.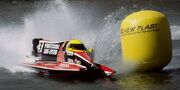 Motor sports which involve competitors racing against each other include:
Non-racing motorsport
Edit
Forms of motorsport which do not involve racing include drifting, regularity rally, motorcycle trials, gymkhanas, Freestyle Motocross and tractor pulling.
Motorsport was a demonstration event at the 1900 Summer Olympics.
References
Edit
External links
Edit
Template:Commons category multi
Template:Racing Template:Extreme sportsTemplate:Motorsport-stub
Ad blocker interference detected!
Wikia is a free-to-use site that makes money from advertising. We have a modified experience for viewers using ad blockers

Wikia is not accessible if you've made further modifications. Remove the custom ad blocker rule(s) and the page will load as expected.