300px
Mitsubishi Lancer
Mitsubishi
aka
Mitsubishi Lancer Sportback

Colt Lancer, Dodge/Plymouth Colt, Chrysler Valiant Lancer, Chrysler Lancer, Eagle Summit, Hindustan Lancer, Mitsubishi Carisma,Volvo S40, and Mitsubishi Mirage
Production
1973 - present
Class
Compact
Body Style
4-Door Sedan, 5-Door Hatchback (Lancer Sportback)
Length
180.0 in.
Width
69.4 in.
Height
58.7 in.
Wheelbase
103.7 in.
Weight
2,922 - 3,594 lbs.
Transmission
5-speed Manual
6-speed Continuously Variable Transmission (CVT)
6-speed TC-SST Dual Clutch
Engine
2.0-liter DOHC Inline-4 MIVEC
2.4-liter DOHC Inline-4 MIVEC
2.0-liter DOHC Inline-4 Turbo MIVEC
Power
152 hp @ 6,000 rpm; 146 lb-ft @ 4,250 rpm
168 hp @ 6,000 rpm; 167 lb-ft @ 4,100 rpm
237 hp @ 6,000 rpm; 253 lb-ft @ 3,000 rpm
291 hp @ 6,500 rpm; 300 lb-ft @ 4,400 rpm
Similar
Honda Civic
Toyota Corolla
Mazda3
Ford Focus
Chevrolet Cobalt
Volkswagen Jetta
Designer
The Mitsubishi Lancer is a compact car built by Mitsubishi Motors Corporation. It has been sold in various countries as the Colt Lancer, Dodge/Plymouth Colt, Chrysler Valiant Lancer, Chrysler Lancer, Eagle Summit, Hindustan Lancer, Mitsubishi Carisma, and Mitsubishi Mirage, and formed the basic platform of numerous Proton models in Malaysia.
Recent Changes
Edit
In 2010, Mitsubishi Australia released a new model called the SX for the ADM. The SX boasts 16 inch alloy wheels, rear spoiler, chrome tip exhaust, leather wrapped steering wheel and seven airbags for $21,990 drive away.
Styles and Major Options
Edit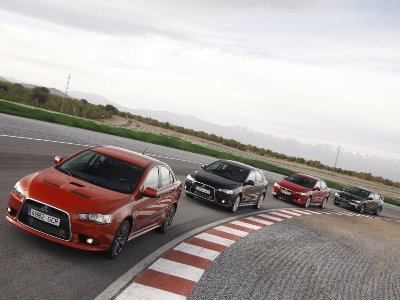 Lancer DE
Lancer ES
Lancer ES Sport
Lancer GTS
Lancer Ralliart
Lancer Evolution X
Lancer Sportback GTS
Lancer Sportback Ralliart
MODEL Trims
DE
ES
ES Sport
GTS
Ralliart
Evolution X
MSRP
$14,340
$16,540
$16,540
$18,340
$26,490
$32,990
Invoice
$13,662
$15,758
$15,758
$17,473
$25,237
$31,093
Gas Mileage
Edit
As seen on the FuelEconomy.gov website, the City/Highway MPG averages are as follows:
Trim
DE
ES
ES Sport
GTS
Ralliart
Evolution X
MPG
22/30
22/30
22/30
21/28
17/25
16/25
Reliability
Edit
Full reliability information can be found at AutomobileMag.
Warranties
Basic
Drivetrain
Roadside Assistance
Rust
Coverage
5 yr. / 60,000 mi.
10 yr. / 100,000 mi.
5 yr. / Unlimited mi.
7 yr. / 100,000 mi.
RECALL ALERT: On March 17, 2009, Mitsubishi issued a recall alert affecting 39,711 MY 2008-2009 Mitsubishi Outlanders and Lancers, equipped with an automatic or CVT transmission, due to "Incorrect material composition of the brake booster check valve may cause the check valve to stick closed when the engine is shut off" or faulty brakes. The recall begins next month (April 2009) and Mitsubishi urges owners to contact their local dealer to have their brake booster check valves inspected and replaced free of charge. Concerned owners can contact Mitsubishi at 1-800-222-0037 begin_of_the_skype_highlighting 1-800-222-0037 end_of_the_skype_highlighting to learn more. This recall is filed under NHTSA campaign ID number 09V077000. [1]
RECALL ALERT: On September 18, 2009, the NHTSA issued a recall alert affecting 6,903 MY2008 and MY2009 Lancer Evolution, Ralliart, and Sportback Ralliart vehicles fitted with 2.0-liter turbocharged engines due to a poorly attached batch of fuel pipes. According to the report, running the engine at certain speeds over time may cause a damaging vibration that could lead to a stress crack in the fuel pipe and fuel leakage. Dealers will be instructed to replace the fuel pipe with a new component and add two new additional attachment brackets to lessen the effects of vibration. Replacement is free of charge. Concerned owners looking for more information can call Mitsubishi's hotline at 1-888-648-7820 or the NHTSA's at 1-888-327-4236. This recall filed under NHTSA campaign ID number 09V349000. [2]
4-Wheel ABS
Daytime Running Lights
Child Seat Lower Anchorage
Adjustable Upper Belt - Front
Energy Management Feature
Rear Center Lap/Shoulder Belt
Advanced Air Bag Features
Side Airbag - Front
Head Airbag - Front
Rear Seat Head Restraint
Trunk Release
Tire Pressure Monitor
Seat Mounted Front Side Airbags
Front and Rear Side Head Curtain Airbags
Driver Knee Airbag
Driver Airbag
Passenger Airbag
Front and Rear Crumple Zones
Front and Rear 3-Point Seatbelts
Side Guard Door Beams
Trunk Anti-Trap Device
Passenger Airbag Cutoff Sensor Activated By Weight
Automatic Locking Retractors
Front Seatbelt Height Adjusters
Rear 3-Point Center Seatbelt
Front Seatbelt Pretensioners
Galant Fortis (JDM)
Edit
Lancer Sportback
Edit
GTS
Ralliart
Add Photos of the vehicle here.
Please make sure not to use copyrighted photos.
Engine and Transmission
Edit
Mitsubishi Lancer is available with both petrol and diesel engine options. Both petrol and diesel models of Mitsubishi Lancer is powered by the high performance engine. The petrol variants of Mitsubishi Lancer is powered by the 1.5L, 1468cc, Four cylinder petrol engine that delivers high engine performance and produces 87PS of maximum power with 13.5K-gm of maximum torque. The acceleration of this petrol engine is also excellent so that it can touch 100kmph mark in 12.9 seconds and the maximum speed of this model is 175kmph. On the other hand, diesel variants of Mitsubishi Lancer is powered by the 2.0L, 1998cc, Four cylinder diesel engine that produces 68PS of maximum power with 12.5K-gm of maximum torque. Power and torque of this diesel model seems bit lower but it also delivers good engine performance. These diesel variants of Mitsubishi Lancer can touch the 100kmph mark in 17 seconds and the top speed of this model is 155 kmph.
Some of the available colors are:
Exterior
Wicked White
Apex Silver Metallic
Graphite Gray Pearl
Tarmac Black Pearl
Rally Red
Octane Blue Pearl
Aqua Metallic
Interior
Main Competitors
Edit
Competitor comparisons can be found at Motortrend.com
Hybrid Models
Edit
There are no hybrid models for the Mitsubishi Lancer.
Unique Attributes
Edit
In the Australian Domestic Market, the Lancer offers the most features standard than the popular small cars, the Toyota Corolla and the Mazda3 with cruise control, anti-lock brakes, active stability and traction control, dual front and driver's knee airbag and the manufacturer's 5 year New Car Warranty with 5 years Roadside Assist.
Resale Values
Edit
Add more fields as necessary.
<MODEL> Year
Year X
Year X-2
Year X-3
Year X-4
Resale Value
$
$
$
$
Criticisms
Edit
Please make sure to keep critiques in a third-person point of view. If using criticisms from a reputable automotive source, then please make sure to cite the quote.
Generations
Edit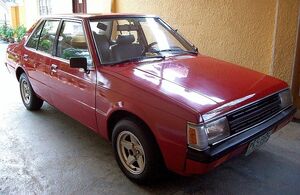 Mitsubishi announced and showed its ninth generation Lancer at the 61th Frankfurt International Motor Show. Its aggressive looks attempts to attact younger buyers and sport compact fans alike. There would also be a huge leap on building quality to match the new Honda Civic and the oncoming Toyota Corolla.
For the United States, the new 2008 Lancer was initially available in DE, ES, and GTS trim levels. All trims were equipped with a GEMA-based 4B11 engine producing 152 hp @ 6,000 rpm (except for California models which have been detuned to 143 hp (107 kW) to meet regulations). Transmission options include a brand new CVT, sourced from Jatco (code: F1CJA), alongside a regular 5-speed manual sourced from Aisin AI (code: F5MBB). GTS models received a 6-speed (fixed gears in sport mode) paddle shift version of the CVT.[1]
In Canada, a fourth model (SE) was introduced to the Lancer lineup late in the model year. The SE model is a cross between the ES and GTS models. The SE is an ES model, dressed to look like the GTS. It includes the skirt package similar to the GTS, a rear spoiler, and unlike the GTS model, the SE includes a sunroof. The goodies not included in the SE model that are found in the GTS are the FAST key, Bluetooth hands-free cell phone interface, automatic climate control, Rockford Fosgate sound system, carbon fiber trim peices, leather wrapped steering wheel and shift knob, and of course the 18" wheels.
For 2009, an ES Sport model joined the lineup. GTS received a stronger 2.4-liter Inline-4 engine producing 168 hp @ 6,000 rpm.[2]
The Lancer Ralliart also returns for 2009. It is slated in between the Lancer GTS and the high performance Lancer Evolution model. Announced in January 2008, it competes directly with the Subaru Impreza WRX. Using the 2.0L turbocharged 4B11 I4 engine from the upcoming Evo X paired with different cams and a slightly slower turbo, producing 235 hp (175 kW) and 253 ft·lbf (343 N·m) of torque, the Ralliart also features the all-wheel-drive system of the Evolution IX. The car will initially be offered only with Mitsubishi's new TC-SST dual-clutch transmission.[3]
The year 2000 saw the release of the eighth-generation Lancer Cedia, (meaning - CENTURY DIAMOND, released at the brink of the new milennium) though in some markets the seventh generation Lancer continued (becoming increasingly uncompetitive), built at Mitsubishi's Thai plant. The new model was available in sedan and station wagon forms, and in MX, MX-E, MX-S, SE-G, SE-R, and Touring trim levels. The Mirage, apart from the export models, became a different car in Japan that was unrelated to the Lancer. In Europe, the Lancer was not offered in some countries, being too close to the size of the Dutch-built Carisma, so the Evo VII model sold there bore the Carisma name.
For North America, facelifts for the Lancer Cedia (known simply as Lancer in the US) occurred in the 2004, 2005, and 2006 model years. In 2004, the front facia was changed and brought it into line with the Mitsubishi corporate look. In 2005, the grille was changed to include more fins to reflect a closer similarity to the North American Galant. For 2006, the facia was changed again from a bridged facia to one with an open vent after Mitsubishi received complaints from current owners regarding its similarity in appearance to General Motors Division Pontiac's corporate look, and to bring the appearance closer to its bigger brother, the Evolution. As of 2006, the Mitsubishi Lancer wagon is now exclusively sold in Canada and Australia.
Thai production was switched to the new model, and in all markets — except for India — the seventh-generation model was no longer imported, four years after the Cedia's introduction. India received the new Lancer in 2006.
North America received two additional models to the Lancer line in 2004. The Lancer Cedia station wagon was introduced as the Lancer Sportback, and the Lancer Ralliart, a high level equipment package for the sedan that allowed the car was also introduced. Both of these cars came equipped with Mitsubishi's 4G69 engine (rated at 160 hp/162ft·lbf for the Sportback, and 162 hp/162ft·lbf for the Ralliart), included a new, stiffer suspension package that improved handling and lowered the cars stance by 1 centimeter, 16" alloy wheels, front bucket seats borrowed from Japan's Mitsubishi Evolution GT-A, Fog Lamps, and a new aerodynamic ground package. The Ralliart also came equipped with a cosmetic rear deck spoiler, and clear rear tail lights. The Sportback was equipped with a 4-speed automatic transmission, with no option for a manual transmission, while the Ralliart came with a 5-speed manual transmission with an option for the 4-speed automatic. Due to Mitsubishi's deteriorating financial situation and slow sales, the Lancer Sportback wagon was cancelled one year after its release.
In Australia, the eigth generation Lancer was released in July 2002 with the 2.0L 4G94 engine. It was available in ES, LS, VR-X and Exceed trim levels. As with the US and other markets, it underwent a facelift for the 2004 model year. In August 2005, all Lancers were upgraded to a 2.4L 'MIVEC' engine, producing 115 Kw (154hp). The upgraded engine also saw a change in trim levels and upgraded equipment. The current lineup now consists of ES, LS (15" alloys, more luxurious interior) and VR-X (similar to US Ralliart) models.
In some European markets, the Lancer began to take the place of the Carisma in 2004.
In 1995, the Lancer was renewed for its seventh generation, building on the earlier model's format. Apart from the Evo models' continuation, it did not depart from the established Lancer formula. A sedan and wagon (Libero in Japan) were offered, with a related Mirage model. The coupé continued as the Mirage Asti in Japan, known as the Lancer Coupé elsewhere. The 1995 Lancer (Model from 1995-2002 in some countries) is more popularly known as the 1997 Lancer.
In Australia, the seventh generation Lancer sedan was sold from 1996-2002. It was available in GLi and GLXi trim thoughout its lifespan. Initially, it was offered with a SOHC 1.5L 4G15 engine (producing 69kW) in the GLi and 1.8L SOHC 4G93 (producing 86kW) in the GLXi. In 1999, there was a minor facelift and the 1.8L engine was now standard across the range, which saw the addition of a sporty VR-X model. The Lancer Coupé was sold from 1996-2004. It was available in GLi, GLXi and sporty MR trims. Despite their relatively weak performance, this generation was very popular with import tuners, due to their close resemblance to the Lancer Evolution. Popular modifications include replica Evolution bodykits, loud exhausts and upgraded suspension.
It is of note, that the Lancer Evolution V was the only Lancer Evoultion to gain Mitsubishi the WRC constructors championship. However, driver Tommi Makinen was able to claim four WRC driver's championships for himself, in 1996-2000, driving Mitsubishi's Lancer Evolution IV, V & VI.
It was only in 1992 that there was greater differentiation between the Mirage and Lancer. Although both were on the same platform, the Lancer sedan received different sheetmetal from the Mirage four-door. The Mirage variant was sold in North America under the Eagle Summit name. Minivan models, such as the Mitsubishi Space Runner and Mitsubishi Chariot, were mechanically related. In 1993, the Lancer wagon, named the Libero in Japan, was launched. A V6 variant was also introduced, with only 1.6 L, making it the smallest production V6 ever. The high-performance, turbocharged GSR version formed the basis of the contemporary Lancer Evolution (or 'Lancer Evo') from September 1993, using the drivetrain of the successful Galant VR-4 rally car.
The Mirage Asti Coupé in Japan was offered as the Lancer Coupé in many export markets.

In 1987, a more aerodynamic-looking Lancer was launched, following the shape of the Galant. A five-door hatchback was added to the range. The Mirage and Lancer nomenclature continued. The station wagon continued on the old platform and shape, as did, in some markets, a five-door version of the Mirage. In Australia, all models were sold as the Mitsubishi Lancer. By that time, the Lancer name was shared with the Dodge Lancer sold in North America.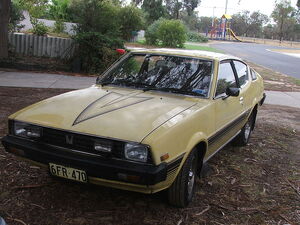 The following year, both Mirage and Lancer lines were renewed. The Mirage four-door and Lancer sedan became the same car. Fuel injected and turbocharged models were an integral part of this range. A station wagon was added in 1985, and it spawned a raised, four wheel drive version. Often, the Mirage (or Colt) would be the name used on the three-door hatchback, and the Lancer name used on the remainder. This model formed the basis of the original Proton sedan, Malaysia's first car.
Lancer Fiore
Edit
In 1982, a confusing new model was launched called the Lancer Fiore, based on the Mitsubishi Mirage. The Fiore was often sold as a Lancer in international markets, but also the Mirage Sedan and, with the five-door hatchback model, remained in production for a good part of the 1980s. In Australia, it would eventually be sold as the Mitsubishi Colt Sedan. Thus, Mitsubishi had two similarly sized models competing in the same market segment.
In 1979, the new Lancer EX (the EX tag was not used for all export markets) débuted. The EX series included, from 1980, a turbocharged 1.8 L model. Stylistically, the boxy, angular look replaced the "coke bottle" look of the previous LAs and LBs.
The only bodystyle available was a 4-door sedan.
The Lancer (LA series in Australia, where it was called the Chrysler Valiant Lancer initially) was first launched in 1973 and proved to be particularly successful in rallies, a claim that it retains today. At the time of its launch, Mitsubishi had its keicar, the Minica, and the mid-size Galant, so it made sense to have a compact to fill the gap in the growing Japanese concern. Twelve models were launched, ranging from a 1.2 L basic sedan to the powerful 1.6 L GSR model.
There were three bodystyles, 2 and 4 door sedans, and (rarely seen) 5-door wagon.
In 1975, the Lancer was complemented by an hatchback coupé called the Mitsubishi Lancer Celestea (also called the Mitsubishi Celeste or Colt Celeste in some markets; it was the Chrysler Lancer Coupé in Australia and the Plymouth Arrow in the United States), and sold with 1.4 L and 1.6 L options (a 2.0 L model was added later). The exterior design was reminiscent of the Renault 17. (It was not renewed within the Lancer range, its role taken over in 1982 by the Mitsubishi Cordia coupé.)
Facelift and exports
Edit
A facelifted Lancer followed soon after, called the LB series in Australia (and without the Valiant tag). It was this series that emerged in the United States as the Dodge Colt for the 1977 model year, taking over from a badge-engineered Mitsubishi Galant from the previous year. It was offered for one more model year before the Dodge Colt name was transferred to the front wheel drive Mitsubishi Mirage.
Worldwide
Edit
Australia
Edit
The Lancer was released in Australia in October 2007. It will come in ES, VR and VRX trim levels. Active stability control and traction control will be standard on all models. Standard on the ES will be dual front airbags and a driver knee airbag. The VR and VRX will get side and curtain airbags also. It will have a 2 litre 4B11, 113 kW (152 hp) engine and be equipped with a 5-speed manual or with a 6 speed CVT transmission as a $AUD2300 option. A Ralliart model will follow, and a Lancer Evolution will also make the line up. The Lancer also scored a maximum of 5 stars in the ANCAP crash test
See Trim levels for ADM Mitsubishi Lancer.
With the exception of the Lancer Evolution X, the Lancer is marketed as the Galant Fortis (Latin for strong, steadfast and courageous) in the Japanese domestic market. It comes in 3 trim levels Exceed, Super Exceed and Sport.
The new Lancer was released on September 15, 2007 in Taiwan and has been named Lancer Fortis. It's powered by a 4B11, 2.0 litre DOHC engine outputting 157 hp (117 kW) and the transmission is a 6-speed (fixed gears in sport mode) version of the CVT. However, unlike other Lancer models in USA and Japan, Mitsubishi has changed the front and rear ends to make it look like a family car.
Due to popular demand of the 7th-gen Lancer in Singapore, it will continue to be sold alongside the new Lancer which will be called the Lancer EX to differentiate itself from the former. The 1.5l, 2.0l and the GTS (marketed as the GT) variants are available in Singapore.
In Malaysia, only the GTS is offered and is marketed as the 2.0GT.
Hong Kong received its unique edition of the Lancer in 2008, dubbed the Lancer 2.0. The car comes in two trim levels, without a name for either of them. Both are equipped with the 4B11 2.0 4 cylinder engine, 7 airbags, 8 speaker stereo system (manufacturer not known), Adaptive Front-lighting System (AFS) with HID as well as 18" alloy wheels. The upper trim has Ralliart style body kit which includes a revised front bumper, side skirt, rear bumper with diffuser and the addition of a correct-to-Evolution-X rear spoiler,while the lower trim make do without the abovementioned features.
To differentiate it from the previous model, still on sale, this generation Lancer is marketed as Lancer Serie R in Chile.
In Europe, a 2000cc diesel model also available.
As of May 2008 the previous generation Lancer is still sold alongside the "New Lancer" in both saloon and wagon forms.
Ralliart
The Mitsubishi Lancer Ralliart is a cut-price model to fill in the gap between the regular Lancer and the Evolution model. Unlike the Evolution X, the Ralliart uses the less powerful version of the Evo X Lancer's 4G63 MIVEC engine producing 175 kW of power channeled through a 5 speed Manual gearbox and a passive all-wheel-drive system. It also gets 17 inch alloy wheels, performance brakes and the full bodykit that is less agressive than the Evolution X as well as the toned down interior. In Australia, it's likely to cost below $45,000 AUD and will come in both sedan and sportback body styles.
2003 J.D. Power Initial Quality Study 3rd winner (Compact)
References
Edit
External links
Edit
Ad blocker interference detected!
Wikia is a free-to-use site that makes money from advertising. We have a modified experience for viewers using ad blockers

Wikia is not accessible if you've made further modifications. Remove the custom ad blocker rule(s) and the page will load as expected.