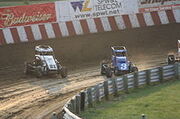 This article is about full-size midget race cars. For the smaller version youth racer, see Quarter Midget racing. For the brand name automobile, see King Midget. For the British sports car with its own race series, see MG Midget.
Midget cars, also Speedcars in Australia, is a class of racing cars. The cars are very small with a very high power-to-weight ratio and typically use four cylinder engines. The originated in the United States of America in the 1930s and are raced on most continents. There is a worldwide tour and national midget tours in the United States, Australia, and New Zealand.
Typically, these four cylinder engine cars have 300 to 400 horsepower and weigh 1,000 pounds (450 kg).[1][2] The high power and small size of the cars combine to make midget racing quite dangerous; for this reason, modern midget cars are fully equipped with roll cages and other safety features. They are intended to be driven for races of relatively short distances, usually 2.5 to 25 miles (4 to 40 km). Some events are staged inside arenas, most notably the Chili Bowl held in early January at the Expo Square Pavilion in Tulsa, Oklahoma. Some early major midget car manufacturers include Kurtis Kraft (1930s to 1950s) and Solar (1944–46).
Midget car racing was officially born on August 10, 1933 at the Loyola High School Stadium in Los Angeles as a regular weekly program under the control of the first official governing body, the Midget Auto Racing Association (MARA). After spreading right across the country, the sport traveled around the world; first to Australia in 1934 at Melbourne's Olympic Park on December 15, and to New Zealand in 1937. Early midget races were held on board tracks previously used for bicycle racing. When the purpose built speedway at Gilmore Stadium was completed, racing ended at the school stadium, and hundreds of tracks began to spring up across the United States. Angell Park Speedway in Sun Prairie, Wisconsin (near Madison) is another major track in the United States operating since the first half of the twentieth century.
Speedcar racing in Australia became popular during the 1940s and ran through the countries "Golden era" of the 1950s and 1960s. Australian promoters such as Adelaide's Kym Bonython who ran the Rowley Park Speedway, and Empire Speedways who ran the Brisbane Exhibition Ground and the famous Sydney Showground Speedway, often imported drivers from the USA including Bob Tattersall and Jimmy Davies. Promoters in Australia during this period often staged races billed as either the "World Speedcar Championship" or "World Speedcar Derby". During this time Speedcars were arguably the most popular category in Australian speedway.
Speedcars continue to race in Australia, with the major events being the Australian Speedcar Championship (first run in 1935), and the Australian Speedcar Grand Prix. Along with various state championships, there is also the Speedcar Pro Series and the Speedcar Super Series. Speedcar crowds of 10,000 people are common in Australia.
In December 2013, POWRi Midget Racing began a 16-event Lucas Oil POWRi Midget World Championship that ran until June 2014. Drivers competed in New Zealand and Australia at the beginning of the 2013 / 14 season and ended in the United States.
Ad blocker interference detected!
Wikia is a free-to-use site that makes money from advertising. We have a modified experience for viewers using ad blockers

Wikia is not accessible if you've made further modifications. Remove the custom ad blocker rule(s) and the page will load as expected.