Template:Infobox racing driver
{{{image}}}
Michael Andretti
Born

{{{birth_place}}}
Died
{{{death_date}}}
{{{death_place}}}
Formula One career
Nationality
American
Years
1993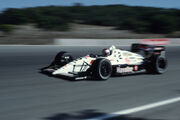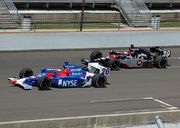 Michael Mario Andretti (born October 5, 1962) is a retired American CART and Formula One driver and owner of the Andretti Autosport team in the IndyCar Series. Andretti is the son of Mario Andretti and the father of Marco Andretti.
Racing career
Edit
Early career
Edit
Michael Andretti was born to Dee Ann and racing legend Mario Andretti, who at that time was a struggling race car driver who had not yet made his name in racing. Michael started racing in 1980, living in the shadow of his eventually illustrious father, who had become a 3-time IndyCar champion and the 1978 Formula One world champion. He drove a Formula Vee car in Local SCCA events. In 1981 he won six of the 11 Super Vee races and won the championship.[1] He moved on to drive in Formula Atlantic, and won the Championship in 1983. In the same year he joined his father and Philippe Alliot in the Porsche Kremer Racing Team, taking third place in the Le Mans 24 Hours, driving a Porsche 956.
He made his CART debut in 1984, racing for the Kraco team. He managed five third place finishes and ended the season in seventh overall. In the Indianapolis 500, he finished fifth and shared the Rookie of the Year award with Roberto Guerrero. He went on to win his first IndyCar race in 1986 at Long Beach, finishing that year as championship runner-up after collecting other wins at Milwaukee and Phoenix.
Andretti achieved major title success by winning the 1991 CART/PPG IndyCar World Series for Newman/Haas Racing. He won 8 of 17 races; Milwaukee, Toronto, Vancouver, the Marlboro Challenge, and all 5 permanent road course events (Portland, Cleveland, Mid-Ohio, Road America, and Laguna Seca).
Futility at Indianapolis
Edit
The Andretti family's bad luck at the Indianapolis Motor Speedway is known as the Andretti Curse. As a driver, he is largely remembered for being unlucky at the Indianapolis 500. In 1991, he led with twelve laps remaining, but finished second to Rick Mears after battling the multiple Indy 500 winner. In 1992, he dominated the race, leading a full four-fifths of the laps, but, with eleven laps remaining, his fuel pump failed, and his car coasted to a stop. He finished in 13th place. He also dropped out while leading the Indy 500 in 1989, 1995 and 2003. Andretti holds the record for most laps led in the Indy 500 without having achieved a victory.
Formula One
Edit
After his 1991 CART title win, Andretti joined the McLaren Formula One team for 1993, alongside the triple World Champion Ayrton Senna. He signed on in September 1992.[2] Unfortunately, the season was not a success. A string of collisions meant that he only completed three laps in his first three races, and he never fully got to grips with Formula One cars. Highly technical aspects which he was not used to in the technologically simpler IndyCars such as active suspension and traction control hampered Andretti's chances for the 1993 F1 season. This combined with the fact that he commuted to races and test sessions from the USA, rather than re-locating full-time to Europe were also contributing factors to his lack of success in Formula One. Three points-scoring finishes, including a third place at Monza, were perceived as too little, too late, and he left the team and the series by mutual agreement after that race.
However, according to son Marco, the McLaren team Andretti drove for "sabotaged" his chances at being competitive in order to replace him with Finnish driver Mika Häkkinen, who would require a smaller salary. "The reality of it was, they had Mika Häkkinen ready to come in for a lot less than what my dad was getting paid, and that's all it was. Right then and there, they had to make him look [bad]," claimed Marco in 2008. "They would make the car do weird things in the corner electronically, stuff out of his control.'"[3] However, Andretti still had problems in practice at Monza, and both he and Senna spun off with brake balance problems early in the race. Andretti was able to continue and fought back up to third, holding off Karl Wendlinger. Throughout the season, Senna experienced similar reliability problems to Andretti, mainly electronic gremlins, particularly in San Marino, Canada, Hungary and Belgium.[4] After Andretti's departure, both Senna and Häkkinen continued to have reliability issues,[5][6] although Häkkinen equalled Andretti's third place Monza finish in Japan (Senna won), while Senna also won the season ending Australian Grand Prix in his final race for McLaren.
At the start of the 1993 season, Ron Dennis signed Häkkinen as a backup to Senna, who was initially reluctant to commit to the team for the whole season. The F1 Rejects website states that this created a difficult atmosphere for Andretti, who would be in the shadow of the three-time F1 champion Senna, and also faced the threat of being replaced by Häkkinen.[7]
After Andretti's unsuccessful Formula 1 season, he never returned to the cockpit in that series.
Return to CART
Edit
After McLaren replaced him with Häkkinen, Andretti returned to the CART series for 1994 and drove for Chip Ganassi, where he once again proved very successful. He went on to win in his very first race back in the series at the Surfers Paradise event in Australia, having led every lap along the way. That win also got Reynard's first win in CART in their debut. In 1995 he returned to Newman/Haas Racing. He finished as runner-up to Jimmy Vasser in 1996 and more race wins followed in the years to come, but his 1991 championship success remained his only title in CART/IndyCar racing.
In 2001, Andretti followed suit with other CART teams and returned to race at Indianapolis, driving for Team Kool Green in a separate effort headed by Kim Green, known as Team Motorola. He led 16 laps, and was leading the race during a rain delay just beyond the halfway point. Had the race been halted due to the rain, he could have been declared the winner. The red flag, however, did not come out at the time and the race resumed. A punctured tire, and a minor collision in the pits with eventual winner Hélio Castroneves, driving for car owner Roger Penske, slowed him down, and at the end of the day, Andretti settled for 3rd place.
His career in CART ended in 2002, in which he took his 42nd and final career victory at the Long Beach Grand Prix - placing him in third place for all-time victories in championship car racing behind his father, Mario Andretti (52 wins) and A.J. Foyt (67 wins).
Andretti is also tied with Al Unser, Jr. for the most wins in a CART/IndyCar season with eight victories. He achieved this during his championship-winning season of 1991.
Sports cars
Edit
Andretti has driven in numerous sports car races at different times in his career. Many were Andretti family efforts, especially with his father Mario.
Semi-retirement and team owner
Edit
After competing in the 2003 Indianapolis 500, Andretti retired from full-time IndyCar racing. He led the race for 28 of the opening 94 laps before a throttle linkage failure put him out of contention once again. That year he bought into the "Team Green" squad run by brothers Kim and Barry Green in CART. It became Andretti Green Racing and for 2003 the team moved to the Indy Racing League IndyCar Series.
That year, Tony Kanaan won the 2004 IndyCar Series Championship for Andretti Green Racing. In 2005, Britain's Dan Wheldon won the Indy 500, and the Championship for the team. In 2007, Scotland's Dario Franchitti won the Indianapolis 500 and the IndyCar Series title for AGR.
Return to racing at Indy
Edit
Andretti returned to the driver's seat for the 2006 Indianapolis 500 in a one-time effort to assist the development of his son, Marco, an IndyCar rookie for the '06 season. Michael led the race with four laps to go, before falling to second behind his son a lap later. He went on to finish third, while Marco only just missed out on the 500 victory after he was passed just before the start/finish line on the last lap by three-time Indycar champion Sam Hornish, Jr.
After qualifying his car in 11th place for the 2007 Indianapolis 500, Andretti went on to finish 13th. He then announced that this would be his last Indy 500 as a driver.
Andretti leaves driving competition at Indy with a frustrating distinction - the driver who's led the most laps (431) without winning the race. He competed in 16 Indy 500s, with a top finish of second in 1991, but led the race nine times.
As a car owner, however, he has far more success. In 2005, only three years after Andretti acquired primary ownership of the team, Andretti-Green Racing (AGR) saw its first 500 triumph come from Dan Wheldon in the #26 Klein Tools Special entry, and in 2007 an even stronger second victory, from Scottish driver Dario Franchitti in the #27 Canadian Club-sponsored car, who won the rain-shortened event at the completion of 166 of the scheduled 200 laps, but after another AGR team driver, Tony Kanaan, had himself led half of the eventual laps, and showed potential of renewing his challenge for supremacy after a fourth turn late-race incident.
Other activities
Edit
In 1996, Andretti invested in a Toyota dealership in his home state of Pennsylvania.[8]
Among his personal appearances, Andretti appeared as a contestant on season 5 of the reality TV series The Celebrity Apprentice, which debuted in February 2012. Andretti joined the show as a last-minute replacement for his son Marco, who dropped out when Marco's friend Dan Wheldon was killed in the 2011 IZOD IndyCar World Championship hours before Apprentice filming was scheduled to begin.[9] Andretti was fired in the fourth episode, after a presentation for Buick executives of the Buick Verano.[10]
In March of 2012, Andretti Sports Marketing took over as promoter of the Milwaukee Mile IndyCar race.[11]
Personal life
Edit
Andretti was married to Sandra Spinozzi from November 1985 to 1996 and they had two children, son Marco (born March 13, 1987) and daughter Marissa (born October 31, 1990). He remarried on December 24, 1997 to Leslie Wood. They had a son, Lucca, born September 16, 1999. On September 7, 2004 Andretti filed for divorce. Two years later on July 15, 2006 Andretti announced his engagement to former Miss Oregon Teen USA 1994, model, actress and 2000 Playboy Playmate of the Year Jodi Ann Paterson. The couple were married on October 7, 2006 at the Andretti Winery in Napa Valley, California.
Andretti family
Edit
Michael is from the famous Andretti racing family. He is the son of Formula 1, CART and NASCAR racing legend Mario Andretti. His brother Jeff Andretti competed in IndyCar. Michael's uncle Aldo Andretti was an open wheel racer until an accident ended his racing career. Aldo's son John Andretti (Michael's first cousin) raced in IndyCar before he became a NASCAR regular. He returned to IndyCar in 2007, 2008, 2009, 2010 and 2011, where he raced in the Indy 500. Aldo's other son, Adam also is a racecar driver, and in 2005, Michael's son Marco began his career in Indy Racing. The Andretti family became the first family to have five relatives (Michael, Mario, Marco, Jeff, and John) compete in the same series (CART/Champ Car/Indycar).[12]
Andretti has an estate upon an adjacent tract of land to his father's mansion of "Montona" in Nazareth, Pennsylvania, where he grew up. However that property was listed for sale in January 2008.[13] His sister Barbara is the listing agent and said Michael has several other homes and will always have a Nazareth connection. Michael's other homes include a property in downtown Indianapolis where his son lives (near his race team headquarters), a residence in Miami Beach, and several other properties for investment purposes. He was elected into the Motorsports Hall of Fame in 2008, the Long Beach Grand Prix Walk of Fame in 2010, the Canadian Motorsports (International Division) Hall of Fame in 2012, and the Indianapolis Speedway's Auto Racing Hall of Fame in 2012.
Motorsports career results
Edit
Complete 24 Hours of Le Mans results
Edit
Year
Class
No
Tyres
Car
Team
Co-Drivers
Laps
Pos.
Class
Pos.
1983
C
21

G

Porsche 956
Porsche Type-935 2.6L Turbo Flat-6
Porsche Kremer Racing
Mario Andretti
Philippe Alliot
364
3rd
3rd
1988
C1
19

D

Porsche 962C
Porsche Type-935 3.0L Turbo Flat-6
Porsche AG
Mario Andretti
John Andretti
375
6th
6th
1997
LMP
9

M

Courage C36
Porsche Type-935 3.0L Turbo Flat-6
Courage Compétition
Mario Andretti
Olivier Grouillard
197
DNF
DNF
Complete World Touring Car Championship results
Edit
(key) (Races in bold indicate pole position) (Races in italics indicate fastest lap)
American Open Wheel racing results
Edit
(key)
(Event)1 : non-championship, exhibition race held day preceding next championship race.
IndyCar Series
Edit
Indianapolis 500 results
Edit
Formula One
Edit
(key)
See also
Edit
References
Edit
External links
Edit