'anufacturer: 'Fahrzeug- und Maschinenbau, Regensburg, Germany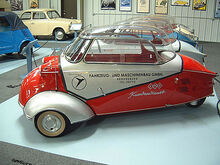 The Messerschmitt Service Car was produced in very small numbers, perhaps a dozen units total.
It had special suspension parts in the front, to mount a Messerschmitt Tow Bar.
The Tow Bar was connected with a clamp on the bumper of the towing car in front. The clamp fits to several old style metal bumpers. Note: when towing the Messerschmitt this way, it has the Status of a Trailer and needs special removable holders for reflecting triangles at the rear license plate.
Thus, a Service Technician could drive to the Customer in his Messerschmitt Service Car, hook the Schmitt to the Customer Vehicle and drive back to the Repair Shop. After the service on the customer car, it went the other way round.
The Service Car was popular for some Dealers, who had their own advertising and "Kundendienst" (Customer Service) printed on it. In the car there were special holders to transport and secure the tow bar. The cars had no luggage rack and a special paint scheme.
Getting the parts and the license from German authorities to restore this car took more than a year.
The Tow Bar has been rebuilt by using the last 2 existing bars, found in 2 private collections. Both were incomplete.
The remade part is the only complete bar now.
border="1" height="344" width="620"
Model: KR-200 Service Car
Motor: Fichtel & Sachs, 2-storke
Body: Monocoque
Years Built: March 1958 - August 1964
No. Cylinders: 1
Chassis: None
No. Produced: ~ 12
Displacement: 191 cc
Suspension Front: Rubber
No. Surviving: 1
Horsepower: 9.7
Suspension Rear: Rubber
Length: 2 830 mm
Gearbox: 4 + rev
Steering: Direct
Width: 1 270 mm
Starter: Dynastart
Brakes: Cable
Weight: 230 kg
Electrics: 12 v
3 Wheels: 4.00 x 8"
Interior: 2 seats tandem
Ignition: Coil
Top Speed: 100 km/h
|- |}
Ad blocker interference detected!
Wikia is a free-to-use site that makes money from advertising. We have a modified experience for viewers using ad blockers

Wikia is not accessible if you've made further modifications. Remove the custom ad blocker rule(s) and the page will load as expected.