Mercedes-Benz R-Class
Mercedes-Benz
aka
V254
Production
2005 - present
Class
Crossover
Body Style
5 door, 5/7 seat MPV
Length
5157 mm
Width
2168 mm
Height
1656 mm
Wheelbase
3215 mm
Weight
Weight - you get the point
Transmission
7 speed Automatic, AWD
Engine
3.0 litre and 3.5 litre V6
5.0 litre V8
5.5 litre V8
Power
N/A hp @ N/A rpm
N/A lb-ft of torque @ N/A rpm
Similar
similar (competition)
Designer
Designer (lead designer if it was a team effort)
The R-Class is an MPV/SUV crossover automobile offered by DaimlerChrysler in 2006 model year under the Mercedes-Benz brand. A concept was first seen at the 2001 Detroit Auto Show as the Vision GST (Grand Sports Tourer) concept, and the final production vehicle was shown at the 2005 New York International Auto Show. DaimlerChrysler assembles R-Class vehicles destined for the United States, and possibly other countries as well, in Tuscaloosa, Alabama. The R-Class shares its chassis with the 2006 M-Class. The R-Class slots between the ML-Class and the G-Class.
Although described by the manufacturer as a "Sports Cruiser" many sources and casual observers have noted that the vehicle is remarkably similar to a minivan in form.
See Autopedia's comprehensive Mercedes-Benz R-Class Review.
Recent Changes
Edit
Debuting at the 2010 New York Auto Show for the 2011 MY, the R-class receives a comprehensive mid-cycle facelift that cures the aesthetic shortcomings of the slow-selling luxo family hauler. The most immediate change is up front, where the R-Class eschews the ovoid headlamps in favor of squarer items and a sharper, more chiseled schnoz. Out back, the changes are minor and are limited mostly to a change in the graphic design of the rear clusters. [1]
Styles and Major Options
Edit
The R-Class is offered in two wheelbases.
Models:
Add more fields as necessary.
MODEL Trims
Trim1
Trim2
Trim3
Trim4
MSRP
$Price1
$Price2
$Price3
$Price4
Invoice
$Price1
$Price2
$Price3
$Price4
Gas Mileage
Edit
Add more fields as necessary.
As seen on the FuelEconomy.gov website, the City/Highway MPG averages are as follows:
Trim
Trim1
Trim2
Trim3
Trim4
MPG
c/h
c/h
c/h
c/h
Engine and Transmission
Edit
Specifications, details, graphs, pictures and other information regarding the powertrain is placed in this section.
Performance
Edit
Acceleration
0-60 km/h: 3.4 seconds (R500)
0-80 km/h: 5.2 seconds (R500)
0-100 km/h: 7.4 seconds (R500)
Braking
Stopping distance: 33.1 metres from 80 km/h. (R500)
Reliability
Edit
RECALL ALERT: On Nov 5, 2010, Mercedes-Benz issued a recall affecting approximately 2,300 MY2011 E-Class, GL-Class, M-Class and R-Class due to improperly lubricated O-ring that will result in a leaky fuel filter. [2]
This section should reference points on safety ratings and features of the vehicle.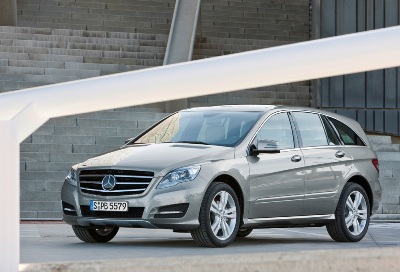 Add Photos of the vehicle here.
Please make sure not to use copyrighted photos.
List the colors that the particular <MODEL> is offered in.
Main Competitors
Edit
Create links to other <MAKE> <MODEL> pages in this section.
Hybrid Models
Edit
If there are hybrid versions of this vehicle manufactured, then please elaborate a little bit on it here.
Unique Attributes
Edit
If there are any features of this vehicle that sets it apart from other vehicles in its class, then mention those unique attributes here.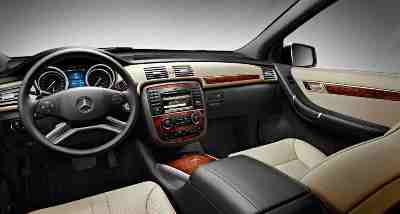 This section should include information on the interior's design, build quality, ergonomics, space (head and legroom, front and rear), features, stowage compartments and overall comfortability and livability. Add pictures wherever applicable and keep information in a third-person point of view.
Resale Values
Edit
Add more fields as necessary.
<MODEL> Year
Year X
Year X-2
Year X-3
Year X-4
Resale Value
$
$
$
$
Criticisms
Edit
"It's not a wagon, it's a 4x4. And not a very good one. You're better off buying a condom". - Top Gear
Generations
Edit
Fill in as many as appropriate. Add more if necessary and pictures wherever applicable.
Please make sure NOT to use copyrighted pictures.
Current Generation: (YYYY–present)
Edit
The AMG version of the W251, the R63 AMG, was introduced at the 2006 North American International Auto Show as a 2007 model. It features a 6.2 L M156 V8 engine producing 503 hp (375 kW) and 465 ft·lbf (630 N·m) of torque. Mercedes-Benz's 7G-TRONIC seven-speed automatic transmission is standard.
Worldwide
Edit
If the vehicle is sold in other markets worldwide, then this is the section to mention that information. Also, mention if the <MODEL> goes by another name in these other markets.
Design quirks and oddities
Edit
Refer to any pop-culture tidbits about the vehicle in this section.
List out notable awards that the model has recieved while in production. Boldface the company or organization that gives out the award, and Italicize the name of the award.
References
Edit
"2006 Volkswagen C1: Link with Maserati provides platform", an article under "Sketchpad" in the "News" section of the March, 2003 issue of Motor Trend, on page 31
External links
Edit
This page uses content from Wikipedia; see Mercedes-Benz R-Class, which includes these contributors.
Ad blocker interference detected!
Wikia is a free-to-use site that makes money from advertising. We have a modified experience for viewers using ad blockers

Wikia is not accessible if you've made further modifications. Remove the custom ad blocker rule(s) and the page will load as expected.