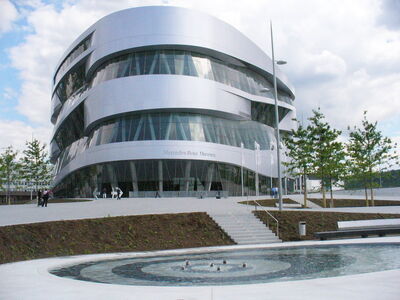 The Mercedes-Benz Museum is an automotive museum housed in Stuttgart, Germany. Stuttgart is the home to the Mercedes-Benz brand and headquarter of DaimlerChrysler. The building, designed by UN Studio, has a unique design comparable to a cloverleaf, consisting in geometric terms of three overlapping circles with the center cut out to form a triangular atrium. It was completed in 2006.
The museum was reportedly built at a cost of $192-million. The building's height and "double helix" interior design maximize space, allowing 16,500 square metres of exhibit space on a lot of just 4,800 square metres.The museum contains more than 160 vehicles.
An exhibition looking at the design of the museum was held at the Architecture Museum of Frankfurt which featured a detailed model of the building.
Free audio tours, in many languages, are provided to all visitors. Upon the conclusion of the audio tour, the headphones and Mercedes-Benz lanyard are given as a free gift.
Related publications include *Buy Me a Mercedes-Benz, The Book of the Museum, UN Studio, (Actar, Barcelona, 2006)
External links
Edit
Ad blocker interference detected!
Wikia is a free-to-use site that makes money from advertising. We have a modified experience for viewers using ad blockers

Wikia is not accessible if you've made further modifications. Remove the custom ad blocker rule(s) and the page will load as expected.