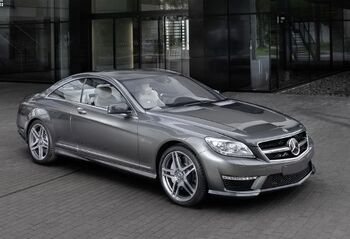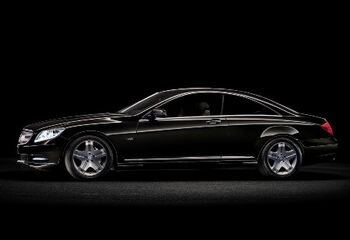 The Mercedes-Benz C216 is the new platform for the grand tourer Mercedes-Benz CL-Class. It will be replacing the W215 platform. The new platform will be presented at the 2006 Mondial de l'Automobile.
The CL63 debuted at the Paris Motor Show on September 13, 2006. It features a 6.3 liter AMG V8, the CL63 AMG is rated at 386 kW/525 hp and 630 Newton metres of peak torque, resulting in a 0-62 mph time of 4.6 seconds and an electronically limited top speed of 155 mph.
See Autopedia's comprehensive Mercedes-Benz C216 Review.
Recent Changes
Edit
For 2011, the CL-Class receives a major powertrain update as well as a subtle facelift. The CL550 4MATIC now packs an all-new 4.7 litre Biturbo and BlueDIRECT direct-injected V8 with around 429 horsepower and a 516 lb-ft of torque, nearly a full litre less in displacement but producing 47 more hp and 125 more lb-ft of torque. That slashes the entry-level CL's sprint to 60 mph to 4.9 seconds. The range-topping CL600, on the other hand is motivated by a 5.5 litre Biturbo V12 developing 510 hp and 612 lb-ft of torque, propelling the 4,900 lb grand tourer to 60 mph in a mere 4.5 seconds. On the AMG-fettled front, the CL63 AMG, despite the name, sticks twin-turbos on a smaller but more powerful 5.5 litre V8 than the outgoing 6.2 litre engine resulting 536 hp @ 5500 rpm and 590 lb-ft. of torque @ 2000 – 4500 rpm. With the optional AMG Performance Package those numbers reach even more wonderfully ridiculous heights: 563 hp and 664 lb-ft. Jesus Christ. This is also while slashing fuel consumption by 27 percent. The King of the Hill CL65 AMG also get a powerplant upgrade as its 6.0 litre Biturbo V12 churns out 621 hp @ 4800 rpm and 738 lb-ft of torque @ 2000 - 4000 rpm. All CL AMG models will get the full suite of Mercedes-Benz driver aid tech such as Direct-Steer, crosswind stabilization, torque-vectoring, drowsiness detection, night-view assist, active lane-keeping assist and blind-spot assist. [1]
CL550 and CL600
CL63 AMG
On April 15 2009, Mercedes-Benz released the AMG Appearance Package for the CL-Class and the facelifted S-Class. [2]
Overall dimensions
Edit
Length: 5065 mm
Width: 1817 mm
Height: 1418 mm
Height: 1418 mm
Wheelbase: 2955 mm
Track(front/rear): 1601/1607 mm
2011 C216
2011 C216 AMG
2009 C216
2006-2010 C216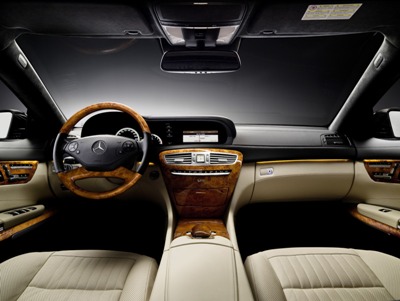 This section should include information on the interior's design, build quality, ergonomics, space (head and legroom, front and rear), features, stowage compartments and overall comfort and livability. Add pictures wherever applicable and keep information in a third-person point of view.
2011 C216 CL550 and CL600
2011 C216 CL63 and CL65 AMG
CL63 AMG
Black Premium Leather
Savanna/Cashmere Premium Leather
Ash/Grey Premium Leather
Sahara Beige/Black Premium Leather
CL65 AMG
Black Exclusive Leather
Savanna/Cashmere Exclusive Leather
Ash/Grey Exclusive Leather
Sahara Beige/Black Premium Leather
External Links
Edit
Ad blocker interference detected!
Wikia is a free-to-use site that makes money from advertising. We have a modified experience for viewers using ad blockers

Wikia is not accessible if you've made further modifications. Remove the custom ad blocker rule(s) and the page will load as expected.