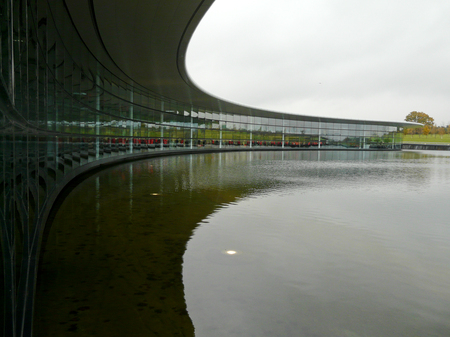 The McLaren Technology Centre is the headquarters of the McLaren Group, located on a 500,000 m² site in Woking, United Kingdom. It is a large, roughly semi-circular, glass-walled building, designed by the architect Norman Foster and his company, Foster and Partners. The building was short-listed for the 2005 Stirling Prize, which was won by the Scottish Parliament building. About 1,000 people work at the Technology Centre. It is home to the Team McLaren Formula One constructor and McLaren Automotive, the makers of the Mercedes-Benz SLR McLaren, as well as other companies of the McLaren Group.
The building is accompanied by a series of artificial lakes: one formal lake directly opposite that completes the circle of the building, and a further four 'ecology' lakes. Together they contain about 50,000 m³ of water. This water is pumped through a series of heat exchangers to cool the building and to dissipate the heat produced by the wind tunnels. The main working space of the building is split into 18 metre wide sections known as 'fingers' that are separated by six metre wide corridors known as 'streets'. Facilities for employees include a 700 seat restaurant, a juice and coffee bar, a swimming pool and a fitness centre. An underground Visitor and Learning Centre is connected to the main building by a walkway.
A 145 metre long, rectangular-circuit shaped wind tunnel is located at one end of the building. Team McLaren uses it for testing development aerodynamic parts, as well as testing aerodynamic set-ups. The tunnel contains 400 tonnes of steel and the air is propelled by a four metre wide fan that rotates at up to 600 rpm.
The Technology Centre is intended to consolidate all aspects of the McLaren Group at one site, instead of the 18 separate sites they were at before. Ron Dennis, chairman, CEO and part owner of the Group, is confident that the Technology Centre will attract the very best designers and engineers.
Work on the project, originally known as the Paragon Technology Centre, started in 1999 and about 4,000 construction workers were involved in what the Financial Times said "[was] claimed to be the biggest privately funded construction project in Europe."[1] In February 2000, DaimlerChrylser purchased 40 percent of the McLaren Group and McLaren subsequently announced it would build the Mercedes-Benz SLR McLaren at the new facility.[1]
Dennis explained one of his rationales for the project in 2000: "Put a man in a dark room, he's hot, it smells bad, versus a guy in a cool room, well-lit, smells nice... When you throw a decision at those two individuals, who's going to be better equipped to effect good judgment and take a good decision?"[2]
McLaren employees started using the facility in May 2003. It was officially opened by Queen Elizabeth II in May 2004.[3] McLaren has not disclosed the project's cost, but BBC News has suggested a figure of GB£300m.[3]
References
Edit
↑ 1.0 1.1 Griffiths, John. "McLaren to build Mercedes sports car at Pounds 200m complex" Financial Times. 9 February 2000 Retrieved on 2007-05-26.
↑ Spurgeon, Brad (2000-06-24). "TAG McLaren Group Revs Up Off Track". International Herald Tribune: p. 9.

 

↑ 3.0 3.1 "Queen opens new McLaren facility". BBC News Online (BBC). 2004-05-12. http://news.bbc.co.uk/1/hi/uk/3707167.stm

. Retrieved 2007-05-26

.

 
External links
Edit