The McLaren MP4-12C is a supercar/sports car produced by English manufacturer McLaren Automotive as the successor to the mythical McLaren F1 (though not in price and outright top speed). It is also the first car completely designed, made and sold by the company. It was replaced by the 650S for the 2015 model year.
See Autopedia's comprehensive McLaren MP4-12C Review.
Recent Changes
Edit
None
Styles and Major Options
Edit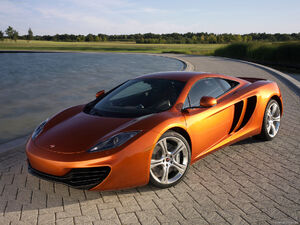 There are 4 pre-configured options for the MP4-12C available at the McLaren website. Each one of them has been suggested by someone closely related to McLaren. If the user wants something more personal, he can ignore them and make his own 12C within the website using the configurator.
Frank Stephenson (Lead Designer): Designed for everyday driving yet sporty performance, it comes with an upgraded diffuser, door mirrors and engine bay made of carbon fibre; Full "Carbon Black" leather interior with "Orange Space" fabric. The seats back and steering wheel are also upgraded to carbon fibre. For more comforting driving, it comes with Satellite Navigation, Surround Meridian audio and parking assistance.
Ron Dennis (McLaren Chairman): Designed to stand out with details, it comes with Titanium Silver exclusive McLaren paint, carbon fibre body upgrades, 10-spoke superlight forged wheels and silver brake calipers. The interior is "Carbon Black" leather with the McLaren logo stitched on the headrest and a conmemorative plate in the central console, celebrating McLaren's championships. It comes with a touchscreen satellite navigation system and Wi-Fi connectivity.
Lewis Hamilton (McLaren F1 Driver): Designed for track performance with eye-catching exterior, its painted in Volcano Red, carbon fibre splitter, diffuser, mirrors and engine bay cover. For enhanced performance, it comes with Carbon-ceramic brakes, Lightweight forged wheels and uprated exhaust made of F1 composites. The interior is upholstered in Red Leather with Black Alcantara details. The seats are full electric carbon fibre with memory and easy access technology. It comes with McLaren's propietary software for saving the user times on the track and then upload them to compare with other 12C users.
Jenson Button (McLaren F1 Driver): Designed for looks and performance driving, its painted in Carbon Black Special Paint with the optional Stealth Pack. The diffuser, splitter, mirrors and turning vanes are made of naked carbon fibre for a sportier look. The brakes are Carbon-Ceramic with Red Calipers and Black forged lightweight wheels. The exhaust is also modified for saving weight purposes. The interior is Carbon Black leather, Alcantara details and Red stitching designed to match the brake calipers. The SatNav system is upgraded to include Wi-Fi, bluetooth, voice control and media capabilities mated to a surround audio system.
MODEL Trims
MP4-12C
MSRP
£168,500 (UK)
€200,000 (Germany)
€201,000 (France & Monaco)
€201,680 (Italy)
€203,360 (Belgium)
Invoice
$Price1
Gas Mileage
Edit
Add more fields as necessary.
As seen on the FuelEconomy.gov website, the City/Highway MPG averages are as follows:
Trim
Base Model
Frank Stepheson
Ron Dennis
Lewis Hamilton
Jenson Button
MPG
c/h
c/h
c/h
c/h
c/h
Engine and Transmission
Edit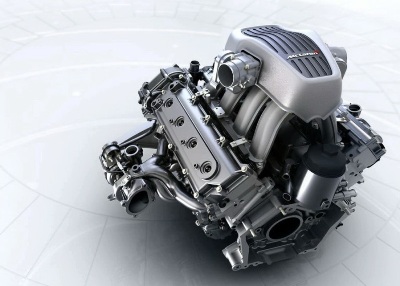 The engine in the MP4/12C, dubbed M838T, is McLaren's first completely own engine (The F1 used BMW S70/2 engine). It is a 3.8 litre Twin-turbocharged V8 developing 600 BHP. It features many Racing features such as a Dry-Sump and a Flat-Plane crankshaft. This helps to lower the centre of gravity and have a high rev redline (8500 rpm). It is also very economical as it produces less C02 per bhp (Under 300g/km), than any other car available at this time. The gearbox is an automatic Twin-Clutch, seven speed gearbox dubbed SSG by McLaren.
Performance
Edit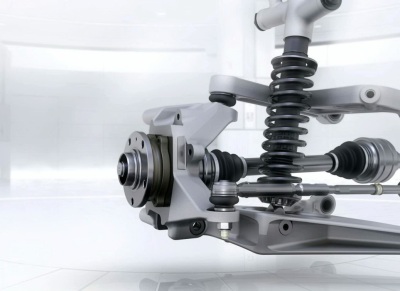 0-60 MPH: 3 seconds (Estimated).
0-200 KPH: Under 10 seconds.
Top Speed: 215 MPH
Reliability
Edit
McLaren claims that it should be easy to service and repair. They say "Ease of repairability, low-cost of servicing and maintenance, and availability of parts are of paramount importance to this customer relationship and have been key targets since the beginning of the 12C project."
ABS, Traction Control, Parking Sensors, Tyre Pressure Monitoring and McLaren Tracking System (Anti-theft system).
The spoiler pop up when the car did a hard brake for decreasing drag to the wind and improve the downforce for easier and safer cornering and braking.
Add Photos of the vehicle here.
Please make sure not to use copyrighted photos.
Elite

Pearl White
Supernova Silver
Ice Silver
Fire Black
Volcano Orange
Volcano Red
Special

Titanium Silver
Graphite Grey
Carbon Black
Sapphire Black
Azure Blue
Mercury Red
Racing Green
McLaren Orange
Main Competitors
Edit
Hybrid Models
Edit
N/A
Unique Attributes
Edit
It features a technology that McLaren calls "Pre-Cog". This allows the user through half pulling the paddle shift to select next gear. This should allow faster gear changes.
It produces less C02 per bhp than any other car on the market today.
It features many technologies carried from F1. One example is "Brake steer". This means that during hard cornering, the interior rear wheel brakes itself to help reduce understeer.
It uses a all new chassis dubbed "Carbon Monocell". It is basically a Monocoque chassis but made entirely of carbon fibre from which all the body parts hang.
The 4 wheels are operating separately,creating a high quality road damping and performance handling.
It is McLaren Automotive's second production car after the McLaren F1.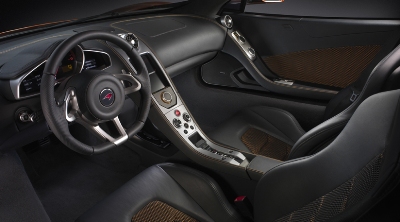 The car, contrary to its predecessor, the McLaren F1, it has the normal 2 side-by-side seats. McLaren claims that people of most heights will be able to fit easily and thanks to the use of an automatic gearbox, there is no clutch pedal so that there is good legroom space. Even though is mid-engined, it has a decent boot behind the seats, probably enough for the weekly shopping. Unlike most cars that uses paddles behind the steering wheel, one to change up and one to change down, the MP4-12C has only one which hangs on the middle. So, if you pull the one to change up, the one to change down will move in the opposite direction.
Resale Values
Edit
Add more fields as necessary.
<MODEL> Year
Year X
Year X-2
Year X-3
Year X-4
Resale Value
$
$
$
$
Criticisms
Edit
There is no option for a manual gearbox like on the McLaren F1. Please make sure to keep critiques in a third-person point of view. If using criticisms from a reputable automotive source, then please make sure to cite the quote.
Generations
Edit
Fill in as many as appropriate. Add more if necessary and pictures wherever applicable.
Please make sure NOT to use copyrighted pictures.
Worldwide
Edit
McLaren said their goal is to sell around 1000 in the first year of production. They main market will be the US and UK, each with 25% of the market. The rest of the market will be worldwide, mainly from Europe (Germany), and some other eastern countries.
Design quirks and oddities
Edit
Refer to any pop-culture tidbits about the vehicle in this section.
The MP4-12C won the Middle East "Car of the Year" Award as "Best Supercar" in 2012 and overall "Car of the Year" at the Middle East Motor Awards the same year.
External Links
Edit
News and References
Enthusiast Sites and Discussion Forums