The McLaren 675LT is a limited sportscar produced by McLaren. Only 500 coupés will be made. It is based on the McLaren 650S. 500 Spiders will also be made.
Coupé
The McLaren 675LT (where "LT" stands for Long Tail) is a lightweight, track-focused evolution of the McLaren 650S. It was announced in February 2015 and introduced at the Geneva Motor Show 2015.
Chassis
As with the 650S, the 675LT makes use of single-piece carbon fibre monocell weighing 75 kg (165 lb), and carbon fibre use in the vehicle is increased in order to further minimise weight and increase rigidity. The 675LT is supplied with new carbon ceramic brake discs to increase braking performance over the 650S. Disc sizes are 394 mm at the front and 380 mm at the rear. Six-piston calipers grip the front discs with four-piston caliper used for the rears. Braking performance is also aided by the air brake ability of the new rear wing.
The 675LT makes use of a new 10-spoke wheel design, each weighing 800 g less than the alloy wheels on the McLaren P1, supplied in a 19-inch front and 20-inch rear fitment.
The new wheels are shod in Pirelli P-Zero Trofeo R track-focused, street-legal tyres which increase grip by up to 6% over the P-Zero Corsa sold with the 650S.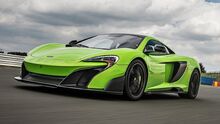 Body and cabinet
The 675LT utilises a new rear wing/air brake assembly 50% larger than that used in the 650S, along with a new carbon fibre diffuser and an 80% larger front splitter with sizeable endplates that together increase total downforce by 40%.
New carbon fibre pieces include both the front and rear bumpers as well as front undertray, rear fenders, side intakes and decklid that contribute to the significant weight savings over the 650S. Alcantara is used throughout the interior where carpeting is removed and removal of the air conditioning unit and new carbon fibre race seats together save 26.5 kg (58 lb). 1 millimetre thinner window glass further reduces weight by 3 kg (7 lb). This extreme focus in weight saving results in a dry weight of 1,230 kg (2,712 lb), some 100 kg (220 lb) less than the 650S. In 2 months the car was sold out.
Spider
A convertible variant of the 675LT was revealed online in December 2015. It shares the same 675 PS (496 kW; 666 bhp), 3.8-litre twin-turbocharged V8 engine as the coupé, but has a folding hardtop roof as seen on the 650S Spider. The 675LT Spider can accelerate from 0–100 km/h (0-62 mph) in 2.9 seconds and 0–200 km/h (0-124 mph) in 8.1 seconds. The top speed is reduced slightly, to 327 km/h (203 mph). After 2 weeks the car was sold out.
McLaren 675LT
McLaren
aka
675 longtail
Production
2015-2017 500 coupés only

Spider: 2016-2017 500 spiders only

Class
Sports car
Body Style
2-door coupé

2-door convertible

Length
4,512 mm (177.6 in)
Width
2,093 mm (82.4 in)
Height
1,203 mm (47.4 in)
Wheelbase
2,670 mm (105.1 in)
Weight
2,993 lb (1,358 kg)
Transmission
7-speed dual-clutch
Engine
3.8 L twin-turbo M838T V8
Power
666HP
Similar
McLaren 650S
Designer
Frank Stephenson
Triva
The McLaren 675LT is currently the fastest production car to set a lap at the Top Gear test track.
Gallery