The McLaren 650S is a supercar designed and manufactured by McLaren Automotive. It was
McLaren 650S
McLaren
aka
650s
Production
2014- 2017
Class
Supercar
Body Style
2-door coupé

2-door roadster

Length
177.6 in (4,511 mm)
Width
74.6 in (1,895 mm)
Height
47.2 in (1,199 mm)
Wheelbase
105.1 in (2,670 mm)
Weight
3,148 lb (1,428 kg) (coupe)

3,239 lb (1,469 kg) (spider)

Transmission
7-speed dual-clutch
Engine
3.8 L twin-turbo M838T V8
Power
641HP
Similar
McLaren MP4-12C
Designer
Frank Stephenson
announced in February 2014 as a new model, but based on the existing McLaren MP4-12C with 25% new parts,and was formally unveiled at the 2014 Geneva Motor Show.
The 650S shares the MP4-12C's Carbon-fiber-reinforced polymer chassis, and is powered by the same McLaren M838T 3.8-litre V8, twin-turbo engine, but now developing 641 bhp (478 kW; 650 PS) and 500 lb·ft (680 N·m) of torque.Power is transmitted to the wheels through a seven-speed near instantaneous shift dual-clutch gearbox.
The 650S has a claimed top speed of 333 km/h (207 mph), and can accelerate from 0–100 km/h (0–62 mph) in 3 seconds and from 0–200 km/h (0–124 mph) in 8.4 seconds.Other variants 675LT and 570S.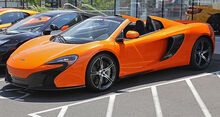 Variants
Edit
650S Spider Edit
First announced in March 2013, the 650S Spider is a convertible version of the 650S. It weighs 40 kilograms (88 lb) more than the coupe, but it offers nearly identical performance. It can accelerate from zero to 60 mph in 3 seconds and has a top speed of 204 mph. Up to 25 percent of the parts are new compared to the McLaren 12C Spider.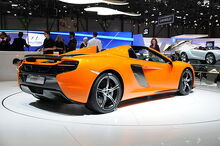 625C (2015–)
Edit
In September 2014, McLaren launched an additional model to the range, the McLaren 625C, available in both coupe and roadster versions initially aimed at specific markets in the South Asia Pacific region.
Powered by the same 3.8-litre twin-turbocharged V8 engine, but with a reduced power output of 616 bhp (459 kW; 625 PS). The 625C is fitted with new dampers and a revised suspension setup, including softer spring rates. Braking is by cast-iron discs instead of the carbon fibre-ceramic units fitted to the 650S. Top speed remains the same as the 650S but acceleration 0–100 km/h (0–62 mph) is slightly slower at 3.1 seconds.
650S Le Mans (2015–)
Edit
A McLaren 650S Le Mans was revealed in early 2015 to commemorate McLaren's inaugural win at the 24 Hours of Le Mans in 1995. This edition marks McLaren's 20th anniversary since this important win - it was also their first entry ever at Le Mans where five McLaren F1 GTRs finished 1st, 3rd, 4th, 5th and 13th.
Developed by McLaren Special Operations, the McLaren 650S Le Mans is limited to 50 units all in coupe variants. It is inspired by the No.59 McLaren F1 GTR that won the 1995 Le Mans. Hence the 650S Le Mans is finished in a metallic Sarthe Grey exterior color and fitted with 'Le Mans Edition' lightweight wheels. Other distinct features from the entry 650S model include a functional roof-mounted engine induction 'snorkel' and subtle louvres on the front wings. 
650S Can-Am (2015-)
Edit
A version of the 650S based on the Can-Am series is offered in a limited production run of 50 vehicles.
MSO 650S (2014-)
Edit
An MSO version of the 650S is offered in a limited production run of 50 vehicles. Offered with matte carbon, exclusive MSO colours, Papaya Spark, Agrigan Black and Sarigan Quartz. It features unique and lightweight alloy wheels. These are 4kg lighter than the standard alloys, helped by the fact they've got titanium wheel bolts.
650S GT3 (2015-2017)
Edit
650S GT3
The McLaren 650S GT3 is the track-only racecar version of the standard 650S
Main article: McLaren 675LT
675LT (2015–2017)
Edit
The McLaren 675LT (where "LT" stands for Long Tail) is a lightweight, track-focused evolution of the McLaren 650S. It was announced in February 2015 and introduced at the Geneva Motor Show 2015. With an acclaimed horsepower of 665 bhp. It was made with a technology similar to the P1 including the tub like structure of the middle section. It also has a carbon fiber rear diffuser and front diffuser. There is a choice between carbon ceramic brakes and iron brakes through purchase.
As with the 650S, the 675LT makes use of single-piece carbon fibre monocell weighing 75 kg (165 lb), and carbon fibre use in the vehicle is increased in order to further minimise weight and increase rigidity. The 675LT is supplied with new carbon ceramic brake discs to increase braking performance over the 650S. Disc sizes are 394 mm at the front and 380 mm at the rear. Six-piston calipers grip the front discs with four-piston caliper used for the rears. Braking performance is also aided by the air brake ability of the new rear wing.
The 675LT makes use of a new 10-spoke wheel design, each weighing 800 g less than the alloy wheels on the McLaren P1, supplied in a 19-inch front and 20-inch rear fitment.
The new wheels are shod in Pirelli P-Zero Trofeo R track-focused, street-legal tyres which increase grip by up to 6% over the P-Zero Corsa sold with the 650S.
Body and cabin
Edit
The 675LT utilizes a new rear wing/air brake assembly 50% larger than that used in the 650S, along with a new carbon fibre diffuser and an 80% larger front splitter with sizeable endplates that together increase total downforce by 40%.
New carbon fibre pieces include both the front and rear bumpers as well as front undertray, rear fenders, side intakes and decklid that contribute to the significant weight savings over the 650S.[13]Alcantara is used throughout the interior where carpeting is removed and removal of the air conditioning unit and new carbon fibre race seats together save 26.5 kg (58 lb). 1 millimetre thinner window glass further reduces weight by 3 kg (7 lb). This extreme focus in weight saving results in a dry weight of 1,230 kg (2,712 lb), some 100 kg (220 lb) less than the 650S.
Drivetrain
Edit
Main article: McLaren M838T engine
The car is powered by a variation of the M838T 3,799cc twin-turbo V8 petrol engine, producing 675 PS (496 kW; 666 hp) at 7100 rpm and 700 N·m (520 lbf·ft) at 5500 rpm. This is achieved through the addition of new lightweight connecting rods, bespoke camshaft, a electronic recirculation valve and a lightweight titanium exhaust. Also used in the engine are revised turbocharger compressor wheels and an optimised fuel pump.
The 675LT uses the seven-speed automatic dual-clutch gearbox used in the 650S, with improved software reducing the shift time.
Performance
Edit
The 675LT can accelerate from 0–100 km/h (0-62 mph) in 2.9 seconds and 0–200 km/h (0-124 mph) in 7.9 seconds, continuing to a claimed top speed of 330 km/h (205 mph).
Nomenclature
Edit
The '675' in the 675LT model name refers to the power output of 675 PS, following the naming scheme started by the McLaren 650S. The LT in the model name is a reference to the "Long Tail" 1997 McLaren F1 GT which was the final incarnation of the F1 road car built to comply with FIA homologation regulations for the 1997 F1 GTR. The F1 GT featured extended front and rear overhangs that produced similar downforce to the previous homologation special, the F1 LM, without the use of a drag-inducing fixed rear wing.
675LT Spider (2016-2017)
Edit
A convertible variant of the 675LT was revealed online in December 2015. It shares the same 675 PS (496 kW; 666 bhp), 3.8-litre twin-turbocharged V8 engine as the coupé, but has a folding hardtop roof as seen on the 650S Spider. The 675LT Spider can accelerate from 0–100 km/h (0-62 mph) in 2.9 seconds and 0–200 km/h (0-124 mph) in 8.1 seconds. The top speed is reduced slightly, to 327 km/h (203 mph).
Motorsports
Edit
In June 2014, McLaren announced that they would produce a GT3 version of the 650S, either as a new car or as an upgrade for the existing 12C GT3 – which will contest GT3 championships from 2015 onwards.
Changes to the car from the road car includes a new 6-speed sequential motorsport gearbox; 380 mm ventilated brake discs with six-piston calipers at the front and four-piston units at the rear; a 52 mm wider track; revised suspension geometry and upgraded components. It is distinguished from the road car by larger air intakes and front splitter, and carbon fibre air intakes and a new rear wing.
The 3.8-litre McLaren V8 twin-turbo engine, also used in the 12C-GT3, produces 493 bhp (368 kW; 500 PS), and includes a new ECU to improve turbo boost and gearshifts. The power output is lower than the road going 650S's due to homologation.
Andrew Kirkaldy, whose CRS Racing team developed the GT3 version of the McLaren MP4-12C, said that they were aiming to develop a version that conforms to the LM GTE regulations at the 2016 24 Hours of Le Mans.
The 650S achieved its biggest success when it won the 2016 Liqui Moly Bathurst 12 Hour race in Australia at the hands of Álvaro Parente, Shane van Gisbergen and Jonathon Webb. Van Gisbergen set a new outright lap record with a time of 2:01.567 on 7 February 2016.