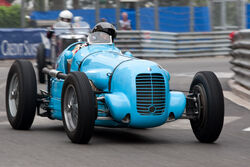 Maserati V8RI
(1935 - 1936) were fourracing cars made by
Maserati
of Modena.
Designed by Ernesto Maserati, they had a front-mounted 4788cc V8 engine, 90 degrees. Roots type supercharger and dual choke Weber carburetor, single camshaft resulted in 320 bhp and a maximum speed of 270 kph. The «RI» denoted Ruote indipendenti, the then innovative independent four-wheel suspension. The cars measurements were wheelbase 2560mm, length 3865mm, width 1490mm, height 1250mm. Chassis #4501 debuted at Grand Prix de la Marne 1935, driven by Philippe Étancelin.
External links
Edit
Ad blocker interference detected!
Wikia is a free-to-use site that makes money from advertising. We have a modified experience for viewers using ad blockers

Wikia is not accessible if you've made further modifications. Remove the custom ad blocker rule(s) and the page will load as expected.