The Maserati Quattroporte is a luxury four-door sedan made by Maserati of Italy. The name Quattroporte literally means "Four Doors". There have been five generations of the car, each separated by a period of roughly five years.
See Autopedia's comprehensive Maserati Quattroporte Review.
Recent Changes
Edit
At the 2010 Australian International Auto Show, Maserati launched the Quattroporte MC Sport Line accessories package. A Sport GTS at heart, it builds on that by way of carbon fiber interior accents and aluminum pedals.[1]
The 2009 Detroit Auto Show will see the debut of a new performance version, the Sport GTS, since the Quattroporte's first mid-cycle facelift. It is distinguished from the rest of the range by blacked-out headlight surrounds and a darkened grille as well as new alloy wheels. Inside, the 'Sport' nomenclature is further emphasized with carbon fibre trim where wood used to be and a Leather/Alcantara upholstery. What makes this car truly special, however, is that it will feature a high-flow exhaust system which gives this Q-ship 10 extra hp over the 'S' model for a grand total of 440 (328kW). To make sure this new found power is exploited fully, Maserati has fiddled around with the suspension setup, making it lower, stiffer and sportier and reprogrammed the 6-speed ZF paddle-actuated auto's management software for quicker and more brutal gear changes. Pricing has yet to be announced but the car is expected to go on sale by Spring 2009. [2]
For 2009, the fifth-generation Quattroporte receives its first major mid-cycle facelift - just in time to prepare the 5 year old car for battle with the upcoming Porsche Panamera and Aston Martin Rapide supersedans. Along with the freshening, the Quattroporte range is also expanded to now include the performance oriented Quattroporte S. While the 'standard' variant soldiers on with the 400 hp 4.2-liter V8, the S will boast the more powerful 430-hp 4.7-liter that had previously seen service in the Alfa Romeo 8C Competizione and 'S' variant of the GranTurismo. Both powermills will come attached to the ZF six-speed automatic. Inside, Maserati offers two new color options for the leather upholstery: Marrone Corniola (brown) and Sabbia (sand). Likewise the center console has been refreshed, now integrating Maserati's new Multimedia System.[3][4]
For the 2007 Franfurt Motor Show, Maserati launched a sportier version of the already scintillating Quattroporte dubbed, the Quattroporte Sport GT S. The luxury sedan features a revised suspension with stiffer springs and dampers allowing the car to offer better handling, a reduced ride height of 10mm lower at the front and 25mm at the rear from the already sports car low standard model and a new braking system developed by Brembo that uses dual-cast brake discs along with new mono-block, six-piston callipers at the front and tyres developed especially for this car (front 245/35-R20 and rear 295/30-R20). [5][6]
The 2008 NAIAS saw Maserati debut an exclusive limited edition of the Quattroporte, dubbed Quattroporte "Collezione Cento". The 100 unit 'super deluxe' model will feature a brand-new ivory colour con coach line, Poltrona Frau 'Cuoio' coloured leather, polished Wenge wood trim, Mother-of-Pearl inlays, Maserati's Multimedia Entertainment system controlled through the rear centre armrest + iPod dock, AUX-IN socket, sim card port, bluetooth and USB plug and a built-in keyboard for the two 10.4" DVD and internet-capable touch-screen displays housed behind the front seats. Further luxuries include integrated rollup window screens and Suede headliners. [7]
Styles and Major Options
Edit
Certain vehicles come in different trim levels or body styles. Features and major options should be mentioned here.
Add more fields as necessary.
MODEL Trims
Trim1
Trim2
Trim3
Trim4
MSRP
$Price1
$Price2
$Price3
$Price4
Invoice
$Price1
$Price2
$Price3
$Price4
Gas Mileage
Edit
Add more fields as necessary.
As seen on the FuelEconomy.gov website, the City/Highway MPG averages are as follows:
Trim
Trim1
Trim2
Trim3
Trim4
MPG
c/h
c/h
c/h
c/h
Specifications, details, graphs, pictures and other information regarding the powertrain is placed in this section.
Performance
Edit
Please make sure to write information of the vehicle's performance in a third-person point of view. This section should include information about the car's acceleration figures, handling, braking, etc.
If using information gathered from Road Test articles from a reputable automotive source, then please make sure to cite the quote.
Reliability
Edit
RECALL ALERT: On late August of 2007, Maserati issued a recall of 718 Duoselect and Automatica Quattroportes due a problem with the low voltage threshold for the traction control and stability control that causes it to shutdown prematurely when it thinks the battery is low. The software problem evidently doesn't affect the anti-lock brakes, which should continue to function normally. [8]
RECALL ALERT: On January 22, 2009, Fiat issued a recall alert affecting 7,912 MY 2008 Alfa Romeo 8Cs, Maserati GranTurismos and Quattroportes due to incorrectly torqued front and rear suspension upper and lower ball joint nuts which may loosen with consequent steering wheel vibration, a growing metallic noise and progressive loss of driving precision in the transients. According to the Italian automaker, continued use of the vehicle in these conditions may lead to damage of the suspension lever, which in the long term and depending on vehicle usage, may cause the ball joint/suspension arm to break. The recall is expected to begin during February 2009. Concerned U.S. owners may contact Maserati for more information at 1-201-816-2600.[9]
This section should reference points on safety ratings and features of the vehicle.
Collezione Cento
Sport GT S Awards Edition
Add Photos of the vehicle here.
Please make sure not to use copyrighted photos.
Metallic Colors
Edit
Grigio Touring
Grigio Alfieri
Blu Nettuno
Bordeaux Pontevecchio
Blu Oceano
Grigio Granito
Nero Carbonio
Solid Colors
Edit
Pearlescent colours
Edit
Main Competitors
Edit
Unique Attributes
Edit
If there are any features of this vehicle that sets it apart from other vehicles in its class, then mention those unique attributes here.
This section should include information on the interior's design, build quality, ergonomics, space (head and legroom, front and rear), features, stowage compartments and overall comfortability and livability. Add pictures wherever applicable and keep information in a third-person point of view.
Resale Values
Edit
Add more fields as necessary.
<MODEL> Year
Year X
Year X-2
Year X-3
Year X-4
Resale Value
$
$
$
$
Criticisms
Edit
Upon its debut, the Quattroporte was lauded for its highway performance, but as reviewed by the popular British television show Top Gear and many others, complaints that its paddle shift transmission was ill-suited to the task of urban driving and that the car would be better served with an automatic transmission persisted. In 2007, Maserati addressed these criticisms, offering the Quattroporte with standard automatic (Automatica) or optional DuoSelect transmissions in all trims.
"In a list of the five most rubbish things in the world, I'd have America's foreign policy at five, AIDS at four, Iran's nuclear program at three, Gordon Brown at two and Maserati's gearbox at number one. It is that bad." Jeremy Clarkson, Top Gear.
Generations
Edit
Fill in as many as appropriate. Add more if necessary and pictures wherever applicable.
Please make sure NOT to use copyrighted pictures.
Current Generation: (2004 – present)
Edit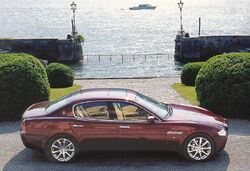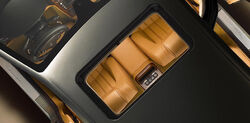 See Maserati Quattroporte V for complete details.
In 2004, Maserati started production of the Pininfarina-designed Quattroporte, with the same 4.2 L engine as the Coupe, Spyder and GranTurismo but improved to 400 hp (SAE) (298 kW). Due to its greater weight than the Coupe and Spyder, the 0-60 time for the Quattroporte is 5.2 seconds. The Quattroporte was unveiled to the world at the Frankfurt Motor Show on September 9, 2003 and made its US première at the 2003 Pebble Beach Concours d'Élégance. It is a continuation of the long tradition of Quattroporte luxury sedans in the Maserati line-up.
The 47% front-53% rear weight distribution allows the large sedan to have very nimble handling. This weight distribution is achieved by setting the engine further back in the chassis behind the front axle to shift the load back towards the cabin, and the adoption of the Transaxle layout which sees the gearbox rear-mounted in unit with the differential. The transaxle architecture is normally reserved for high performance sports cars and is the first time applied to a luxury sedan. The Quattroporte's weight distribution maximizes traction and thrust during acceleration so that the car remains exceptionally stable and well balanced at all times.
A ZF six speed automatic has been added to supplement the Magneti Marelli DuoSelect sequential manual, mated to the 4.2 liter engine. [10].
The Sport GT version of the Quattroporte was introduced at the Frankfurt Motor Show in September, 2005. It features a reworked transmission, exhaust, 20 inch wheels, suspension modifications, and special interior and exterior accents including a mesh grille. It is priced at USD$118,000.
Executive GT
Edit
The Executive GT version of the Quattroporte was introduced at the North American International Auto Show in January, 2006. It is based on a special Neiman-Marcus version, with 19 inch ball-polished wheels and an Alcantara suede interior roof lining. Other features include chrome side and front grills and a leather-trimmed steering wheel.
Included standard on the Executive GT version is a Maserati comfort pack with ventilated, massaging front and rear seats, retractable wood rear tables, and curtain shades on the rear windows. The Quattroporte Executive GT is priced at USD$123,000.
Fourth generation (1994 – 2000)
Edit
See Maserati Quattroporte IV for complete details.
At the height of Fiat's styling prowess, Maserati was confident to be more adventurous with Quattroporte IV from 1994. Designed by Marcello Gandini, who had penned the Lamborghini Countach, the new car was smaller, very aerodynamic (0.31 cd), and featured Gandini's trademark angular rear wheel arch.
A 2.8 L Biturbo V6 was installed, producing 280 hp (SAE) (208 kW), reaching a top speed of 255 km/h (158 mph) while the Italians even had a 2.0 L Biturbo V6 producing 283 hp (SAE) (211 kW) on their price list. A V8 3.2 L Biturbo was announced in 1995, developing 330 hp (SAE) (246 kW) and reaching 263 km/h (163 mph).
When Ferrari took over Maserati, it introduced a Quattroporte Evoluzione in 1998. This improved model saw the famous oval Maserati clock disappear from the interior. Production stopped in 2000.
Third generation (4porte 1976 – 1979, Quattroporte 1979 – 1990)
Edit
See Maserati Quattroporte III for complete details.
Considered a "business man's Maserati," the Quattroporte III was launched by newly empowered Maserati chief Alejandro de Tomaso and his design staff in 1976. This was a rear wheel drive car, powered by a large V8 engine. It was important to de Tomaso that there was an Italian vehicle to compete with vehicles like the recently launched Mercedes-Benz 450SEL 6.9.
The production figures for the Quattroporte are as follows:
There were 1876 Quattroporte III's produced between 1979 and 1988.
There were 1821 standard 4portes manufactured between 1979 and 1984.
The remaining 55 cars were all Royales and were manufactured between late 1984 and 1988. These were the US$80,000 cars that were built to order only.
The Quattroporte III marked the last of the hand-built Italian cars for specialized markets. All exterior joints and seams were filled to give a seamless appearance.
In 1976, Giorgetto Giugiaro presented two ItalDesign show cars on Maserati platforms, called the Medici I and Medici II. The latter in particular featured hallmarks which would make it into the production of the third-generation Quattroporte. By the end of 1976, Maserati announced the Quattroporte III (Tipo AM 330), which took much from the Medici show cars, based on Maserati's Kyalami coupé, which in turn was based on the De Tomaso Longchamp.
In 1976 the Quattroporte III was launched as "4porte" with a 4.2 L engine producing 251 hp (SAE) (187 kW), later 238 hp (SAE) (177 kW). Also available was a 4.9 liter V8 (280 bhp @ 5800 rpm). One distinguishing characteristic of the vehicle was its lavish interior. The car was designed by Giorgetto Giugiaro of coachbuilder ItalDesign. In 1979 the Quattroporte got its true name back and was built with the 4.2 L and a new 4.9 L engine 278 hp (SAE) (207 kW). The latter initially had a three-speed Borg–Warner automatic transmission, soon replaced by a Chrysler Torqueflite gearbox. The smaller engine was phased out in 1981.
In 1986, the Maserati Royale, an ultra-luxury version of the Quattroporte III, appeared. The engine was upgraded to 295 hp (SAE) (220 kW).
In all, 2,141 Quattroporte IIIs were produced, one of them for Italian presidential use. Production ceased in 1990.
Second generation (1974 – 1978)
Edit
See Maserati Quattroporte II for complete details.
In 1974, at the Turin Show, Maserati presented its Quattroporte II (AM 123) on a Citroën SM chassis, since Citroën had purchased the Italian company. It had an angular Bertone body, fashionable at the time, and was the only Maserati Quattroporte with a hydropneumatic suspension and front wheel drive, also had the swivelling directional headlights. However, the 1973 oil crisis had intervened and demand for such cars slowed. Furthermore, the front wheel drive layout and modest V6 powerplant from the Merak (offering less than 200 horsepower) didn't attract many customers. Maserati made 13 Quattroporte IIs. Six of them originally were pre-production models and the other seven were built to order between 1975 and 1978.
First Generation/Origins (1963 – 1969)
Edit
See Maserati Quattroporte I for complete details.
In the early 1960s, Maserati's reputation was at a high. With growing sales, Prince Karim Aga Khan ordered a special Maserati 5000 WP, chassis no. 103,060, designed by Pietro Frua. The following year, Maserati showed the first-generation Quattroporte of 1963, which bore a striking resemblance to the earlier drawing.
Also designed by Frua, the 1963 'Tipo 107' Quattroporte (Italian for 'four doors') joined two other notable grand tourers, the Facel Vega and the Lagonda Rapide, which could comfortably do 200 km/h on the new motorways of Europe. However, the Quattroporte could be said to have been the first car specifically designed for this purpose.
It was equipped with a 4.1 L (4136 cc/252 in³) V8 engine, producing 256 hp (SAE) (191 kW) at 5,600 rpm, and either a five-speed ZF manual transmission or a three-speed automatic. Maserati claimed a top speed of 230 km/h (143 mph).
Between 1963 and 1966, 230 examples were made.
In 1966, Maserati revised the Tipo 107, adding twin headlights (already on the US model) and, from 1968, a 4.7 L, 295 hp (SAE) (220 kW) engine. Around 500 of the second series were made. Production stopped in 1969.
In 1971, Karim Aga Khan ordered another special on the Maserati Indy platform, given the reference code AM 121.
Worldwide
Edit
If the vehicle is sold in other markets worldwide, then this is the section to mention that information. Also, mention if the <MODEL> goes by another name in these other markets.
Design quirks and oddities
Edit
It is well known for being the car driven by both Italian ex-Prime Minister Silvio Berlusconi and Irish rock star Bono.
In 2004, the Maserati Quattroporte has been named the The Most Beautiful Car in the World under Prestige.
The Maserati Quattroporte has more than 4 million combinations of colours, trim, fabric, carpet and interior decorations.
The Quattroporte Sport GT S is a downloadable car for Forza Motorsport 4.
List out notable awards that the model has recieved while in production. Boldface the company or orgainization that gives out the award, and Italicize the name of the award.
External links
Edit
Ad blocker interference detected!
Wikia is a free-to-use site that makes money from advertising. We have a modified experience for viewers using ad blockers

Wikia is not accessible if you've made further modifications. Remove the custom ad blocker rule(s) and the page will load as expected.