Maserati GranTurismo
Talk

0
10,557pages on
this wiki
Maserati GranTurismo
Maserati
aka
M145
GranTurismo S
Maserati GranCabrio
Production
2008 - present
Class
Grand tourer
Body Style
2-door, 4/2+2-seat Coupe
2-door, 2-seat Hardtop Convertible
Length
192.2 in (4881 mm)
Width
72.7 in (1847 mm, w/o mirrors)
80.9 in (2056 mm, w/ mirrors)
Height
53.3 in (1353 mm)
Wheelbase
115.8 in (2942 mm)
Weight
3924.2 lb (1780 kg, Dry)
4144.7 lb (1880 kg, Curb)
Transmission
ZF (ZF 6HP26) 6-speed Automatic, RWD
Designer
Jason Castriota under Pininfarina
The Maserati GranTurismo is a grand tourer produced by Italian automaker Maserati. It was officially presented at the Geneva Motor Show. The GranTurismo uses a wet sump and the transmission is located in the front of the vehicle, as opposed to a dry sump and a rear-mounted transmission used on Duo Select models of the Coupé and Quattroporte.
A convertible version of the GranTurismo was launched in 2009.[1]
See Autopedia's comprehensive Maserati GranTurismo Review.
Recent Changes
Edit
The 2010 Paris Motor Show is playing host to the launch of the GranTurismo MC Stradale. In much the same way as the Scuderia line of its older sister, the defunct F430, the MC Stradale is a lighter, faster, tauter and more powerful hard core sports car version. It is powered by the same 4.7 litre V8 but now developing 450 hp (336 kW / 457 PS). The top speed is now in excess of 300 km/h (186 mph). [2]
At the 2008 Bologna Motor Show, Maserati unveiled a new customization programme called MC Sport Line. The first product of the new venture is a customized GranTurismo S dubbed, the GranTurismo S MC Sport Line. The MC Sport Line is meant to emphasize the sportier nature of Maserati and thus the GranTurismo S MC Sport Line is fitted with a gaggle of carbon-fibre trim: from spoilers to side skirts, the mirror housing and even the door handles. It will also be available with gloss black 20-inch alloys and sill plates, interior trim and steering wheel rim trimmed in the expensive material. Besides the aesthetic changes, the car will also get a stiffer suspension setup which also lowers the car by 10 mm. No word yet on pricing but expect it to be VERY expensive. [3][4]
For the 2009 model year, Maserati revealed a performance-oriented variant of the grand tourer, dubbed GranTurismo S. The car is powered by a 440 hp 4.7L V8 matched to an electro-actuated gearbox with MC-Shift technology. This allows shifting in a tenth of a second and 0 to 100km/h times of 4.9 seconds. The standard GranTurismo has also been equipped with Bluetooth connectivity and an iPod connection kit located in the glove compartment. The owners of the 2008 model can go to their dealers and have them install a Bluetooth kit at a minimal charge as well. [5][6]
Styles and Major Options
Edit
There is only one major style but the GranTurismo S does offer a slightly lower suspension, a built in rear spoiler to create downforce in order to compensate for the extra power, and two oval exhaust pipes rather than the quintessential Maserati four exhausts.
The color of the leather is customizable and as well as the exterior color, as expected from any car manufacturer. The main option one can get is the addition of the Skyhook Suspension system (an electronically controlled suspension that makes the ride more agile).
Dimensions and Weight
Edit
Length: 4881 mm
Width without mirrors: 1847 mm
Width with mirrors: 2056 mm
Height: 1353 mm
Wheelbase: 2942 mm
Front track: 1586 mm
Rear track: 1590 mm
Front overhang: 873 mm
Rear overhang: 1066 mm
Boot capacity: 260 l
Fuel tank capacity: 86 l
Dry weight (EU version): 1780 kg
Kerb weight (EU version): 1880 kg
Running order with driver (EU version): 1955 kg
Max permissible: 2180 kg
Maximum permitted technical weight: 2250 kg
ODM weight distribution: 49% front; 51% rear
Add more fields as necessary.
MODEL Trims
Coupe
Coupe S
Conv. Hardtop
MSRP
$110,000
$140,000
Unknown
Invoice
$95,000
$120,000
Unknown
Gas Mileage
Edit
Add more fields as necessary.
As seen on the FuelEconomy.gov website, the City/Highway MPG averages are as follows:
Trim
Coupe
Coupe S
Conv. Hardtop
MPG
13 City 19 Hwy
11 City 18 Hwy
Unknown
Combined cycle 16 Miles (GranTurismo) and 15 (GranTurismo S).
CO² emission combined cycle 345.0 (g/km).
Engine and Transmission
Edit
Displacement 4244 cm3
Bore: 92 mm
Stroke: 79.8 mm
Compression ratio: 11:1
Maximum power output: 298 kW (405 hp)
Engine speed at maximum power output: 7.100 rpm
Peak torque: 460 Nm (47 kgm)
Engine speed at peak torque: 4750 rpm
Maximum engine speed: 7250 rpm
Performance
Edit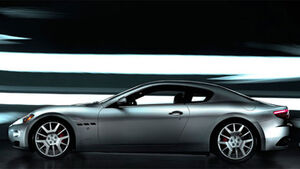 GranTurismo
Top Speed: 177mph (285 km/h) at 7050 rpm
Acceleration 0-60 mph (1-100 km/h): 5.2 s. Faster times have been reported by some magazines and reviewers. They state that the standard GranTurismo is able to get from 0-60 in 4.9 s.
Stopping distance from 60 mph (100 km/h): 114 feet (35 m)

GranTurismo S
Top Speed: 183 mph (7050 rpm)
Acceleration 0-60 mph: 4.7 s. Faster times have been reported. Some claim that it can go from 0-60 in 4.4 s.
Reliability
Edit
RECALL ALERT: Maserati is recalling all 56 2008 MY GranTurismos equipped with the advanced passenger seat air bag weight sensor system due to a malfunction in the supplemental restraint system (SRS) electronic control unit (ECU) software when the battery is not fully charged. In the event of a crash, the passenger side air bag and passenger seat belt pre-tensioner may not deploy increasing the risk of injuries. Maserati dealers will replace the SRS ECU units as necessary. The recall is expected to begin this month (January 2008).
RECALL ALERT: On January 22, 2009, Fiat issued a recall alert affecting 7,912 MY 2008 Alfa Romeo 8Cs, Maserati GranTurismos and Quattroportes due to incorrectly torqued front and rear suspension upper and lower ball joint nuts which may loosen with consequent steering wheel vibration, a growing metallic noise and progressive loss of driving precision in the transients. According to the Italian automaker, continued use of the vehicle in these conditions may lead to damage of the suspension lever, which in the long term and depending on vehicle usage, may cause the ball joint/suspension arm to break. The recall is expected to begin during February 2009. Concerned U.S. owners may contact Maserati for more information at 1-201-816-2600.[7]
This section should reference points on safety ratings and features of the vehicle.
Development Prototypes
Edit
Main Competitors
Edit
Create links to other <MAKE> <MODEL> pages in this section.
Hybrid Models
Edit
If there are hybrid versions of this vehicle manufactured, then please elaborate a little bit on it here.
Unique Attributes
Edit
If there are any features of this vehicle that sets it apart from other vehicles in its class, then mention those unique attributes here.
The interior, which can seat four full-sized adults, is lined in Poltrona Frau leather, similar to the Quattroporte. It also features a customizable wraparound interior trim. In the standard version these are available in "Smoked Quartz" and "Alu Grey", while upon request it is possible to choose among essences of genuine wood (Walnut, Tanganyika wood, Rosewood) for a warm and elegant environment, or as an alternative varnished hues (Black Piano, Rosso Sigillo, Giallo Decoro, Bianco Cotton, Blu Laque), for a more sporty and elaborate look.
Resale Values
Edit
Add more fields as necessary.
<MODEL> Year
Year X
Year X-2
Year X-3
Year X-4
Resale Value
$
$
$
$
Criticisms
Edit
Please make sure to keep critiques in a third-person point of view. If using criticisms from a reputable automotive source, then please make sure to cite the quote.
Generations
Edit
Fill in as many as appropriate. Add more if necessary and pictures wherever applicable.
Please make sure NOT to use copyrighted pictures.
Current Generation: (2008–present)
Edit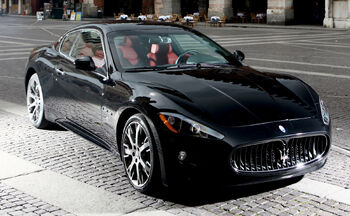 Worldwide
Edit
If the vehicle is sold in other markets worldwide, then this is the section to mention that information. Also, mention if the <MODEL> goes by another name in these other markets.
Design quirks and oddities
Edit
Many design elements also come from the Ferrari 599 GTB Fiorano (Which also happens to be a Grand Tourer.)
List out notable awards that the model has recieved while in production. Boldface the company or organization that gives out the award, and Italicize the name of the award.
References
Edit
↑ "Maserati to launch convertible GranTurismo". autonews.com. http://www.autonews.com/section/ANE

. Retrieved 2008-01-17

.

 
External Links
Edit