Maserati 420
Maserati
aka
Production
1985-1987
2810 (420)
254 (420S)
Class
Luxury Car
Body Style
Sedan
Length
173.22 in (2600 mm)
Width
68.11 in (1730 mm)
Height
53.5 in (1360 mm)
Wheelbase
102.36 in (2600mm)
Weight
curb: 2601.45 lb (1180 kg)
Transmission
5-speed and reverse manual
Automatic also available
Engine
2.0 litre (1996 cc) Twin turbo V6
3 valves per cylinder
Power
210 hp @ 6500 rpm
Similar
Designer
The Maserati 420 is a front engine, rear-wheel-drive luxury car produced by Maserati between 1985 and 1987. In 1986 due to the popularity of the 420, Maserati produced in limited supply, the 420S. The 420S sported improved handling and another intercooler.[1]
4-door Biturbos (1983 – 1994)
Edit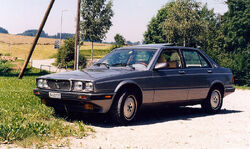 The 4-door Biturbos such as the original 425 weren't aimed at the same customers like the big Quattroporte I, II and III.
All 4-door Biturbos carry the figure "4" in their model name and are based on the 2-door Biturbos with an extended wheelbase. They were available in various "tastes": 11 different models each equipped with a different version of the V6 Biturbo engine (2.0 L, 2.5 L and 2.8 L). Besides being fairly successful as a general model some versions are extremely rare, e.g. the 4.18v was built 77 times and sold solely in Italy. The 4-door Biturbos were the only sedans available from Maserati between 1990 and 1994 and in several markets even between 1986 and 1994 (where the Royale wasn't sold due to emission problems).
The 430 4v was the last version of the 4-door Biturbos. The technical backbone (engine, drivetrain, suspension, AC etc.), general layout and interior design were used for the Quattroporte IV.
Specifications
Edit
Performance
Edit
Cite error: <ref> tags exist, but no <references/> tag was found
Ad blocker interference detected!
Wikia is a free-to-use site that makes money from advertising. We have a modified experience for viewers using ad blockers

Wikia is not accessible if you've made further modifications. Remove the custom ad blocker rule(s) and the page will load as expected.