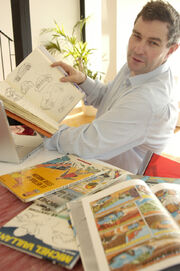 Luc Donckerwolke, (born June 19, 1965) is a Belgian car designer currently Design Director of SEAT.
Background
Edit
Donckerwolke was born in Lima, Peru and educated in various South American and African countries before studying industrial engineering in Brussels and transportation design in Vevey, Switzerland.
He has a residence in Peru and another in Brussels. His hobbies include motor racing, old cars, foreign cultures and learning languages. He speaks Italian, French, Spanish, English, German, Dutch and Swahili.
Donckerwolke began his design career in 1990 with Peugeot in France. In 1992 he moved to Ingolstadt for a 2 year stint at Audi Design. He spent 1994 to 1996 working at the Škoda Design Center Mlada Boleslav in the Czech Republic, where he contributed to the 1996 Škoda Octavia and 1999 Škoda Fabia.
After Škoda he returned to Audi responsible for concept development, operating out of Ingolstadt for one year and Munich for another. It was during this time he worked on the Audi A4 Avant and the Audi R8 Le Mans Racer.
He was head of design at Lamborghini from 1998, where he was responsible for the 2001 Lamborghini Diablo VT 6.0, 2002 Lamborghini Murciélago and 2003 Lamborghini Gallardo, winning the 'Red Dot Award' in 2003 in recognition for his work on them. He also worked with Walter de'Silva to produce the 2006 Lamborghini Miura concept.
In September 2005, Donckerwolke was appointed SEAT Design Director overseeing the design of future SEAT models, replacing Walter de'Silva who was promoted to oversee design for the entire Audi Brand Group. He is tasked with progressing SEAT design from Walter de'Silva's directorship, which was characterised by confusing similarity between models, to a look that will bring increased brand awareness and sales to the beleaguered marque. His first visible contribution to SEAT is the SEAT Tribu concept, unveiled at the 2007 Frankfurt Motor Show
Ad blocker interference detected!
Wikia is a free-to-use site that makes money from advertising. We have a modified experience for viewers using ad blockers

Wikia is not accessible if you've made further modifications. Remove the custom ad blocker rule(s) and the page will load as expected.