Template:About Template:Use British English Template:Coord
Lotus F1

{{{Marque}}}

Constructor Name
{{{constructor name}}}
Long Name
{{{long name}}}
Base
Enstone, Oxfordshire, United Kingdom
Principal
Éric Boullier[1]
Director
James Allison
Drivers
{{{Drivers}}}
Test Drivers
{{{test drivers}}}
Chasis
{{{chasis}}}
Engine
{{{engine}}}
Transmission
{{{transmission}}}
Tyres
{{{tyres}}}
Debut
{{{debut}}}
Final
{{{final}}}
Races
{{{races}}}
Wins
{{{wins}}}
Poles
{{{poles}}}
Fastest Laps
{{{fastest laps}}}
Last Season
{{{last season}}}
Cons Champ
{{{cons champ}}}
Drivers Champ
{{{drivers champ}}}
Last position
{{{last position}}}
Lotus F1 Team is a British Formula One racing team. The team competed under the Lotus name for the first time in the 2012 Formula One season, following the renaming of the former Renault team based at Enstone in Oxfordshire. Lotus F1 Team is owned by Luxembourg-based venture capital group Genii Capital[2] and named after its branding partner Group Lotus. The team achieved a race victory and fourth position in the Formula One Constructors' World Championship in their first season under the Lotus title.
Background
Edit
The team's Formula One history started in 1981 as the Toleman Motorsport team, based in Witney, Oxfordshire, England. In 1986, the team was renamed to Benetton Formula, following its purchase in 1985 by the Benetton family. In 1992/3, the team moved a few miles to a new base in Enstone. Michael Schumacher won the drivers' championship with the team in both 1994 and 1995. In 1995, the team also won the constructors' championship, with Johnny Herbert driving alongside Schumacher. Renault purchased the team in 2000, and in 2002, they renamed it to Renault F1. In both 2005 and 2006, Fernando Alonso won the drivers' championship with the team, and the team won the constructors' championship (with Giancarlo Fisichella as their other driver). Starting with the Lotus E20, the team has recognised these achievements by placing three gold stars in the livery of their car, located just forward of the cockpit. At the end of 2009, Renault sold a majority stake in the team to Genii. For 2011, Lotus Cars became involved with the team and it was renamed, first to Lotus Renault GP, then for 2012 to "Lotus F1 Team".
Lotus in Formula One
Edit
Team Lotus, a sister company of Lotus Cars, competed in Formula One between 1958 and 1994, winning seven constructors' titles and six drivers' titles between 1963 and 1978. The Lotus name returned to Formula One in 2010 through Tony Fernandes's Lotus Racing team, which used the name on licence from Group Lotus. Group Lotus later terminated the licence, but Fernandes acquired the privately owned Team Lotus name and used it in the 2011 season. For 2012, Team Lotus changed their name to Caterham F1 Team, clearing the way for the Lotus Renault GP team to be renamed as "Lotus F1 Team".
On 29 November 2011, the team announced that Kimi Räikkönen would race for them in 2012 as he returned from a two-year stint away from Formula One which he spent competing in the World Rally Championship; Räikkönen signed for two years with a third year option. On 9 December 2011 the team announced that GP2 Series champion Romain Grosjean would race alongside Räikkönen.
At the start of the season, the team was involved in a protest over the use of a "radical" rear wing concept on Mercedes AMG's Mercedes F1 W03, later dubbed the 'F-Duct rear wing' or 'Double DRS'.[3] The dispute was not settled until the third race in China when the stewards unanimously rejected their formal protest[4] and Lotus subsequently confirmed they would not appeal against the decision.[5]
At the 2012 Belgian Grand Prix, Grosjean was involved in a multiple car pileup at the start of the race, resulting in Grosjean, Lewis Hamilton, Fernando Alonso and Sergio Pérez all being eliminated from the race. The incident was started when Grosjean collided with Hamilton on the approach to the La Source corner. Post race, Grosjean was issued with a one race ban covering the next Round at Monza. He was replaced for the race weekend by Lotus reserve driver Jérôme d'Ambrosio.
After a near win in Bahrain, Räikkönen took the team's first victory at the Abu Dhabi Grand Prix. It was also his first race win after returning to Formula One.

On 29 October 2012, Lotus F1 team confirmed that Räikkönen would be racing with the team in 2013. The news came after several weeks of speculation that Räikkönen had several other options for 2013 including other forms of motorsport. Romain Grosjean will partner him in the 2013 season. The 2013 Lotus, the E21, was launched on January 28 at the team's headquarters in Enstone, Oxfordshire, UK. The livery was a little bit different to the previous year's; this year Lotus has a black, gold and red livery, with more visible red as the sidepods, air intake, rear wing and front wing have red on them.
In the 2013 Australian Grand Prix, Lotus achieved a first place finish for Räikkönen despite qualifying in 7th place, thus giving Lotus F1 the leading driver in the Drivers Championship and second place in the Constructors Championship. Romain Grosjean, who started the race in 8th place, finished the race in 10th and took one point despite having problems with his car.
After Räikkönen was penalised for holding up Nico Hülkenberg in qualifying and Grosjean failed to make Q3, the Malaysian Grand Prix saw Lotus sit only 10th and 11th on the starting grid. They ultimately finished 7th and 6th.
At the Chinese Grand Prix, Räikkönen qualified and finished 2nd, despite having to regain places after losing two at the start and having damaged the front of his car while battling Sergio Pérez for position; Grosjean finished 8th.
The Bahrain Grand Prix saw a bad qualifying result for both Lotus drivers, however as team principal, Eric Boullier had expected, the car had better race pace and both drivers finished on the podium. The race saw the same top 3 as the previous year.
Sponsorship and livery
Edit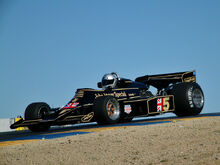 The Lotus F1 Team competes in a black-and-gold livery inspired by that of Team Lotus – the motorsport sister company of its naming and branding partner Group Lotus – when it was sponsored by tobacco brand John Player Special during the 1970s and '80s. Its sponsors include French car brand Renault, oil company Total, Unilever hygiene products Rexona and Clear, Chinese solar energy company Trina Solar, Microsoft Dynamics and French fashion brand Japan Rags. For the 2013 season Lotus signed a deal with the Coca Cola group brand Burn energy drink.
Carbon neutral
Edit
As environmental issues are becoming increasingly important to consumers and businesses, the Lotus F1 Team, placed increasing emphasis on reducing its carbon footprint in 2012. In pursuit of a more robust environmental strategy and to support existing policies at the team's headquarters in Enstone, Oxfordshire, Lotus F1 Team entered into a multi-year partnership with Advanced Global Trading. [7]
i-race Professional
Edit
i-race is a collaboration of Gravity Sports management and Lotus F1 Team management, The i-Race Professional Programme includes development for drivers in lower formulas to get to grips of what the world of Formula One is actually like.
Complete Formula One results
Edit
(key) (results in bold indicate pole position; races in italics indicate fastest lap)
Year
Chassis
Engine
Tyres
Drivers
1
2
3
4
5
6
7
8
9
10
11
12
13
14
15
16
17
18
19
20
Points
WCC
2012
Lotus E20
Renault RS27-2012

P

AUS
MAL
CHN
BHR
ESP
MON
CAN
EUR
GBR
GER
HUN
BEL
ITA
SIN
JPN
KOR
IND
ABU
USA
BRA
303
4th
Kimi Räikkönen
7
5
14
2
3
9
8
2
5
3
2
3
5
6
6
5
7
1
6
10
Romain Grosjean
Ret
Ret
6
3
4
Ret
2
Ret
6
18
3
Ret
7
19
7
9
Ret
7
Ret
Jérôme d'Ambrosio
13
2013
Lotus E21
Renault RS27-2013

P

AUS
MAL
CHN
BHR
ESP
MON
CAN
GBR
GER
HUN
BEL
ITA
SIN
KOR
JPN
IND
ABU
USA
BRA
93*
2nd*
Kimi Räikkönen
1
7
2
2
Romain Grosjean
10
6
9
3
* Season in progress.
References
Edit
External links
Edit
Ad blocker interference detected!
Wikia is a free-to-use site that makes money from advertising. We have a modified experience for viewers using ad blockers

Wikia is not accessible if you've made further modifications. Remove the custom ad blocker rule(s) and the page will load as expected.