Lotus Exige
Lotus
aka
Lotus Elise
Lotus Exige S
Production
2006 - current (North America)
Class
Sports Car
Body Style
2-door, 2-seat Mid-Engined Coupe
Length
149.5 in
Width
68.0 in
Height
45.6 in
Wheelbase
90.6 in
Weight
2015 lb
Transmission
6-speed C64 Manual, RWD
Engine
1.8 litre (1796 cc) VVTL-i Inline-4
Power
190 hp @ 7800 rpm
N/A lb-ft of torque @ N/A rpm

257 hp (260 PS) @ 8000 rpm
174 lb-ft (236 Nm) of torque @ 6000 rpm
Similar
similar (competition)
Designer
Designer (lead designer if it was a team effort)
The Lotus Exige is a two-door, two-seat sports car made by Lotus Cars. It is essentially a coupe version of the Lotus Elise.
The original Exige was launched in 2000 and had a 1.8 L Rover K Series engine. It produced 170 bhp in standard form and 190 bhp in the VHPD version. Compared to the Elise, it had wider wheel arches, a front splitter, a large rear spoiler and a fiberglass roof.
In 2004, the Series 2 Exige was introduced. It features a 1.8 L Toyota engine that produces 189 bhp.
In February 2005, Lotus announced a limited production run of 50 Exiges, using the Toyota engine with a supercharger, that increases the power output to 243 bhp. These vehicles are only available in yellow or black, representing the colors of Lotus Sport, and are badged 240R. They have a projected 0-60 mph (0-100 km/h) time of 3.9 seconds and 0-100 mph (0-160 km/h) of 9.9 seconds, with a top speed of 155 mph (250 km/h) at a cost of £44,000.00 (approximately $76,500.00 or €65,000.00).
The North American Exige was unveiled at the Los Angeles Auto Show in January, 2006.
On the 9th of February 2006 Lotus announced the Exige S. This features a 221 PS supercharged version of the Toyota engine. Unlike the Exige 240R, which was produced by Lotus Motorsport, it comes straight from the factory. Lotus figures claim a 0-60mph performance of 4.1 seconds and state that it is their quickest production car to date.
Recent Changes
Edit
To celebrate its return to F1, after a 15 year absence, Lotus has unveiled a 20 unit special edition Exige with John Player Special livery inspired by the iconic Type 72 Lotus race cars fielded to dominance by the likes of Jochen Rindt, Emerson Fittipaldi, Ronnie Peterson and Jacky Ickx. Called the Lotus Exige S Type 72, it sports the same supercharged, 1.8-liter inline four that churns out 220 horsepower, as the regular Exige but also adds a set of carbon fiber ProBax sport seats swathed in black microfiber with contrast stitching and standard twin oil coolers and an adjustable front anti-roll bar. Pricing is set at £35,995 or (40,332 euro). [1]
The 2009 Tokyo Motor Show plays host to the unveiling of the limited edition Exige Scura. Separating the Scura from other lesser Exige is the 1.8 litre Toyota four banger now developing 260 hp and 174 lb-ft allied to less weight via extensive use of carbon fibre. Another distinguishing feature is a unique livery composed of a matte black offset with high gloss 'Phantom Black' triple stripes. Only 35 are slated for production with prices starting at £45,000 for the UK, €60,000 for Germany, €61,885 for Italy, €61,200 for France and €50,420 for the rest of Europe. [2]
A few weeks before the 2009 Frankfurt Motor Show, Lotus unveiled the 2010 Lotus Exige Cup 260. Essentially, it is an Exige upgraded with technology seen on the Exige GT3. Faster, stiffer and lighter, the new variant will cost €52,899 (£45,950). [3]
At the 2009 Geneva Motor Show, Lotus gave the Exige its first mid-cycle facelift. What's more, they say they have reduced the emissions to 199 grams of CO2 per km, with a combined fuel economy increase of 8.5 liters per 100 km, or roughly 28 mpg. Fuel economy is even better when calculated using the "Official European Extra Urban Cycle," which rates the car at 6.5L/100km, or about 36 mpg. [4]
Yet another Motor Show, yet another Lotus variant. This time, right on time for the 2008 Paris Motor Show, Lotus has taken the wraps off of the Exige Cup 260. The new car brings more lightweighty goodness from the British automaker - 80 lbs in fact thanks to liberal application of Carbon Fiber components. Motivation comes from an Eaton M62 supercharged 1.8-liter Toyota powerplant producing 257 hp. The result is supercar-worthy acceleration below 4 seconds to 60 mph and a price tag of £45,995 (which includes a very large fire extinguishing canister, in case everything goes very, very wrong). Oh and only EU member denizens need apply.[5]
For 2008, Lotus of Australia created the special edition Australian-market only Exige Sport 240. Billed as the most powerful Exige model, the car is motivated by the Toyota derived, 1.8 litre VVTL-i 4-cylinder unit which delivers 240hp, or 179kW, an increase of 10 percent over the Exige S. Torque also increases from 215Nm to 230Nm. 0 to 100km/h (62mph) is conquered in 4.2 sec, 0-160km/h (100mph) in 9.9 seconds and top speed is 249km/h (155mph). Aside from the special badging, unique features of the Exige Sport 240 include the driver-adjustable stand-alone traction control, similar to systems used in Formula 1 and the standard torque-sensing limited-slip differential. The special edition Exige will be unveiled at the Sydney show in October and will officially go on sale for $149,990 AUD ($124,586 USD).[6]
Specifications
Edit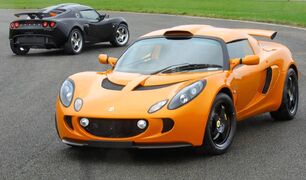 According to Lotus, it has the following specifications:
Engine:
Toyota Supplied, 1796 cc I-4, DOHC with VVTL-i (variable valve timing)
Bore/Stroke 82 mm/85 mm
138 ft·lbft @6800 rpm
Compression ratio: 11.5:1
Transmission: 6-Speed, Close Ratio with Single-Plate Dry Clutch
Weight: 2016 lbs
Performance:
0-60 mph: 4.7 seconds
0-100 mph: 12.9 seconds
Top speed: 147 mph
Fuel consumption: 24 city / 29 highway
Some avalable colors are:
Orange
Grey
White
Black
Black / Orange
2007 Lotus Exige S
Lotus Exige S
Lotus
aka
Production
2007 - current (North America)
Class
Sports Car
Body Style
2-door coupe
Length
149.5"
Width
68.0"
Height
45.8"
Wheelbase
90.6"
Weight
2057 lbs (935 kg)
Transmission
6-Speed manual
Engine
Toyota supercharged 1796 cc I-4
Power
218hp @ 7800rpm
Similar
Lotus Elise, Lotus Exige
Designer
In February, 2006 Lotus announced the Exige S model which used a supercharged Toyota engine (originally seen naturally aspirated in the Celica GT-S) producing 218 bhp.[2] The S was also made available in North American markets as a 2007 model.
Specifications
Edit
According to Lotus, the Exige S model has the following specifications:
Engine:
Toyota Supplied, 1796 cc I-4, DOHC with VVTL-i (variable valve timing with lift intelligence), supercharged and intercooled
Bore/Stroke 82 mm/85 mm
158.6 ft·lbf (215 N·m) @ 5500 rpm
Compression ratio: 11.5:1
Transmission: 6-Speed, Close Ratio with Single-Plate Dry Clutch
Weight: 2057 lb (935 kg)
Exige S Performance:
0-60 (0-97 km/h): 4.1 seconds
0-100 mph (0-161 km/h): 9.98 seconds
Top speed: 148 mph (238 km/h)
Fuel consumption: 24 city / 29 highway
Exige S MSRP:
$57,985
Current generation (2012-)
Edit
At the Frankfurt 2011 autoshow, the 2012 version of the Exige S was announced. It includes a supercharged 3.5 litre V6 engine (from the Evora S) rated at 345 hp (257 kW; 350 PS). Engine: 345 bhp, 257 kW (349 PS; 345 hp), 400 N·m (295 lb·ft). Weight: 1,080 kg (2,381 lb). Acceleration: 0–100 km/h in 3.7 seconds. Top speed: around 300 km/h (186 mph). Price: starts at around £56,000. To accommodate the V6 engine, the new model is approximately 25 cm longer and 5 cm wider than the model with the 4 cylinder engine, being 4,052 mm (159.5 in) long, 1,802 mm (70.9 in) wide (not counting the mirrors) and 1,153 mm (45.4 in) tall. The drag coefficient is 0.433.
Exige V6 Cup, Exige V6 cupR
Edit
Exige V6 Cup is a race car version of Exige S for track or road use. Exige V6 CupR is the race-only version of Exige V6 Cup. The Exige V6 Cup is offered for sale new in the United States as a track only car. If purchased, US Lotus Dealers will only provide a bill of sale instead of a title.
The vehicles were unveiled in 2013 Autosport International show.
Lotus Exige 360 Cup
Edit
Limited to 50 examples, Lotus Exige 360 Cup is revealed on 14 August 2015. The car is powered by a 3.5-liter supercharged Toyota V-6 delivering 355 horsepower.
External Links
Edit
News & References
Enthusiast Sites & Community Forums
Ad blocker interference detected!
Wikia is a free-to-use site that makes money from advertising. We have a modified experience for viewers using ad blockers

Wikia is not accessible if you've made further modifications. Remove the custom ad blocker rule(s) and the page will load as expected.