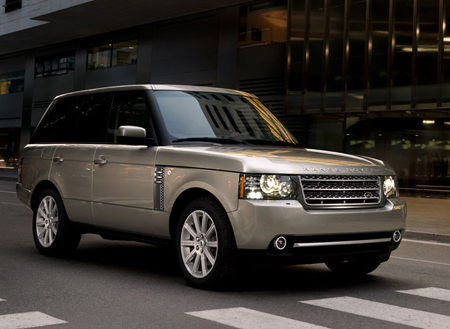 The Range Rover is a brand of automobile, the top luxury 4x4 (4 Wheel Drive in British English) model of Land Rover. The Range Rover was built on a box section ladder type chassis, much like the contemporary Series Land Rover, but utilised coil springs as opposed to leaf springs, permanent four wheel drive, disc brakes all round and powered by the lightweight Rover (ex Buick) V8 of 3528 cc (3947 cc in later variants). The vehicle proved popular in the UK and elsewhere in the world.
However, prior to 1987, Land Rover vehicles were only sold in America, through the grey market. Strong grey market demand led the Land Rover company began selling the Range Rover in the USA officially in 1987. From that time until 1993, the US marketing was all in the name of Range Rover--they were a one-product company. In 1993, with the arrival of the Defender 110 and the imminent arrival of the Discovery, the company changed its name to Land Rover USA.
From its inception, the Range Rover has been one of the most luxurious sport utility vehicles although it has always been built for off-road capability foremost.
Among enthusiasts, the original model is known as the Classic, the second generation is known as the P38A and the latest generation is known as the L322 or just "new Range Rover".
In 1972 the British Trans-Americas Expedition became the first vehicle-based expedition to traverse both American continents north-to-south, including traversing the infamous roadless Darien Gap.
Recent Changes
Edit
MY 2011 sees some major updates for the Range Rover. Te first is the introduction of a new 4.4 litre turbodiesel V8 which produces 309 hp (230 kW, 313 PS) and 516 lb-ft (700 Nm) of torque while cutting the engine's CO2 emissions to 253g/km, a 14% drop and returning 30.1 mpg hwy. This is in large part due to the new ZF 8HP70 8-speed Automatic that will find its way in the entire range. This also allows the new Range Rover a 0-60mph sprint of 7.5 seconds. Besides the gearbox, both models will get the same Brembo brakes (380mm front and 365mm rear ventilated discs) along with aluminum six-piston calipers, paddle shifters, a new CommandShift knob borrowed from Jaguar, and a new Terrain Response Optimisation Switch. New exterior colors, and new sets of wheels will be sold as part of a new Exterior Design Pack, with a new bumper, grille, fog lights, vents, side sills, exhaust tips, and rear bumper. The company will also be selling a limited Autobiography Black 40th Anniversary edition, held to just 700 units. The edition is painted in Barolo Black, with 20-inch alloys, chrome details, wood trim, and Jet/Ivory or Jet/Pimento interior choices.
For 2009, Land Rover announced a new, high-spec variant of the Range Rover at the 2008 British International Motor Show. Named the Range Rover Autobiography, the SUV gets swathed in more leather upholstery: the dashboard, door casings, door bins, seats and centre console are all finished in leather. Even the floor mats are edged with leather. There is also the option of a half wood steering wheel with matching gearshift insert. Outside, the Autobiography also gets new 20-inch diamond-turned twin-seven-spoke alloy wheels, new liveries and an 'Exterior Design Pack' consisting of the Supercharged variant's grille, side vents, lights and stainless steel pedals. Pricing will begin from £72,995 or $145,300.[2]
As for the rest of the range, for the MY2009 the Range Rover receives new wheel styles, new exterior colours and optional wood and leather heated steering wheels. Moreover, satellite navigation and Hybrid TV will now be available as standard from HSE specification and upwards.[3]
Styles and Major Options
Edit
Certain vehicles come in different trim levels or body styles. Features and major options should be mentioned here.
Add more fields as necessary.
MODEL Trims
Trim1
Trim2
Trim3
Trim4
MSRP
$Price1
$Price2
$Price3
$Price4
Invoice
$Price1
$Price2
$Price3
$Price4
Gas Mileage
Edit
Add more fields as necessary.
As seen on the FuelEconomy.gov website, the City/Highway MPG averages are as follows:
Trim
Trim1
Trim2
Trim3
Trim4
MPG
c/h
c/h
c/h
c/h
Engine and Transmission
Edit
Specifications, details, graphs, pictures and other information regarding the powertrain is placed in this section.
Performance
Edit
Please make sure to write information of the vehicle's performance in a third-person point of view. This section should include information about the car's acceleration figures, handling, braking, etc.
If using information gathered from Road Test articles from a reputable automotive source, then please make sure to cite the quote.
Reliability
Edit
RECALL ALERT: On Dec. 5, 2008, Land Rover issued a recall affecting 19,168 MY 2003-2005 Range Rovers due to misaligned front driveshafts. Land Rover will begin contacting owners after January 6, 2009 for inspection and if need be, replacement free of charge. [4]
This section should reference points on safety ratings and features of the vehicle.
2010 Range Rover
Add Photos of the vehicle here.
Please make sure not to use copyrighted photos.
List the colors that the particular <MODEL> is offered in.
Main Competitors
Edit
Hybrid Models
Edit
A hybrid version will be released in 2018 and is disguised as the Land Rover badge on the grille.It will take roughly 7 hours to charge.
Unique Attributes
Edit
If there are any features of this vehicle that sets it apart from other vehicles in its class, then mention those unique attributes here.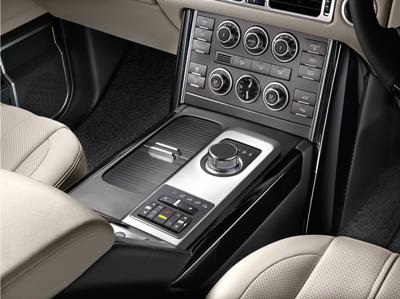 This section should include information on the interior's design, build quality, ergonomics, space (head and legroom, front and rear), features, stowage compartments and overall comfortability and livability. Add pictures wherever applicable and keep information in a third-person point of view.

2011 Range Rover
2010 Range Rover
Resale Values
Edit
Add more fields as necessary.
<MODEL> Year
Year X
Year X-2
Year X-3
Year X-4
Resale Value
$
$
$
$
Criticisms
Edit
Please make sure to keep critiques in a third-person point of view. If using criticisms from a reputable automotive source, then please make sure to cite the quote.
Generations
Edit
Fill in as many as appropriate. Add more if necessary and pictures wherever applicable.
Please make sure NOT to use copyrighted pictures.
Current Generation: (2002–present)
Edit
In 2002 a third generation model was introduced which saw the model move further up-market. The Land Rover brand name, and the Range Rover model for that matter, were now owned by Ford when they took over from BMW in 2001. Range Rovers initially came with the BMW M62 V8 gasoline and 6-cylinder diesel engines because at that time, when the third generation Range Rover was being developed, it was still owned by BMW, although only the V8 gasoline is offered in North America. The last model has improved ground clearance and cross-linked air springs. This time, a monocoque body was chosen, with many design cues from the original model.
On 26 November, 2004, Land Rover released the first photographs of the Range Rover Sport, a new model it planned to show to the public for the first time at the 2005 North American International Auto Show. The Range Rover Sport is a production car development of the Range Stormer concept vehicle the company showcased in the 2004 North American International Auto Show. Though called the Range Rover Sport, it was not merely a new specification within the Range Rover line-up, but rather an entirely new vehicle, based on the Discovery/LR3 chassis. This model was released for sale in late 2005.
Conscious of the need for more power to keep up with the Range Rover's competitors, and reluctant to keep relying on BMW for power plants, Ford presided over the adaptation of engines from Jaguar (also Ford-owned) for Land Rover use. A 4.4 litre, 345 hp version of the Jaguar 4.2 litre V8 was developed and first used in the new 2005 LR3/Discovery 3 model, temporarily giving it more power than the Range Rover! At the 2005 Detroit Motor Show, a major update of the Range Rover was unveiled, with the base model using the LR3/Discovery 3 engine, and a premium model using a supercharged version of the Jaguar 4.2 litre V8 developing 390 horsepower -- the same engine slated for the new Range Rover Sport, scheduled for introduction about the same time (mid 2005) as the updated Range Rover. Both engines are lightweight aluminum alloy units, with advanced torque-based engine management systems that, together with drive-by-wire throttle control and variable camshaft phasing (on the 4.4 litre version), continually adjust the engine to deliver optimum performance. Both the engines are specially adapted by Land Rover for better low speed torque characteristics (important in off-road driving), the ability to run at the extreme angles encountered off road, improved protection from dust and rocks, and improved sealing needed for wading.
The Range Rover's exterior will be updated for 2006 along with the expected replacement of the BMW V8 with a Ford unit. The new engine choices will be based on Jaguar's AJ-V8, and include a 4.4 L 400 hp (227 kW) or 4.2 L 460 hp (298 kW) supercharged option. This new Range Rover will be shown for the first time at the 2005 North American International Auto Show and will be released for sale in the summer.
In addition, the 2006 Range Rover is equipped with an updated "Infotainment" system. This includes a touch screen with on and off-road navigation, radio, CD, Satellite Radio (US), telephone and other additional features all accessed via the same user interface. The audio system is Harman Kardon Logic7 surround sound. Also available is a DVD rear seat entertainment which is fully integrated.
This system is linked by a fibre optic network known as Media Oriented Systems Transport or MOST. A similar system is also used on Land Rover Discovery and Land Rover Range Rover Sport.
Suppliers for the 2006 Range Rover's components include, the DENSO Corporation for touch screen navigation, Alpine car audio for integrated head unit rear seat entertainment, and PTI telephone capabilities provided by Nokia. The audio system is built by Harmon Kardon
The 2.7 L AJD Diesel V6 was replaced for 2007 with Ford's new 3.6 L AJD-V8. This engine boasts 372 hp (203 kW), far more than the 177 hp (132 kW) of the previous BMW Inline 6 engine. Other changes for 2007 include better brakes, a revised suspension, and Land Rover's Terrain Response system. Supercharged Range Rovers will also use an electronic rear differential. The interior is also refined, with optional cooled front seats and more cargo capacity.
Second Generation (1995–2001)
Edit
After 25 years from the introduction of the first generation Range Rover, the second generation Range Rover - model-designation P38A - was introduced for the 1995 model year, with an updated version of the Rover V8 engines.But they were very unreliable. There was also the option of a 2.5 litre BMW turbo-diesel and this was made possible by BMW's ownership of the Land Rover brand from 1995 to 2001. The 2nd model (1999-2001) was even more luxurious, incorporated new engine management (smoother and more powerful) and improved air suspension that allowed automatic, speed proportional height adjustment. This could also detect when the vehicle had become 'grounded' and attempt to raise itself to maximum height in an attempt to gain traction. The chassis was also made stronger and new welding techniques were used. Other features included ABS brakes, and 2-wheel traction control - although later models saw this feature applied to all four wheels.It also included a 30th Anniversary in 2000 with 4.6 V8 and was in Wimbilden Green and is in A magazine Land Rover ad once told they may not have another new Range Rover until 2020. However, the third-generation Range Rover would be made for 2002.

First Generation/Origins (1970–1994)
Edit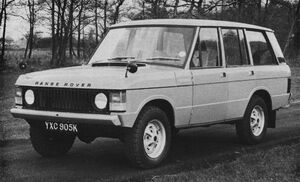 The first generation Range Rover was introduced in 1970. Improvements compared to the "Series" model include permanent four-wheel-drive with a lockable centre differential, all-coil suspension, disc brakes on all wheels, and a 3.5 L aluminum Rover V8 engine. The vehicle was built on a steel ladder frame, and most body panels were aluminium. However, design flaws, such as using steel bolts to fasten aluminium panels and poor anti-corrosion protection of the chassis, resulted in the vehicles suffering rot. While this problem did not affect vehicles when new, after 10 years of ownership it became a severe problem. In a car with shorter lifetime, this would have not been a problem. In a car like the Range Rover, which runs well even when 20 years old, it is, and needs to be corrected, by means such as Waxoyling the chassis and using stainless steel bolts.
Originally the car was a 2-door design with a 4-speed gearbox. A Fairey overdrive was available ex-works from 1973, but did little to improve refinement of the crude transmission. The car was updated to five door in 1981 when Land Rover realised the market demanded such. The gearbox was improved to a five speed manual transmission with the option of a 3 speed Chrysler Torqueflite automatic, subsequently superceded by a ZF 4 speed which improved fuel economy and refinement but is generally regarded as not quite a strong as the Chrysler. It was soon after given a BorgWarner viscous coupling transfer box, improving off road performance. The transmission is so good the vehicle easily keeps up with traffic on roads today with plenty of excess available. The engines are also renowned as the best ever fitted to four wheel drives. The original Buick 3.5 litre engine gave the original so much power that is was regarded as phenomenal. Later upgrades enlarged the capacity to 3.9 litres and finally culminated in the 4.2 litre V8 block in the long wheelbase LSE variant that enabled speeds up to 110 mph and so much power that it can tackle any hill or any other off road obstacle. When people began to demand better fuel economy, Land Rover introduced a diesel. Originally, it was a 2.5 Litre VM diesel, but this was underpowered. Eventually the world-renowned Land Rover 2.5 L turbocharged Tdi (turbo diesel) was fitted which gave exceptional on and off road performance, combined with amazing fuel economy for a vehicle as heavy as the Range Rover. It was introduced to the US in 1987, where it is known as an SUV (sport utility vehicle).
Worldwide
Edit
If the vehicle is sold in other markets worldwide, then this is the section to mention that information. Also, mention if the <MODEL> goes by another name in these other markets.
Design quirks and oddities
Edit
Land Rover unleashed the Range Rover Vogue Security Vehicle, a fully armoured model designed to resist attack from machinegun and hand grenades. It's 4WD capability makes the car be more able to escape pursuers accross all terrains while its "broad-shouldered strength" allows it to be driven at and through obstacles. Overlaps on doors have been specially designed to stop molten shrapnel from getting entering the passenger compartment. An internal oxygen system, covert emergency lights and a siren are optional extras.
The Range Rover was Car and Driver magazine's Best Luxury SUV for 2002.
External links
Edit