Johnny Herbert
Born
25 1964
{{{birth_place}}}
Died
{{{death_date}}}
{{{death_place}}}
Formula One career
Nationality
British
Years
1989–2000
Template:Infobox Le Mans driver
John Paul "Johnny" Herbert (born 25 June 1964 in Brentwood, Essex, England) is a British racing driver from England. He competed in Formula One, winning three races, and also in sports cars winning the Le Mans 24 Hours in 1991 driving a Mazda 787B. He enjoyed much success in lower-level motor racing and raced in Formula One for several teams.
Early career and entry to Formula One
Edit
During the mid-1980s, Johnny Herbert was widely regarded as a coming man of motor racing, comparable to the Scot Jim Clark. Winning the Formula Ford Festival at Brands Hatch in 1985, Herbert caught Eddie Jordan's attention, and together they won the 1987 British Formula Three title. Disaster struck in 1988, though, as Herbert, then a championship hopeful in International Formula 3000 was caught up in a major accident at Brands Hatch, badly breaking his legs in a fearsome impact with the barriers. It was an act of huge bravery that saw him back in a racing car at the beginning of 1989, despite the fact that he could barely walk. Even more remarkably, he was now in Formula 1, scoring points on his debut at the Brazilian Grand Prix driving for the Benetton team, then managed by his long-time mentor and friend Peter Collins.

However, Herbert's performances could not keep up that standard, and with the Benetton team under new management, he was dropped after failing to qualify for the Canadian Grand Prix. Herbert returned to Formula 3000, this time in the highly regarded Japanese series. It wasn't long before he received another call from Grand Prix racing, this time Tyrrell. From 1990 to 2000, Herbert was a fixture in Formula One, switching to the dwindling Lotus team, now managed by Peter Collins.
During 1991, he also drove two rounds of the Fuji Long Distance Sports Car Series, co-driving a Mazda 787B, finishing fourth both times.[1] His decision, at the July round, to stop his car and aid a fellow competitor, who had suffered a puncture at high speed, would earn him the Sportsman Award at the 1991 Autosport Awards.
Ligier and return to Benetton (1994-1995)
Edit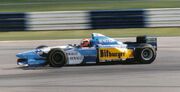 After 3 years of frustration, Herbert left Lotus in mid 1994, joining Ligier and then Benetton for the last few races of the season. Although he failed to score any points in 1994, he was retained as Michael Schumacher's team-mate for 1995. At the British Grand Prix, he inherited a hugely popular Grand Prix win after Michael Schumacher collided with Damon Hill. He followed this in similar circumstances at Monza, finishing 4th in the championship.
Sauber, Stewart and Jaguar (1996-2000)
Edit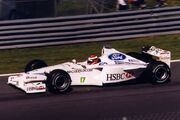 After being dropped by Benetton, Herbert drove for Swiss outfit Sauber in 1996-1998, scoring two podium places. Moving to Stewart Grand Prix in 1999, he was routinely outqualified by his younger team mate Rubens Barrichello but scored his third and final Grand Prix win in a remarkable wet/dry European Grand Prix. Staying at Stewart after the team was purchased by Ford and became Jaguar, Herbert endured another frustrating and pointless season, ending the year being stretchered off at Malaysia after a suspension failure caused him to crash heavily.
After Formula One
Edit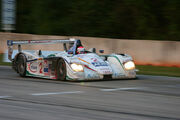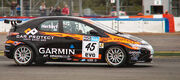 Since retiring from Grand Prix racing, Herbert has concentrated on Sports Cars, trying to repeat his Le Mans 24 Hours overall win of 1991. Recent years have seen him as one of the front runners in the American Le Mans Series (ALMS), where he won several events and was a challenger for the 2003 crown.
In 2004, Herbert, along with Jamie Davies won the Le Mans Series championship at the wheel of an Audi R8 winning the races at Monza and Spa along the way.
In 2005, Herbert was appointed to the post of Sporting Relations Manager at Jordan Grand Prix, which was then renamed Midland F1 for the 2006 World Championship. However, in September of that year Spyker Cars bought the team, and renamed it Spyker MF1. Another of the new owners' decisions was to not renew Herbert's contract.
In 2007, Herbert entered the Le Mans 24 Hours driving for the factory Aston Martin team at the wheel of the Aston Martin DBR9 in the GT1 class. Herbert, along with Peter Kox and Tomáš Enge drove the 007 numbered car to a 9th placed overall finish and 4th in the GT1 class.
In 2008, Herbert won the first season of the Speedcar Series.
In 2009, Herbert made his debut in the British Touring Car Championship for Team Dynamics at the wheel of a Honda Civic at round eight of the championship, Silverstone. He qualified 17th for the first race, and after moving up the order, finished in 13th. In the second race, he finished inside the points in eighth place, scoring three points. In the final race of the day, a reverse starting grid is operated. The first six, seven, eight, nine or ten cars to finish race two, start race three in reverse order. This is decided by the winner of race two drawing a number between six and ten out of a hat. For the final race of the day, the top 9 finishers were reversed, meaning Herbert started from second. He was running well, and was holding 4th, but was forced to retire on lap 13, after contact with Jason Plato. Herbert went on to compete in the final two rounds of the season.
Sky Sports F1 HD
Edit
Herbert is a regular contributor to the new Sky Sports F1 HD channel co-hosting the 2012 Chinese Grand Prix alongside Martin Brundle. He regularly offers post-race analysis for the channel and also often appears on the channel's dedicated F1 show.

Racing record
Edit
Complete International Formula 3000 results
Edit
(key) (Races in bold indicate pole position) (Races in italics indicate fastest lap)
Complete Formula One results
Edit
(key) (Races in bold indicate pole position)
Template:Sup Driver did not finish the Grand Prix, but was classified as they completed over 90% of the race distance.
24 Hours of Le Mans results
Edit
Complete British Touring Car Championship results
Edit
(key) (Races in bold indicate pole position - 1 point awarded just in first race) (Races in italics indicate fastest lap - 1 point awarded all races) (* signifies that driver lead race for at least one lap - 1 point awarded all races)
Complete American Le Mans Series results
Edit
Indianapolis 500 results
Edit
Complete International Superstars Series results
Edit
(key) (Races in bold indicate pole position) (Races in italics indicate fastest lap)
* Season in progress.
Herbert's helmet design was red with white line going from the rear going through the sides and on the mouthplate, black stripes on the lower sides a black stripe on the rear (in a similar fashion to Depailler's helmet), in 1998, when he drove for Stewart, the stripes on the lower sides were changed to green and on the top of the helmet was added a drop with the union jack. in 2000, when he drove for Jaguar, the green areas became blue.
References
Edit
↑ . wspr-racing.com. 2009-10-20. http://www.wspr-racing.com/wspr/results/fld/fld1991.html.

 
External links
Edit