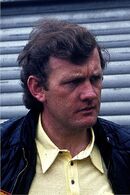 John Fitzpatrick (born 9 June 1943) is a former British racing driver, winning many titles throughout his career. He still works within motorsport as a consultant doing corporate events and driver management. He still participates in historic races.
Racing career
Edit
He first entered the British Saloon Car Championship (now known as the British Touring Car Championship) in 1964 driving a works Mini Cooper, finishing the season in second place overall behind Jim Clark. In 1966 he won the Championship driving a Broadspeed Ford Anglia.[1]
In 1971 Fitzpatrick won the Jarama 4 Hours in a works Ford Escort RS1600 along with many other races in both the UK and Europe.
In 1972 he won the 6 Hours of the Nürburgring for the renowned BMW Schnitzer team along with Rolf Stommelen. He won the European GT Championship and the coveted Porsche Cup in 1972 and 1974 driving for both Kremer and Georg Loos Teams.
In 1976 he won the Bathurst 1000 in an Australian Group C Holden Torana L34 touring car with Bob Morris driving for the Ron Hodgson Team. In a dramatic finish, Fitzpatrick nursed the Torana home trailing smoke over the last few laps. Initially thought to be an engine problem, it was later revealed that an oil seal had failed and the leaking oil was getting into the clutch making it slip badly and slowing him down, especially on the steeper parts of the Mount Panorama Circuit.
Fitzpatrick was a regular driver at Bathurst, first teaming with 1967 winner Fred Gibson in an Alfa Romeo 2000 GTV in 1975, winning with Morris in 1976 while again joining Morris in 1977 and 1978 in a Torana (both DNF). He teamed with four time winner Allan Moffat in 1979 in a Ford XC Falcon (DNF) and again in 1980 in an Ford XD Falcon (DNF). He returned to join forces with Bob Morris in 1981 (XD Falcon - 2nd). His last appearance as a driver in Australia was to have been the 1982 James Hardie 1000 but after Morris qualified their XE Falcon 6th, Fitzpatrick had a front wheel break going through Forrest Elbow during the Saturday afternoon practice session causing the car to crash heavily into the wall. The damage was enough to prevent the Seiko sponsored Falcon from starting Australia's Great Race.
He also won the Silverstone 1000 km in the Hermetite BMW driving with Tom Walkinshaw, a race which he again won in 1978 drving a Porsche 935 for the Georg Loos Team. His next title came in 1980 with a Porsche 935 K3 in the IMSA Championship and Porsche Cup. More titles came in the 1980s driving Porsches for his own team. These included the Los Angeles Times Grand Prix in 1980, '81 and '83 at Riverside International Raceway and in 1983 The Brands Hatch 1000 km with Derek Warwick and the Elkhart Lake Can-Am in his Porsche 956.[2]
Fitzpatrick also started John Fitzpatrick Racing with success competing regularly in the World Sportscar Championship. Both as a driver and team owner, Fitzpatrick enjoyed success using the Porsche 956 with drivers such as Formula One drivers Thierry Boutsen, Roberto Moreno, Rupert Keegan, Guy Edwards, Philippe Streiff and racing journalist/commentator David Hobbs all driving JFR cars. John Fitzpatrick sold his entire team, including racing cars, transporters and all equipment to Jochen Dauer at the end of 1986.
John Fitzpatrick intended to expand the team into CART for the 1984 season with JDavid sponsorship using March customer chassis, but the project did not come to fruition.
References
Edit
External links
Edit
Ad blocker interference detected!
Wikia is a free-to-use site that makes money from advertising. We have a modified experience for viewers using ad blockers

Wikia is not accessible if you've made further modifications. Remove the custom ad blocker rule(s) and the page will load as expected.